Do you need to tweak Windows 11, 10, 8, & 7 PC performance or free up RAM for large apps or databases? Find out how to enable or disable Superfetch (Prefetch) below.
You'll find many suggestions online to either enable or disable the Windows 11, 10, 8, or 7 Superfetch (otherwise known as Prefetch) feature to enhance the performance of your PC. You must learn what Superfetch is and its working process to take the right decision on whether you should enable or disable this system process for Windows PCs.
Superfetch caches data of apps and tools of your Windows PC so that apps and tools can immediately access the data from RAM or system memory rather than the internal storage like HDDs, SATA SSDs, or NVMe SSDs. Sometimes enabling or disabling this system process can positively or negatively impact the Windows PC performance for certain applications. However, it's not a thumb rule or guaranteed system tweak of any sort. Moreover, it tends to not work well with gaming but can improve performance for business apps like Microsoft 365 apps.
Read this article until the end to learn Prefetch or Superfetch from the ground up. You'll also explore effortless methods to enable or disable Superfetch in concise and easy-to-perform steps.
What Is Prefetch or Superfetch in Windows PCs?
Prefetch or Superfetch are simply different names for the same system process in all Windows PCs starting from Windows XP. The responsibility of this system process is to cache boot and application files essential to startup the Windows or installed software. This process is prevalent in Windows PC that runs on HDDs.
Prefetch monitors the boot process to learn about which files are opened during the system startup. Also, when you run various apps on your Windows 11, 10, etc., PCs, it monitors those apps too. Then it creates profiles of apps and boot processes in a secured Windows location on the internal storage. The location of the Prefetch folder is as mentioned below. The folder can hold up to 128 app or boot process profiles.
C:\Windows\Prefetch
On HDDs, that inherently come with a slow read and write processes, the Prefetcher service loads these boot processes or application profiles in the RAM before the system or you call those files. Thus, you experience faster Windows OS boot or application initialization.
Also read: How to Install an NVMe SSD in a Desktop and Laptop
Microsoft revamped Prefetch in Windows Vista, and since then it's known as Superfetch and ReadyBoost. Superfetch mostly monitors the application usage on your Windows PC. Then it predicts which app you may run and accordingly it loads a small portion of the applications in RAM or system memory. On the contrary, ReadyBoost features use external mass storage devices like USB flash drives, external HDDs, external SATA SSDs, etc., as system cache and reduce the load on the system RAM chips.
Also read: Can You Mix RAM Brands: A Guide for RAM Mix and Match
Another component in Windows Memory Management, just like Prefetch and Superfetch is ReadyBoot and it's also a part of ReadyBoost. ReadyBoot replaces Prefetch to load boot process files in advance when the system has more than 700 MB of free RAM. Now, an interesting thing is that all these Windows Memory Management utilities link to one Windows system service known as SysMain.
How Does Windows Prefetch Work?
Superfetch, Prefetch, SysMain, ReadyBoost, and ReadyBoot are all the same and they're highly intelligent tools of Windows 11, 10, 8, 7, etc., modern operating systems from Microsoft. Find below its working processes:
On HDDs, Superfetch preloads boot files and software programs so that you can use these instantly.
It can predict up to three apps on Windows 11 and other modern Windows operating systems.
When you use RAM and HDD performance-intensive apps or programs on your Windows 11 PC, Superfetch delays system maintenance tasks like disk defragmenting, Windows Updating, and other background apps.
It automatically pushes resources to active programs by reducing the number of background apps.
Superfetch automatically adapts to changes in your app usage.
When to Disable Superfetch or Prefetch
Here are some scenarios where you may want to disable Superfetch or related Window Memory processes to reduce CPU, RAM, and HDD utilization:
Superfetch is unable to predict gaming apps of big sizes and unnecessarily keeps using CPU, RAM, and HDD, thereby slowing down the game engine.
You're using normal business apps like SQL databases, enterprise resource planning (ERP) apps, large Microsoft Excel worksheets, etc., and experiencing sluggish performance.
You always notice that your computer's Task Manager shows CPU, RAM, HDD, etc., are above the 50% utilization mark even when the PC is in idle condition.
You're running the Windows operating system in a SATA or NVMe SSD.
When to Enable Prefetch or Superfetch
If you use your PC for work-related apps and running on HDDs, you must enable Superfetch all the time.
You're experiencing slower system startup and app startup issues.
There's an external hard drive or USB flash drive always connected to the PC via a USB port and ReadyBoost can utilize these external storages as extended cache repositories.
If you don't disable Superfetch or Prefetch manually, Windows 11, 10, 8, 7, etc., modern operating systems will automatically restore Prefetch files and start using Superfetch.
How to Enable or Disable Superfetch in Windows 11, 10, 8, and 7
There are multiple ways to deactivate and reactivate Superfetch on Windows 11 and earlier operating systems. Some of the effortless methods are as outlined below:
Enable or Disable Prefetch From Services
Hold the Windows key, while pressing  R to bring up the Run dialog box.
Type Services.msc, then press Enter.
The Services window will pop up. Find Superfetch in the list.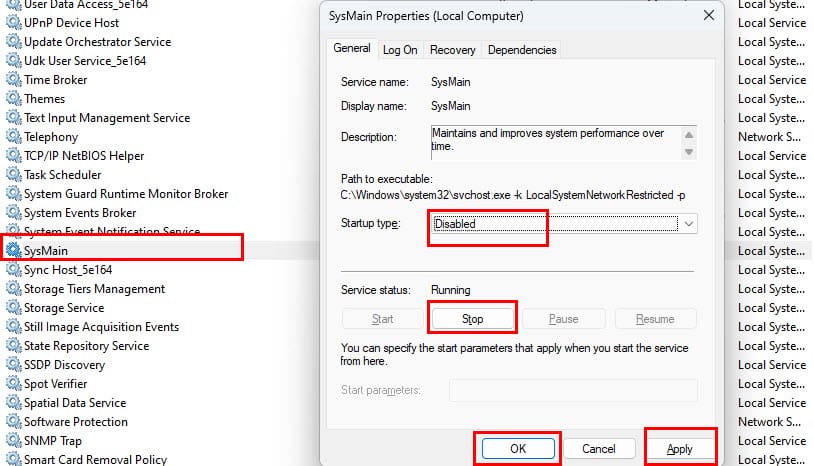 Right-click Superfetch, then select Properties.
Select the Stop button if you wish to stop the service.
In the Startup type dropdown menu, choose Disabled.
In advanced Windows operating systems like Windows 11 and 10, you may not find Superfetch. Instead, you'll find SysMain service. In place of Superfetch, perform the above steps for SysMain to disable Prefetch or Superfetch on your PC.
When you decide to enable the above feature, simply follow these steps:
Go to the Services app and select SysMain.
Right-click and then select Properties.
Now, set the Startup type to Automatic by selecting the option from its drop-down list.
Then, click Start under Service status to run the process.
Select Apply and then hit the OK button to save the changes.
Disable Superfetch (SysMain) From Task Manager
Another effortless way to deactivate the Prefetch or Superfetch process is by using the Windows Task Manager app. Here's how it's done:
Press the Ctrl + Shift + Esc buttons altogether to bring the Task Manager on the screen.
Now, scroll the processes under the Processes Name column header to find Service Host: SysMain process.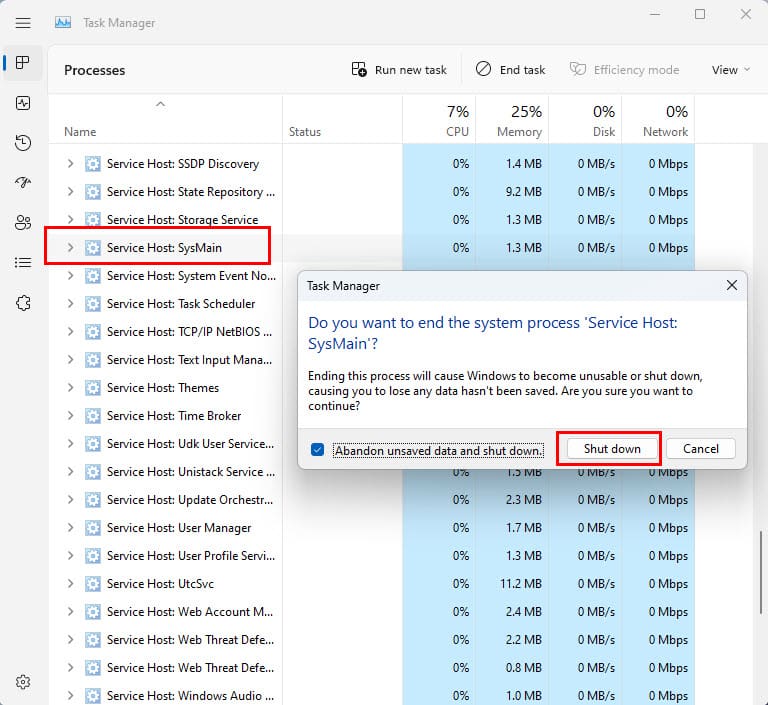 Right-click the task and then choose End task.
Check mark the Abandon unsaved data and shutdown check box and then click Shut down to disable the service.
Enable or Disable Superfetch Using the Command Prompt
Hit Windows + S together to pop up the Windows Search tool.
Type Command and then click Run as administrator on the right side panel of Windows Search.
Command Prompt will open with administrative rights.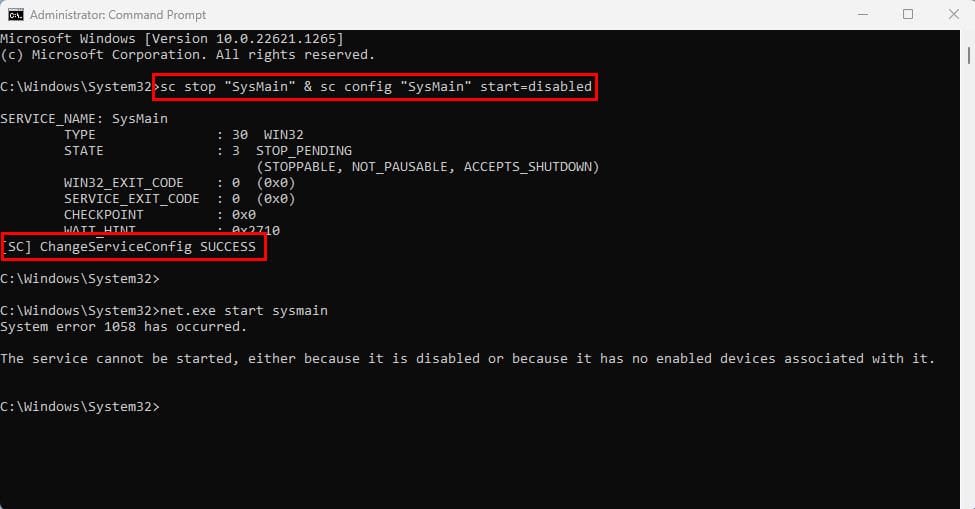 Now, copy and paste the following command into Command Prompt and hit Enter:
sc stop "SysMain" & sc config "SysMain" start=disabled
When you see the following message in the Command Prompt, know that you successfully disabled Prefetch.
[SC] ChangeServiceConfig SUCCESS
If you're ready to start Prefetch again, simply run the following code on Command Prompt:
sc config "SysMain" start=auto & sc start "SysMain"
Enable or Disable Superfetch Using the PowerShell
Right-click the Windows icon on the Taskbar of Windows 11 and select Terminal (Admin) from the context menu.
Now, copy the following Powershell command and right-click on the Terminal window to paste the code:
Stop-Service -Force -Name "SysMain"; Set-Service -Name "SysMain" -StartupType Disabled
Now, hit Enter to disable SysMain aka Superfetch, Prefetch, and ReadyBoost.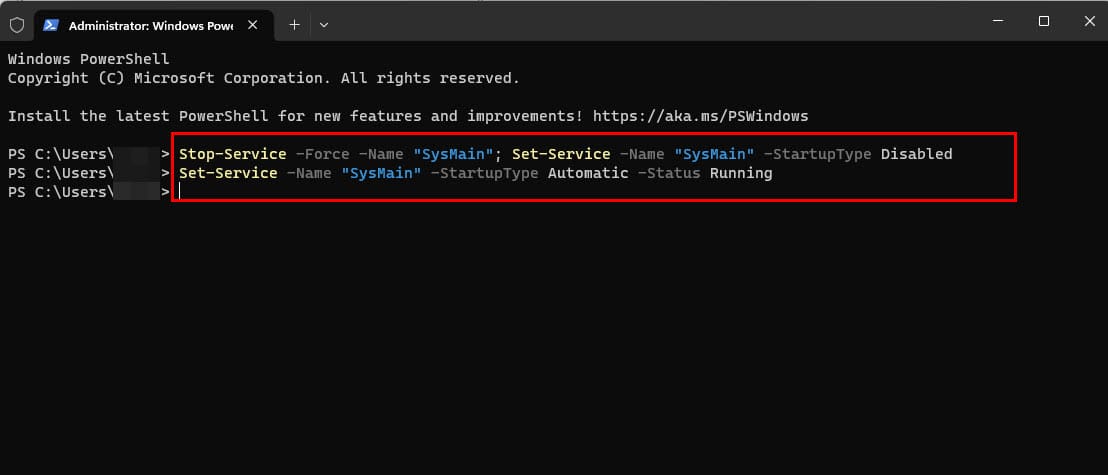 If you want to start the service again, execute the following command on Powershell:
Set-Service -Name "SysMain" -StartupType Automatic -Status Running
Enable or Disable Prefetch From the Registry Tool
Hold the Windows Key, while pressing R to bring up the Run dialog box.
Type Regedit, then press Enter on the keyboard.
The Registry Editor window appears. Navigate to the following location in the Registry.

HKEY_LOCAL_MACHINE
SYSTEM
CurrentControlSet
Control
Session Manager
MemoryManagement
PrefetchParameters

Alternatively, you can copy and paste the following Registry address into the Registry tool:
HKEY_LOCAL_MACHINE\SYSTEM\CurrentControlSet\Control\Session Manager\Memory Management\PrefetchParameters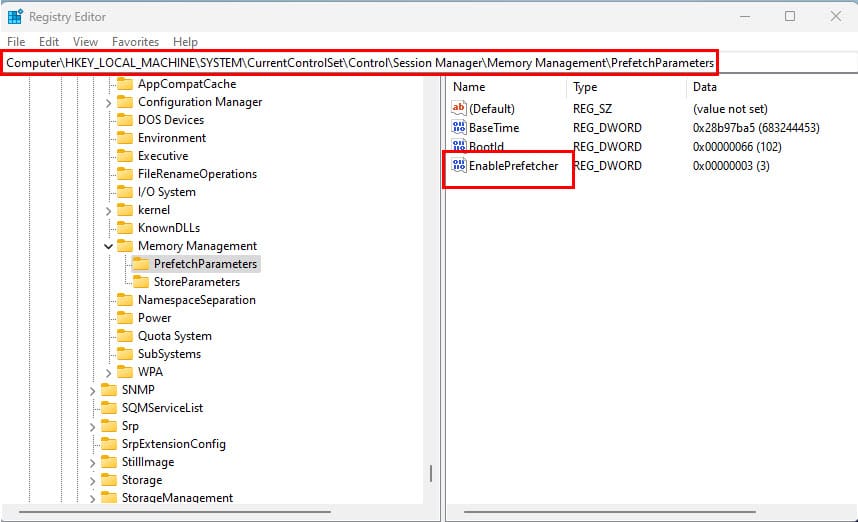 On the right side, double-click on EnableSuperfetch. If this value doesn't exist, right-click the PrefetchParameters folder, then choose New > DWORD (32-bit) Value.
Give EnableSuperfetch one of the following values:

0 – to disable Superfetch
1 – to enable prefetching when you launch a program
2 – to enable boot prefetching
3 – to enable prefetching of everything

Select OK.
Close the Registry Editor.
Note: If you disable Superfetch and would like to enable it for certain applications, you can use a special switch in the program shortcut: /prefetch:1
FAQs On Enabling or Disabling Superfetch
Where Is the Prefetch Data Stored?
You'll find all 128 boot processes or application start-up data in the Prefetch folder. By default, Windows stores the Prefetch folder in the following location on your Windows 11 or 10 installation drive:
This PC > Local Disk (C:) > Windows > Prefetch
Should I Enable Prefetch?
If you're running your Windows 7 and later operating systems only for mid-level computation like business app use, database maintenance, Microsoft Excel processes, etc., then you should enable Prefetch. In fact, Prefetch is by default functional on all Windows PCs since the Windows XP operating system. Prefetch is highly necessary for PCs running on HDDs.
Should I Turn Prefetch on or Off in SSD?
There's no necessity for the Prefetch service for SATA and NVMe SSDs since these internal storage media are 20 to 35 times faster than HDDs. Hence, you can disable Prefetch in a Windows PC using an SSD as the primary internal storage.
Enable or Disable Superfetch: Final Words
Now you know how to enable or disable Prefetch, Superfetch, SysMain, etc., on a Windows PC running Windows 11 to Windows 7 operating systems. Choose a method you like and give it a try yourself. If I missed any other methods to turn on and off Prefetch, do mention those in the comment box below.
Next up, how to make Windows faster with Microsoft PC Manager.