If the group you're in is a big one, then you might get more notifications than you would like. Sure, you could request to be removed, but you might be asked why you want to leave, which can be embarrassing for some. If the issue is the notifications, you don't have to go to the group since you must only silence them. This situation can arise whether it's a text message group, WhatsApp, or Telegram. Regardless of what app you use, keep reading to see how to mute group text messages in Android 11.
How to Mute Group Text Messages in Android 11
Keeping those group texts under control is quick and easy. To mute the notifications for a text group, you'll need to open the messaging app on your Android device and find the group with the notifications you want to mute. Once it's open, tap on the three dots at the top right.
Tap on Group Details and the Notifications option. At the top, you'll see three notifications options:
Priority: Shows at the top of the conversation section, appears as a floating bubble, and displays profile pictures on the lock screen.
Default: May ring or vibrate based on phone settings.
Silent: No sound or vibration and it appears lower in the conversation section.
How to Mute Group Text on WhatsApp for Android
Notifications can get out of control on WhatsApp as well. If you don't want your phone to notify you of the 100 unread messages you have, then muting those active groups is a good idea. Open WhatsApp and find the group you want to mute. Without opening it, long-press on the group and tap on the speaker icon with a line across it. You'll see a small window where you'll need to choose how long you want to mute the group. You can choose from options such as:
Eight hours
One week
Always
If you're already in the group, tap on the three dots at the top right and choose the Mute notifications option. You'll get the same window with the time options to mute the notifications. Before, if you left a WhatsApp group, everyone would know because WhatsApp would leave a message for all to see. Times have changed, and even though WhatsApp still leaves a message that someone left the group, only the administrators see it.
If you want to do this, you can leave a WhatsApp group by opening the group and tapping the top of the group's name. Swipe down until you come across the Exit Group option and select it. Afterward, you should see an option to erase all the group's data from your device; select that too. That's all there is to it. You have left the group, and only the Admins will know, not the whole group.
How to Mute Group Text on Telegram for Android
Telegram users may also need a break from their notifications. You can mute the notifications for a group by opening the group and tapping on the dots at the top right. Tap on Mute and choose from options such as: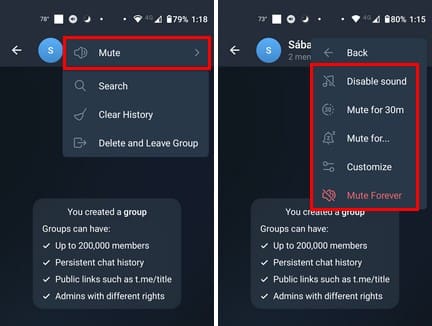 Disable sound
Mute for – With this option, you can choose from times that range from 30 minutes to a year. When you choose a time, you'll see a confirmation message.
Customize – Here, you can make all sorts of changes to the group notifications, but when it comes to muting them, you can choose to turn off the popup notifications. Also, you can set the group notifications to low in the Priority section. In the Sound section, you can also choose the No Sound option.
Mute Forever
Further Reading
Speaking of muting notifications, here is how you can mute notifications in Chrome if they become too much. For the Samsung Galaxy Tab S5e users, here is how you can customize your notifications. If you want to disable notifications for threads you're following on Slack, here are the steps to follow. If there is a specific topic you're looking for, remember you can also use the search bar at the top.
Conclusion
When you're in a big group, notifications can get out of control. They can constantly bother you and never give you a moment's peace. But the good news is that you can turn them off or get or mute them so you only see the messages when you open the app. Depending on the app, you can choose from different options, but you can always return at any time and make some more changes. How did you manage your notifications? Share your thoughts in the comments below, and don't forget to share the article with others on social media.