Watching YouTube in Picture-in-Picture mode has its advantages. You can continue researching, work on something else, and watch a YouTube video simultaneously. Just because you're not on the YouTube page, that doesn't mean that you don't have any control over the video. You can do things such as adjust the size of the video and pause the video. You also have access to settings and mute and can go to the next track.
You'll also be able to see how much of the video you've seen and how much of it is left. It's even possible to forward the video or rewind it. One thing that'll be missing is that you won't be able to preview where the video will land when you place the cursor on the video timeline. A preview window appears when you're on the YouTube page and place the cursor to choose a new starting point. That doesn't appear in picture-in-picture. Let's see how you can enable this helpful feature.
How to Enable YouTube Picture-in-Picture on Windows
You need to use no specific browser to use YouTube's picture-in-picture mode. Right-click on an area of the video, and you should see the picture-in-picture option. If you don't see it, try right-clicking on other areas until you see it.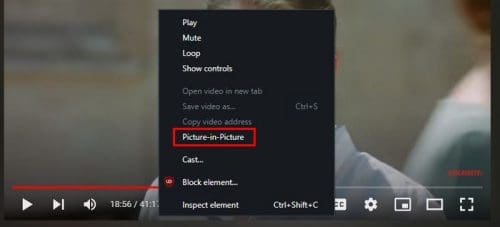 This will make the video pop out so you can continue reading other sites without stopping watching your YouTube video. But, if this is your first time going into the features settings, the Picture-in-picture feature automatically turns on when you start a YouTube video and switch to another tab. But if this is something you want to turn off, you can.
When using picture-in-picture, place the cursor on the video and click on the cogwheel. The first option on the list is the Automatically pop-out video option. Toggle it off if you don't want the picture-in-picture mode enabled when you switch tabs.
If you want to turn the feature on, toggle the option on. If, for some reason, you turn it on and when you switch tabs, the picture-in-picture doesn't work, not to worry since it should start working when you restart YouTube. Remember that you can resize the picture-in-picture window by placing the cursor on the sides and when the cursor turns into an arrow pointing in both directions, right-click and make the window as small or as big as you want.
If you're on another tab, you can close the picture-in-picture by clicking on the X icon at the top right of the video or the icon on the opposite corner that looks like a box with an arrow in it, the Back to tab icon. In picture-in-picture mode, you will not be able to find a specific scene since there will be no preview. If you need to find a particular scene, you'll need to go back to the YouTube tab. When you place the cursor on the timeline, you see the scene you'll see if you click in that area.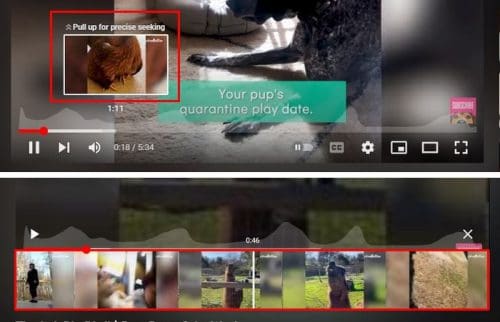 But you'll also notice an option to be more precise in your search for that specific scene. To access precise seeking, click on a particular area and move the cursor toward the top. You have more options to choose from when you're on the YouTube tab, but you still have access to basic controls when you're on another tab.
How to Enable Picture-in-Picture Mode on Android
It's also possible to watch your YouTube videos in picture-in-picture mode on your Android device. You'll have access to this feature if you live in the US or you're currently paying for a YouTube Premium subscription. You'll need to be running on Android 8.0 or higher. If you meet the requirements, then you can enable the feature by going to:
Settings
General
Toggle on Picture-in-picture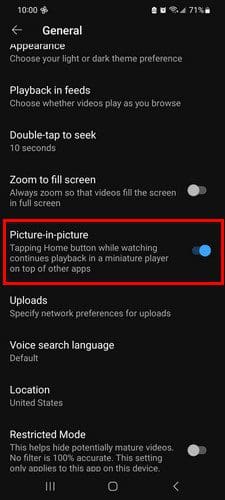 After following these steps, you can continue using your Android device, and you'll continue to see the YouTube window. You can move it around if it's in an area that bothers you.
YouTube Picture-in-Picture Workaround
If you don't have YouTube Premium, you can try the following to use the feature. Open the Chrome browser and go to YouTube's site. Start watching any video; without closing or stopping the video go to your device's home screen. The video should go into picture-in-picture mode.
The video will seem small, but tap on it, and it'll get a little bigger. To go back to watching the video on YouTube's site, tap on the arrow pointing in both directions. If you ever want to close the video, tap on the x or drag it to the bottom of your screen to make it go away. You'll be taken to the app's settings on your device by tapping on the cogwheel. You can make any additional changes as long as you're there.
If you tap on a YouTube link from the Google search results and your Android device keeps opening it on the YouTube app, here's how you can prevent that from happening. You'll need to go into your device's setting and disable it. Go to Settings > App and notifications > YouTube app >Disable.
Now when you go to YouTube on Chrome and then go to the home screen, the picture-in-picture will appear.
How To Use YouTube Picture-in-Picture Mode Using Safari
You'll need to get rid of the YouTube app to use YouTube's picture-in-picture. Once you've done that, go to YouTube on Safari and start playing a video. Tap on the full-screen icon, and the video should be picture-in-picture when the video is in full-screen.
Just like in Android, you can still control the video in this mode. You can forward or rewind the video by 15 seconds. You'll also see the play and pause buttons. At the top right, you'll see the icon to go full-screen again, and you can tap on the x if you want to make the video disappear.
Double-tap on the video to make it bigger and swipe it off the screen to get rid of it. That's all there is to it. Thanks to this helpful feature, you can continue to watch your YouTube videos without having to stop looking at everything else.
Further Reading
YouTube has a lot to offer. See how you can do things such as create and edit playlists. You can also create and share clips, and not to mention that you can also fix all sorts of issues that are sure to come up. For example, you might be interested in reading about how you can fix YouTube restricted mode not turning off or how to fix outside your home area YouTube TV error.
Conclusion
The picture-in-picture features allow you to read other sites and watch your video. It doesn't matter what device you're using. It can be your Android device or your iPad. There is even a workaround to using this feature if you can't use it because you're not in the US or don't have YouTube Premium.
If you ever get tired of using the feature, you can always turn it off. You'll also count on options to control the video as you use it in this mode. How often do you think you'll use the feature? Let me know in the comments below, and don't forget to share the article with others on social media.