It can be frustrating when your Android device won't charge. So, when you have this problem, it's logical to look for a fix for the Android battery will not charge. There are various reasons why your Android's battery is not charging. The solution could be simple or require you to take the phone in for service. If your Android device is an older model, this is expected for those models. In those cases, an upgrade will be necessary. Hopefully, your fix is simple, but let's list possible fixes that get that Android battery charging.
How to Fix Android Battery Will Not Charge
It's always best to start with simple fixes when fixing any issue. Have you tried restarting your Android device? You'd be surprised about the number of problems a restart can fix. Another easy fix would be to remove the case on your Android phone. In some cases, the design can prevent the cable from being inserted completely, therefore not charging your phone.
You can also try using another charging cable and the socket and adapter if you happen to have a spare in your drawers. If those don't work, you can get new ones. If you do get a new cable or adapter, avoid using imitations since there is a good chance that they won't work correctly. Try charing your Android device using your computer; if it works, you know it's not the cable but the adapter. This is only to check if your Android device charges at all. Using your computer as a power source is not a good idea since it takes much longer than going with a wall socket.
Using another power source can also help. Avoid using cable extensions and use the cable that came with your Android device or a new but original one. Use a wall socket you know works so there can be no doubt about the power source.
As long as we're on the hardware idea, give the charging port a good look with a good light source to see if the prongs aren't damaged. Sometimes, when you're in a hurry, you might not easily connect the charger and may have accidentally damaged the prongs.
How to Fix Android Battery Will Not Charge: Check the Ports for Dirt and Debris
Check the charging port to see if no debris is getting in the way and preventing your Android from charging. Avoid sticking anything into the port. Try a light clean by using a soft brush or a can of compressed air. You can get a large variety of compressed air on Amazon—type compressed air in the search bar for a list of options. Be careful about not sticking anything too dep into the port since it can cause irreversible damage.
Uninstall Apps
Poorly configured apps can also cause all sorts of problems. If this issue started after you installed an app, try removing it. You can uninstall the app by long-pressing on the app icon on your home screen and dragging it to the top to the uninstall option.
You can also open the Settings app and to Apps and notifications. Select the app you want to remove and tap on the uninstall button.
Turn Off Your Phone to Charge It
When you have a lot of apps, you have a lot going on in the background. If you're charging your phone while it's on and use it frequently, it will charge slower than you want. If you need to charge it quickly, try turning it off. It'll charge faster since all the energy goes to the battery, not those background processes. If turning off your phone is not an option, you can also try turning on Airplane Mode, which will block various services that will only drain your battery.
You can turn off Airplane Mode by swiping down twice from the top of your display to access Quick Settings. Look for and toggle on Airplane Mode. If you don't see it, tap on the pencil icon at the bottom left and swipe down until you see it. When you find it, long-press on it and drag it to the top for an easier find.
Try Factory Resetting Your Phone
Another reason your Android's battery isn't charging is a software glitch. It could be due to a poorly configured app you downloaded from an unknown source. Even if you downloaded the app from Google Play, those apps still make their way to those well-known app stores. So, if you don't mind starting over, you can wipe the trace of any glitches by performing a factory reset. When you factory reset any device, you lose everything unless you back everything up. Even if you don't have a reset in mind, it's always a good idea to back up all your files since you never know what can go wrong.
Look at the bright side; sure, you have to start over, but you'll install everything you need in time. Whatever you didn't install was probably not that important if you can't remember. If you need help remembering all your apps, take screenshots of your home screen for future reference. That way, you know you'll have everything you need.
To wipe everything clean and remove any bugs you haven't been able to remove, you'll need to open the Settings app and go to System.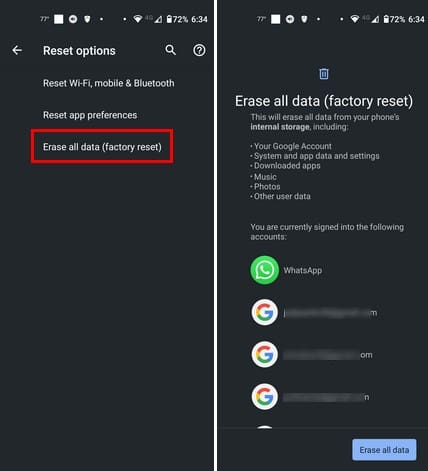 Tap on Reset options, followed by Erase all data (factory reset). If you don't see Reset options, tap on the Advanced option to see more options. On the next page, you'll see a warning message showing you all the information that will be erased. That info includes:
Your Google Account
System and app data and settings
Downloaded apps
Music Photos
Other user data
You'll also see a list of all the accounts you're signed into. Tap on the Erase all data button to continue.
This method worked when my Android phone's battery wasn't charging. When I would connect it to charge, the battery percentage would drop even though it was connected. I tried using another cable and adapter, which helped, but was not charging as it should. It wasn't until I did a factory reset and reduced the apps I installed that my issue was fixed. With a factory reset, you also help remove files taking up unnecessary storage on your Android device.
You can also try starting your phone in Safe Safe to see if charging returns to normal. If it does, you know it's an app.
If All Else Fails
Another reason your Android device is not charging, or it's charging very slowly, could be because of physical damage to the battery. If you have a phone that doesn't have a removable battery, you'll need to take it in for service. Check your contract to see if your Android device is still under warranty. If it is, you won't have to spend anything to fix it.
Further Reading
If you come to the conclusion that you do need a new charger and you're using a Pixel 6, here are some of the best chargers for your phone. Here is a list of the best chargers for the Galaxy Tab S9 as well. Powerbeats can also come across the issue of not being able to charge them. If that's your case, here are some helpful tips you can try to fix the issue. If you need help finding an answer to the popular question, Will any charger work with my phone to tablet? Here is where you can find the answers.
Conclusion
It can frustrating when you need to charge your phone after a long day. How fast your Android device reacts to the charge depends on how old it is. Older models need more time to charge, while models with TurboPower don't need as much. The fastest way to charge your phone is to turn it off or to turn on airplane mode. But batteries are not made to last for a long time, and the more you use them or don't charge them properly, the less time they will last. How long have you been experiencing this issue? Share your thoughts in the comments below, and don't forget to share the article with others on social media.