Zoom allows users to display an image or video of their choice as a background during video conferences. Many users utilize the Virtual Background feature with a green screen for the best possible results.
However, sometimes Zoom may fail to add a virtual background or the green screen may not work. If you're in a hurry to solve this problem, we're sure this troubleshooting guide will come in handy.
Fix Zoom Not Adding Virtual Background or Green Screen Not Working
1. Check the system requirements
Virtual backgrounds require more processing power and if you own a low-specs computer, chances are you won't be able to use this feature. Make sure your computer meets the system requirements for using virtual background on Zoom. For more information, check this support page.
If you're getting the error message 'Your Computer doesn't meet the minimum requirements to use this feature without a green screen background', this indicates your machine is not equipped with enough computing power to run stand-alone virtual backgrounds.
2. Enable Virtual Background
Make sure Zoom's Virtual Background feature is enabled on your account otherwise you won't be able to use it. Maybe the feature got disabled by default.
Connect to your Zoom account in your browser
Go to Settings → In-Meeting (advanced)
Make sure the Virtual Background toggle is enabled as shown in the screenshot below
Return to your desktop app, sign out of Zoom and close the app
Launch Zoom again, sign in and check if the background is working.
3. Get the latest Zoom updates
Zoom regularly rolls out updates that pack many useful improvements and fixes for known issues. Perhaps the latest Zoom update addresses the exact virtual background issues you're currently experiencing.
Make sure to check for updates and ensure you're running the latest Zoom app version on your computer. Click on your user name and select Check for Updates.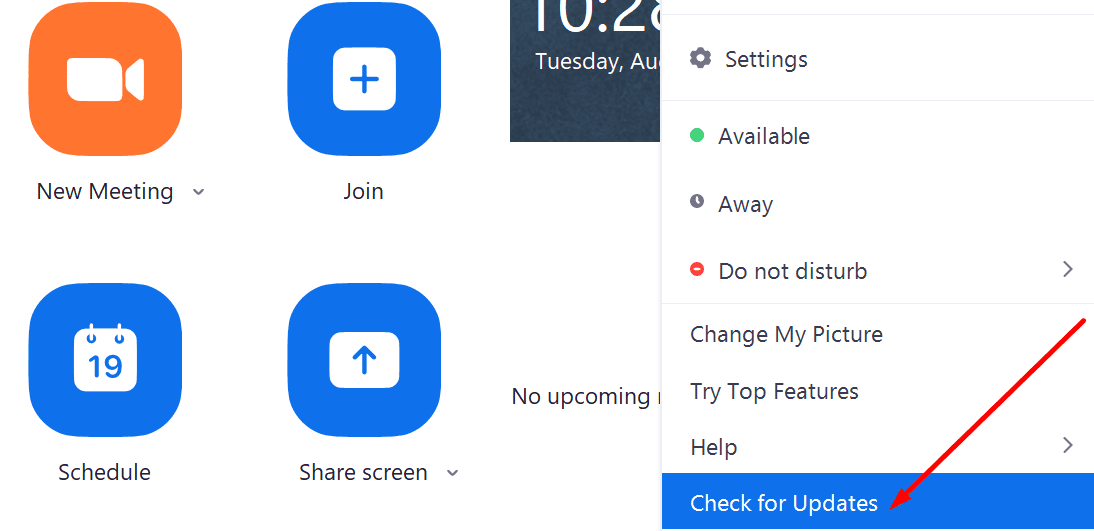 You can update your operating system as well.
4. Make sure there's enough light
Ensure there's enough light in the room otherwise your virtual background might sometimes blend with your real background. Move closer to the window or turn on all the lights.
5. Check the video format
If you can't use a custom image or video as your virtual background, then most likely, you're using a file format that Zoom does not support.
Zoom supports the following formats:
Images: GIF, JPG/JPEG or 24-bit PNG, recommended size 1920px by 1080px, maximum file size 5 MB.
Videos: MP4 or MOV, and a minimum resolution of 480 by 360 pixels (360p) or a maximum resolution of 1920 by 1080 pixels (1080p).
We hope you can now use Zoom's Virtual Background feature without any problems. If you found other solutions to solve this problem, let us know in the comments below.