The Steam Deck is a portable gaming device developed and manufactured by Valve Corporation, the same company behind the popular gaming platform Steam. Announced in July 2021 and released in December 2021, the Steam Deck allows users to play their favorite PC games on the go in a handheld console form factor, similar to the Nintendo Switch.
The device runs on SteamOS, a Linux-based operating system developed by Valve, which allows users to access their Steam library and other compatible gaming services. The Steam Deck also supports Proton, a compatibility layer that enables users to play Windows-based games on a Linux-powered device.
In addition to gaming, the Steam Deck can be connected to a monitor or TV using a USB-C port or the optional official dock, effectively turning it into a portable gaming PC. Users can also install other operating systems and software, making the device versatile and suitable for various tasks beyond gaming.
What is Desktop Mode on Steam Deck?
Desktop Mode on Steam Deck refers to the ability of the device to switch from its default SteamOS interface to a full-featured desktop operating system, essentially turning the Steam Deck into a portable computer. This mode allows you to access a traditional desktop environment, where you can install and run other software applications, browse the web, manage files, and more.
Steam Deck's Desktop Mode offers the flexibility to use the device for purposes beyond gaming, taking advantage of its hardware capabilities to perform tasks typically reserved for PCs or laptops. This includes being able to install and run various Linux apps, while also making it possible to add "non-Steam" applications to the traditional SteamOS interface.
How To Get To Desktop Mode on Steam Deck
When you boot up the Steam Deck for the first time, you'll be greeted with the SteamOS interface. This is similar to using Steam on Windows or macOS in "Big Picture Mode." It offers an easy-to-navigate interface to your library, along with accessing the Steam store.
However, Valve also made it pretty darn easy to get to Desktop Mode on Steam Deck. There are two slightly-different methods you can take in order to do so.
Press the Steam button on your Steam Deck.
Scroll down and select Power.
From the Power Menu, highlight and select Switch to Desktop.
Wait until your Steam Deck switches to Desktop Mode.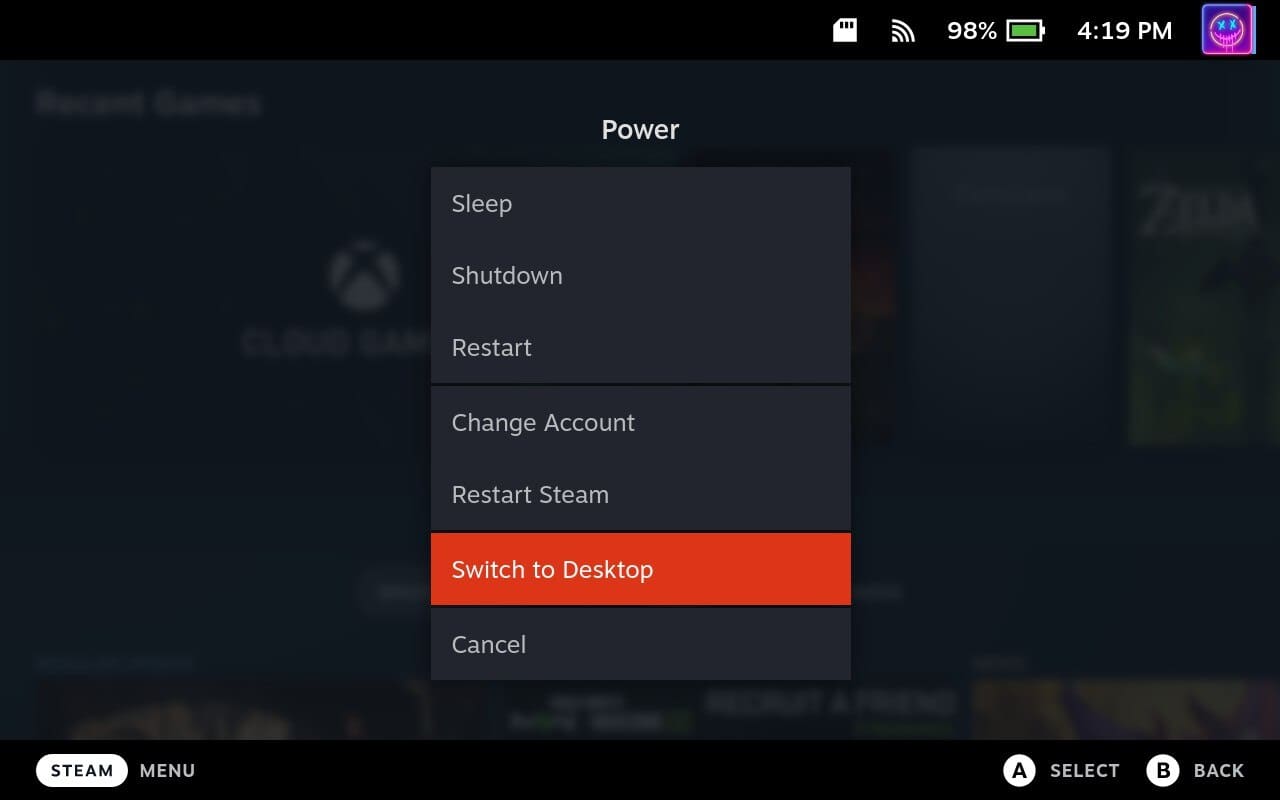 The other method to get to Desktop Mode on Steam Deck is as follows:
Turn on your Steam Deck.
Long-press the Power Button for a few moments.
When the Power menu appears, scroll down and select Desktop Mode.
Wait until your Steam Deck switches to Desktop Mode.
Conclusion
One of the best things about the Steam Deck is that you don't need to use Desktop Mode if you don't want to. But there's quite a bit of excitement in being able to use your Steam Deck as an all-in-one device for everything from gaming to getting work done, and everything in between.