The Guardian Boundary is one of the most useful safety features the Quest has. Thanks to the cameras that are facing in several directions on the headset, your Quest keeps track of your surroundings. While you can't always see the feed and the cameras aren't permanently recording, they do always make sure that you don't bump into things.
When you turn your Quest 2 on in a new environment, you'll be prompted to draw a new guardian boundary. You'll be marking the areas around you where it's safe to move to while playing. This way, you can let the headset know where your couch table is without banging into it.
The headset keeps track of both your head and arm movements. So, even if it's just your arm swinging towards the edge of your boundary, you'll be alerted so you don't accidentally hurt yourself.
Otherwise, you could easily punch something like a wall or desk by accident. While Oculus takes no responsibility for injuries caused by playing, they do provide the Guardian Boundary to help keep you as safe as possible.
Other safety features include the wrist straps attached to the controllers, and functions like passthrough. In the Settings options of your headset, you'll find a few options to adjust just how the Guardian Barrier works. Don't hesitate to tweak things to fit your playstyle. You can even change the colour of the outline if you want!
How does the Guardian Boundary work?
When starting up in a new area, you'll be prompted to first mark the floor level. This is to make sure that games can get an accurate height rating for you, and to make sure that when you are made to bend down, you can do so safely. It also makes sure the floor showed isn't above or below the 'real' floor.
Tip: Never play on uneven ground – not only can you trip easily, but the floor level reading also might not be accurate enough for you to safely 'pick' things up in-game!
Once you've indicated the floor level, you're prompted to draw the area that's safe around you. As a minimum, you need an area larger than 1×1 metres. 2x2m is recommended for quite a lot of games, so that's ideally what you'll want to go for.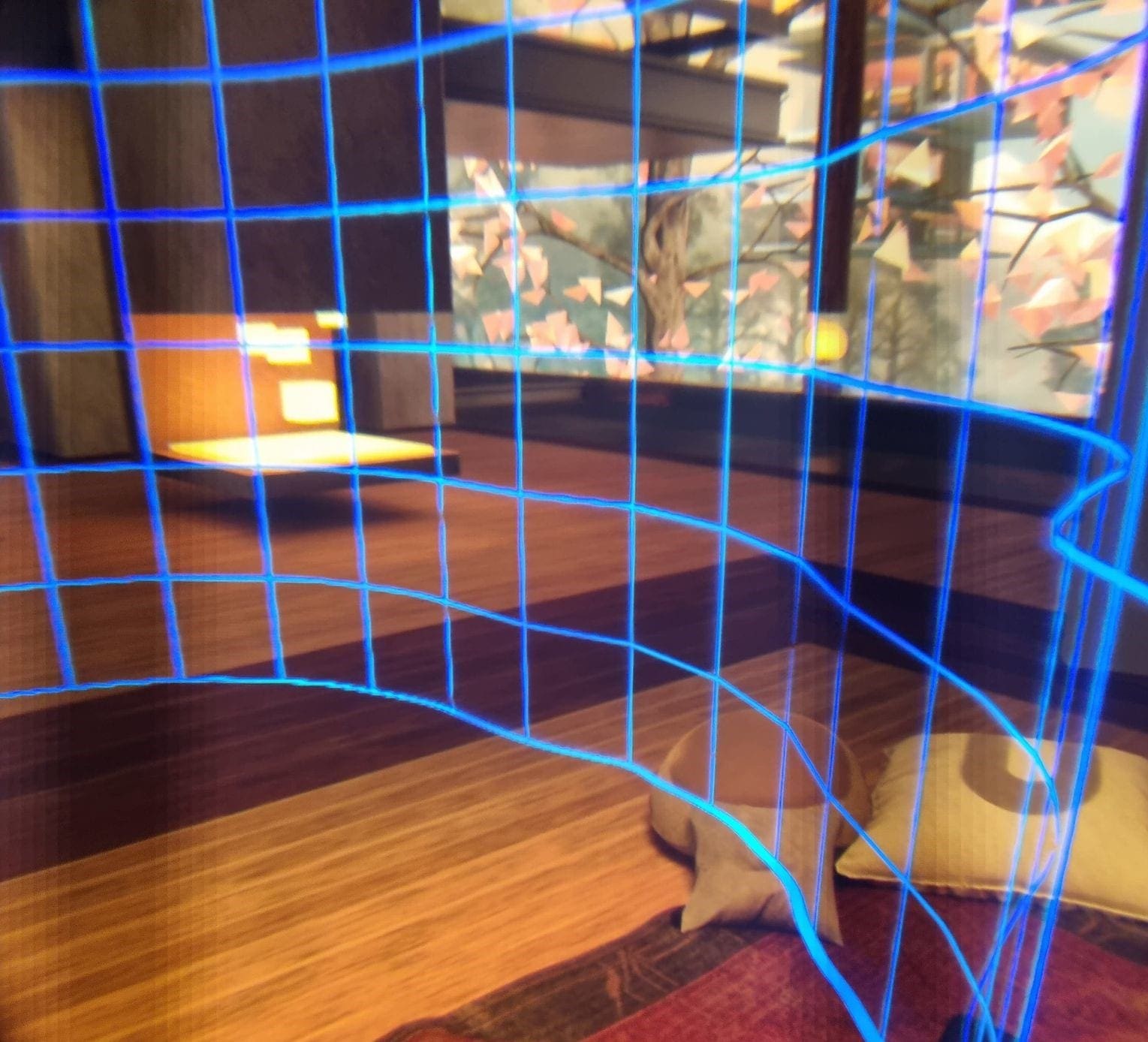 Some games won't work with too small a boundary – but even if you play in limited spaces of less than 1x1m, you can use the Guardian Boundary. All you have to do is switch to the stationary boundary. That auto-draws a small circle around your position. While you won't have the space to step around without leaving the barrier, you will still be alerted should you leave the assigned area. This is useful if you're going to be playing in a chair for example, or a game with no movement.
Tip: The Guardian Boundary won't work in bad lighting conditions. While you'll get an opportunity to confirm you want to play entirely without any Guardian Boundary, this is NOT recommended. It will affect your game performance, in addition to the risk of injury. Please always be careful when playing in VR.