Are the prices for ready-to-use VTuber avatars too high? Do you want to apply your artistic skills to a custom VTuber model? Do you want to make money by selling VTuber avatars? If yes, you must learn how to make a VTuber avatar below.
To get started with VTubing, you'll need a VTuber model or avatar. There are plenty available for sale in various online marketplaces. But today, I will explain and show you how to create a VTuber avatar yourself.
Can You Make a VTuber Avatar for Free?
You can make a VTuber avatar for free. However, you'll need offline 3D modeling software like VRoid Studio. Most online VTuber model-making tools are easy to operate but don't offer a license to monetize the 3D model.
Making your own VTuber model helps you to add custom expressions, character features, and artistic attributes. It'll make your 2D or 3D digital model more lively than any ready-made model.
Let's make your first VTuber avatar now!
How to Make a VTuber Avatar: Using Online Tools
Ready Player Me is, by far, the most accessible web application to create VTuber avatars from scratch. The platform initially started as the NFT platform for the Metaverse. Character creators and artists would use this web app to create outstanding 3D models.
These models could be from any niche of cartoons and games. For example, you can have anime characters, action gaming characters, fun cartoons, etc.
Since making an avatar is truly easy, the VTubing community took an interest in this tool. Now, buddying VTubers from experienced most prefer Ready Player Me because they can get a fully-functional VTuber model in a few minutes.
What Program Is Used to Make a VTuber Avatar?
You must mainly use a sketching and rigging program to make a VTuber avatar. On the sketching app, you'll create the 2D character that'll replace you as the anchor of your YouTube or Twitch channel.
You can use the VTuber model rigging app to give life to your virtual character. It'll move, talk, and make body gestures by mimicking you. You must use one of the best external webcams for the best experience.
Here are the steps you must follow to make a VTuber avatar in 3D:
Quickly sign up for Ready Player Me by going to this Sign-Up form.
The web app will send an email for verification.
Once you verify by clicking the Verify email button, the tool will sign you in automatically.
You should now see the Choose your body type screen.
There, you get three options for the VTuber avatar. For example, Masculine, Feminine, and Don't specify.
Click the one you prefer to move further.
The next screen is about choosing a template from which the app will create a 3D VTuber model for you.
You can use a webcam to take a photograph or use any existing image from your PC. If you don't prefer to give any hint to the audience about your look, you can select Continue without a photo.
Allow the app a few seconds to use its built-in artificial intelligence (AI) to build your 3D VTuber avatar.
You should now see a basic 3D avatar on the Ready Player Me editor screen.
That's it! You've successfully created a VTuber avatar. Now, you can apply to follow modifications to personalize the avatar:
Choose from a range of skin complexion from the left-side panel
Modify character body appearances from the right-side panel
The right-side panel offers modifications for the face, hair, clothing, eyewear, face art, mask, and head cover
The face modification menu lets you customize the attributes for the face structure, eye color, eyebrow style, nose, lips, and beard.
Once you've made the changes you desire, click Enter Hub to finalize the VTuber model. Beside the Customize look button, you should see a download icon. Click that to download a . GLB copy of the model.
The content that you get comes under the CC BY-NC-SA 4.0 license. Hence, you may not use the VTuber model for commercial purposes.
How to Make a VTuber Avatar: Using 3D Modelling Software
If you need a VTuber avatar for commercial purposes, you can design it on the VRoid Studio. You can download it for free on the official website of VRoid Studio.
Once you've downloaded and installed the application on Windows, Steam, or Mac, follow these steps to create a basic VTuber model in 3D or 2D:
On the welcome screen, select For beginners.
Now, you'll see the Models screen. You can create one from scratch or choose a Sample Model for personalization.
If you're a buddying VTuber, using a Sample Model is better. You may later create one from scratch when you gain substantial experience with the VRoid Studio app.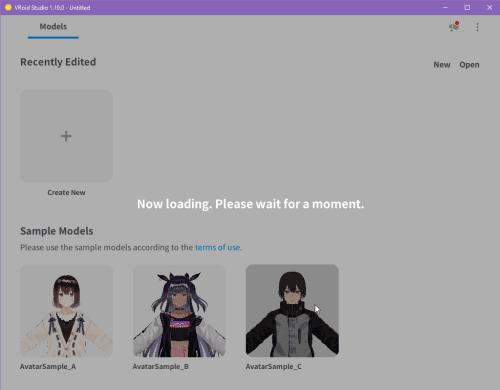 Choose any of the sample avatars.
On the editor canvas, you'll find various customization options for the Face, Hairstyle, Body, Outfit, Accessories, and Look.
For navigation, use the right-click to view the model in a 3D space and the scroll wheel to look closer.
On the Face section, scroll to the bottom and find the Expression Editor. Use this to create multiple versions of your VTuber avatar with facial expressions like Smiling, Sad, Neutral, Happy, Surprised, and so on.
If you're done editing, click the hamburger menu on the top-left corner and save the VTuber model as a . VROID file.
How to Make a VTuber Avatar: Alternative Tools and Apps
So far, you've explored the most popular apps VTubers use to make a VTuber avatar in 2D or 3D. However, both the above tools have some shortcomings.
VRoid Studio is only suitable for anime characters. For other 2D or 3D characters, you need to look for a different app.
Ready Player Me only lets you create non-commercial use models. Hence, you're restricted to personal use. You can't make money out of it.
Find below a list of other popular VTuber avatar creation tools that offer a dynamic range of character models and commercial licenses:
The above VTuber avatar makers and riggers are advanced tools. It would be best if you went through some learning curve before making production-ready VTubing models on these apps.
How to Make a VTuber Avatar: Final Words
Now you also know the secrets to all those funny and beautiful-looking anime characters that appear on VTubing channels like A.I.Channel, Ironmouse, Gawr Gura Ch. hololive-EN, and more.
Go ahead and give the above tools a try to make a VTuber avatar for your VTubing channel. Leave a comment below if you use any other VTuber avatar-making tools so our readers can try the tool.
Next up, how to become a VTuber on YouTube and Twitch.