Every internet user will be familiar with the universal cookie warning notices. Most websites show them thanks to EU legislation requiring websites to do so if they save cookies on your device. Cookies are small text files typically used as identifiers or to set certain preferences. They can be set by a website, then the browser submits all cookies for the relevant website with every request.
The main way to keep a user signed-in to a website is to save an authentication token in a cookie. This way, when the user requests a page, the authentication token is included and so the website knows that they are logged in.
Another common use of cookies is for tracking. Websites will often include tracking cookies to be able to analyse the way the website is being used. Third-party content such as advertisements can also be used to include tracking cookies from other websites. These third-party cookies are able to track your activity across the majority of the internet because so many websites use them. This allows advertising agencies to track your activity and develop a detailed interest profile to help them target ads to you specifically.
Originally, the EU cookie law was designed to give users control over this sort of thing, to allow them to choose if they wanted that sort of tracking. In practice, however, most websites implemented a policy of "allow all cookies or leave". While some websites give you more control, the interface to specifically reject some or all cookies is often difficult to find or excessively complex.
There is, however, another way to set some cookie preferences. Web browsers typically include an option to set your cookie preferences. While this won't give you control over individual cookies, you can still choose to set overall preferences if you wish.
If you want to manage your cookie preferences for all websites in the Opera browser on Android, you need to use the in-app settings. To be able to access these, you need to tap the Opera icon in the bottom-right corner of the app.
Next, you need to tap "Settings", found at the bottom of the popup panel, to open the in-app settings.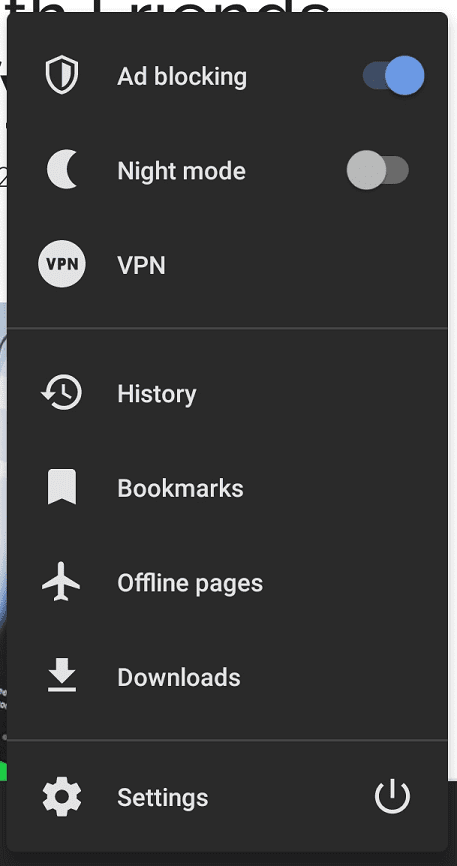 Scroll down to the bottom of the settings, then tap "Cookies" in the "Privacy" subsection.
There are three levels of cookie preferences you can set. "Disabled", prevents any cookies from being set. "Enabled", allows all cookies to be set. "Enabled, excluding third-party", allows cookies from the website you're on, but not from any external resources the website loads.
Tip: Disabling cookies may cause some site functionality to break. For example, most websites require cookies for you to be able to sign in.