The reason why you might want to rotate text in Microsoft PowerPoint can vary. Maybe you're making party invitations and want to add some fun to your invitations. Whatever the reason might be, you'll be happy to know that rotating text in PowerPoint in Any direction is more straightforward than it may sound.
When turning text upside down in PowerPoint, you have two choices. You can rotate it by using your mouse or by adjusting the degree. Keep reading to see how you can do either and turn your text in any direction.
How to Rotate Text in Microsoft PowerPoint
One way you can rotate text is by changing the degree. If you haven't inserted the text yet, you can do that by clicking on the Insert tab, followed by the Text Box on your PowerPoint document.
The cursor will change shape, and when it does, it's time to draw the text box. Once it's there, type your text and then click on the Shape Format option at the top. Make sure to locate the Rotate option.

Once you click on the Rotate option, you'll see various options. You can rotate right or left 90 degrees, flip vertical or horizontal. At the bottom, you'll see the More Rotation Options.
When the Format Shape window appears, locate the Rotation option to the right. Click on the arrow that points up and down until the text rotates to a position you're happy with.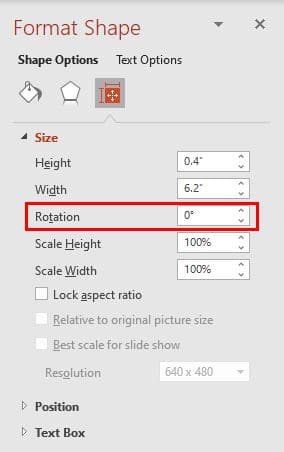 How to Rotate Text Using the Mouse in PowerPoint
If the text you're rotating doesn't have to be at an exact degree, you can also move it using your computer's mouse. Once you've added the text box and the text, you'll need to do the following.
Note: Just in case you forgot how to add the box, you'll need to click on the Insert tab, followed by the Text Box. Type your text.
Right above the text box, you'll see a circular arrow. Click on it and move it (without letting go) in a circular motion, and you'll see how the text moves as well. When the text is at the angle, you want it to be, simply let go. That's all there is to it when it comes to rotating text on your PowerPoint document.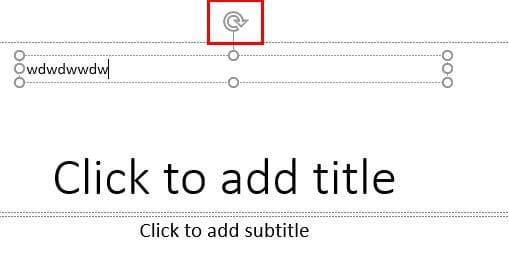 Conclusion
As you can see, turning your text upside down in PowerPoint is easier than you thought. Little by little, you'll start learning how to do other things and become a PowerPoint master with time. Why did you need to rotate text? Share your thoughts in the comments below, and don't forget to share the article with others on social media.