If you are a Gmail user, you are using it everywhere. That is a given. Computer. Laptop. Tablet. Phone. Watch. Google has made it so easy and seamless to sync everything between devices that we tend to not even think about it most of the time. But… what happens if you think someone else may have accessed your Gmail account? Use these steps to check your Gmail login activity history.
How to Check Gmail Login Activity History via PC
Open up your Gmail account on your computer. At the bottom-right of the last email, click where it says "Details." A new window will open up, showing you absolutely everything that you have been doing in Gmail – the when's and where's and much more.
You will be able to immediately see on the left whether Gmail was accessed via the browser (on a computer or laptop) or mobile. Next to that, the IP address that Gmail was used from will be displayed and then the date and time. If you wish to get even more information, click on any of the entries where it says "Show Details."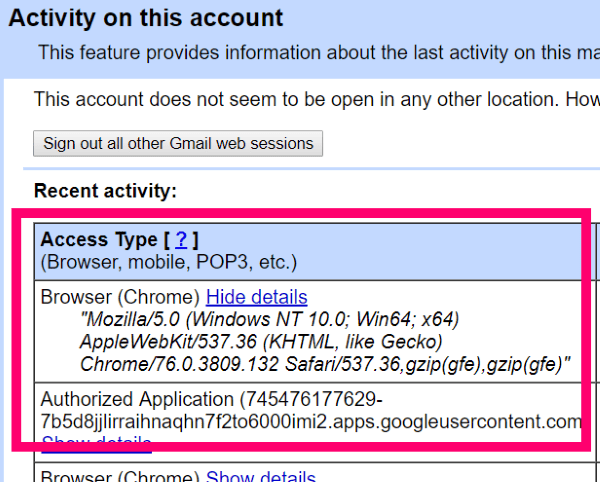 If Google feels there has been a suspicious login – for instance, from another country on the same day you're using Gmail at home – it will flag it in red and advise you to take action. Additionally, if you feel there may be an issue, you can click the "Sign Out All Other Sessions" link.
How to Check Gmail Login History on Android
Open up your Gmail app, and tap the three horizontal lines at the top-left of the page, then choose "Settings" near the bottom. You will be taken to a page that shows any and all Gmail accounts associated with your phone at the time. Tap on one of the accounts. At the top of the next screen, select "Manage Your Google Account."
Scroll down to the "Privacy and Personalization" section, then tap the blue link that says "Manage Your Data & Personalization."
Scroll past the privacy checkup to the "Activity Controls" area. Tap where it says "Web & App Activity."
Scroll to the bottom of the page and choose "Manage Activity." This will bring up a list of everything you have done on your phone. Scroll down to any of the entries for Gmail and tap on it.
You will now see the list of things visited via Gmail and Chrome during that session on your phone. Tap the three dots to the right of a Gmail entry, then choose "Details."
You will now see what time your Gmail account was visited via mobile, along with the exact device used.
Now that you know how to check on and control your Gmail login activity history, what other Gmail questions do you have? Is there anything else you would like to learn how to do?
Happy emailing!