If you use tens of passwords every day and you want to get rid of all this hassle, install a password manager and let it take care of all your passwords. LastPass is one such example. Install it on your computer or smartphone, and the tool will automatically save and manage your login information. But there are moments when the Autofill option doesn't work. In this guide, we'll take a closer look at this matter and guide you through the troubleshooting process.
Why Is My LastPass Not Auto Filling?
By design, Autofill via LastPass doesn't work on HTTP webpages for obvious security reasons. If the website you're visiting is not secure, LastPass won't trigger the autofill function. But you can always manually enter the login data on HTTP webpages.
It is also worth mentioning that LastPass does not support Flash-based or Silverlight-based websites. If the webpage you're visiting is built on either of these platforms, autofill won't work.
Another reason why LastPass autofill won't work is that you're using an outdated app or extension version. Install the latest LastPass version and check the results.
Fix LastPass Autofill Not Working on Windows 10 and Mac
Check Autofill Settings
First of all, make sure you enabled the autofill option. Maybe you accidentally disabled it.
Click the Extensions icon in your browser.
Locate LastPass, click on More, and select Options.
Then navigate to Preferences.
Select General and turn on the Automatically fill login information option. Apply the changes.
Next, navigate to Account Options and select Extension Preferences.
Make sure to enable Automatically fill login information. Save the changes and check the results.
Check Never URLs Settings
LastPass has a nifty feature called Never URLs that allows you to disable the password manager for specific websites. If the tool is not auto-filling your login information for specific websites, remove the webpages from the Never URLs list.
Disable Browser Extensions
If you use any browser extensions, some might interfere with LastPass blocking the tool's autofill feature. Adblockers and privacy extensions are known to block the scripts of the websites you're visiting, as well as interfere with other extensions. One quick way to test this hypothesis is to disable all your extensions and check if the autofill option works.
If you use Google Chrome or another Chromium-based browser, click the menu and go to More tools. Then select Extensions and switch all of them off.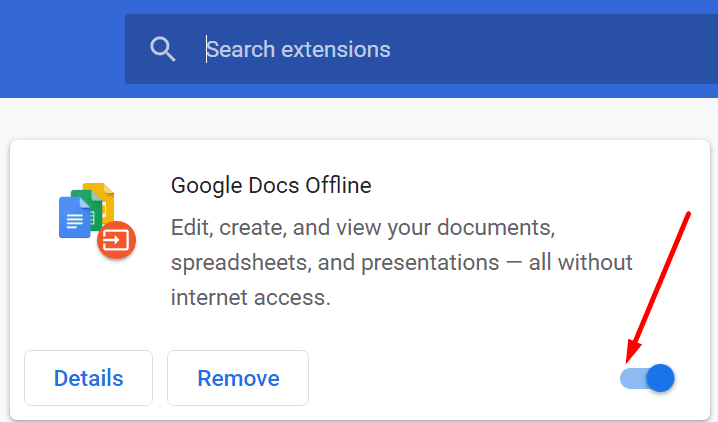 If you use Safari, navigate to Preferences, click Extensions and untick the checkboxes corresponding to your extensions.
Turn off Browser Password Autofill
If your browser's autofill feature is enabled, it could block LastPass from auto-filling your login information. So, disable this option and check the results.
Launch Chrome, and go to Settings.
Then click on Autofill and select Passwords.
Toggle off Offer to save passwords and Auto Sign-in.
Restart your browser, launch LastPass and check if you notice any improvements.
On Safari, navigate to Preferences, select AutoFill, and go to AutoFill settings. Disable all four options and check the results.
Reinstall LastPass
If nothing worked, maybe your password manager got corrupted. Reinstalling the tool may help fix the autofill problem. But before you do that, make sure you have access to the master password.
On Windows 10, go to Apps and Features, select LastPass, and hit the Uninstall button.
On macOS, launch Finder, locate and select LastPass and move it to Trash. Restart your computer and reinstall LastPass.
Fix LastPass Autofill Not Working on Android and iOS
If the password manager doesn't work on your mobile device, use the solutions below.
Enable Airplane mode and restart your device. This action will refresh your network connection.
Disable battery optimization for LastPass. Or, better yet, disable your battery saver.
Clear the cache. On Android, navigate to Settings, select Apps, and tap LastPass. Then select Storage and hit the clear cache button. On iOS, go to Settings, select LastPass and switch on Reset cache on the next launch.
Update your LastPass app. If you're running outdated app versions, certain features, such as the autofill option, may not be available.
Reinstall LastPass. If nothing worked, uninstall and reinstall the app.
Conclusion
To sum up, there are two main reasons why LastPass fails to autofill your login information: either the feature is disabled, or something's blocking it. To troubleshoot the problem, check your account settings. You can also update the app, and disable your extensions.
Additionally, disabling your browser's autofill feature may help as well. Did these solutions help you fix the problem? We're really curious to learn which method worked for you. Let us know in the comments below.