Windows Hello is an excellent alternative to the standard Windows 10 password. You can use this biometric login option to unlock your Windows 10 devices instantly. But the facial recognition feature may sometimes throw the following error message: "We couldn't find a camera compatible with Windows Hello Face". This means you can't use Windows Hello Face to access your computer. Let's explore how you can troubleshoot this problem.
We Couldn't Find a Camera Compatible With Windows Hello Face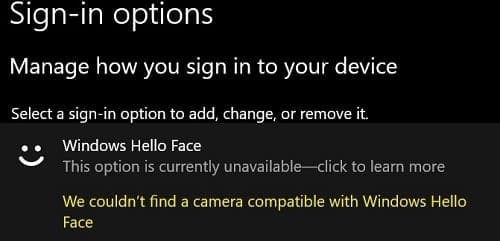 Install HelloFace.inf anf HelloFaceMigration.inf
Go to This PC, and navigate to C:\Windows\System32\WinBioPlugIns\FaceDriver.
Locate the HelloFace.inf, and HelloFaceMigration.inf files.
Then right-click on these files and install them on your machine.
Restart your computer and check if the error is gone.
Check for Camera Updates
Go to Device Manager, select Cameras, right-click on your webcam, and select Update driver to install the latest camera driver version for your webcam.
Alternatively, go to your camera manufacturer's website and check if there are any additional updates available.
Ensure Windows Hello Face Is Installed
Go to Settings, click on Apps, and select Apps & features.
Then go to Optional features.
Locate the Windows Hello Face option.
If this option is missing, click on Add a feature.
Search for Windows Hello Face and install the feature on your machine.
If Windows Hello Face is installed, hit the Uninstall option and reinstall the feature.
Scan Your System Files for Errors
If the Windows Hello system files got corrupted, that could explain why the system says your camera is incompatible with Windows Hello Face.
Launch Command Prompt with admin rights and run the following commands one by one:
DISM /Online /Cleanup-Image /CheckHealth
DISM.exe /Online /Cleanup-image /Restorehealth
sfc /scannow
Restart your computer and check if the error persists.
Check if Cameras Are Disabled Under UEFI Settings
Press the Shift Key, go to Power, and select Restart to enable Windows 10 Advanced Startup Options.
Then select Troubleshoot, and go to Advanced Options.
Select UEFI Firmware Settings, and hit Restart.
Click on Devices and ensure camera support is enabled.
Then go to Settings, select Update and Security and go to Windows Update. Check for updates, install any pending updates and restart your machine.
Use the Get Help App
Alternatively, you can also use the Get Help app to solve the problem.
Start by typing "Windows Hello Face camera is not working" in the search field.
Then let the virtual assistant run the facial recognition troubleshooter.
If the issue persists, let the assistant reset your camera.
Follow any additional on-screen tips to solve the problem.
Reset the Biometric Database
Note: Before you follow the steps below, keep in mind they'll reset the Windows Hello settings for every user registered on your computer.
Type services.msc in the Windows search field and hit Enter to launch the Services app.
Locate the Windows Biometric Service.
Right-click on it and select Stop from the context menu.
Then, go to This PC and navigate to C:\Windows\System32\WinBioDatabase.
Back up your WinBioDatabase folder.
Then delete all the files from that folder.
Go back to the Windows Biometric Service and restart it.
Navigate to Settings and select Accounts.
Then click on Sign-in options and register the Windows Hello Face data again.
Conclusion
To conclude, if Windows 10 says your camera is not compatible with Windows Face Hello, install the FaceDriver and update your camera. Then make sure the Windows Biometric Service is running. If the issue persists, reset the biometric database. Which of these solutions worked for you? Let us know in the comments below.