The Google I/O 2022 keynote was jam-packed with a bunch of new features coming to various Google services. This includes the Android world with the announcement of the Pixel 6a, and changes coming to Android 13. While the final version is expected to be released sometime later this year, you can jump on the Android 13 Beta train with your phone now.
What's new in Android 13 Beta 2?
After last year's introduction of Material You with Android 12, Google is expanding the theming possibilities with Android 13. Material You offers a more cohesive experience with UI elements sporting the same colors. These colors are pulled from your wallpaper, offering a muted color that is easy on the eyes.
Android 12 provides themed icons for Google's own apps, but starting with Android 13 Beta 2, Google is extending this to supported third-party apps. There are some third-party icon packs that attempt to do just this already. But with Google taking these steps with stock Android, you won't need to use a third-party launcher just to enjoy themed icons.
Privacy and Security
We're also seeing some improvements to privacy and security with the next version of Android. The biggest change is an updated photo picker interface, removing the need for applications to have access to your entire library. Instead, this photo picker will only provide access to the photos and files of your choosing. Doing so, reduces the risk of apps having full access to everything on your phone.
After being introduced alongside Android 12, the Security & privacy page is getting a bit of a facelift. With Android 13, Google is making it easier to recognize which areas of your account need a bit of attention. Plus, your phone will continue to help improve any potential issues. As for the built-in clipboard history manager, your phone now automatically deletes your clipboard history "after a short period of time".
Tablet improvements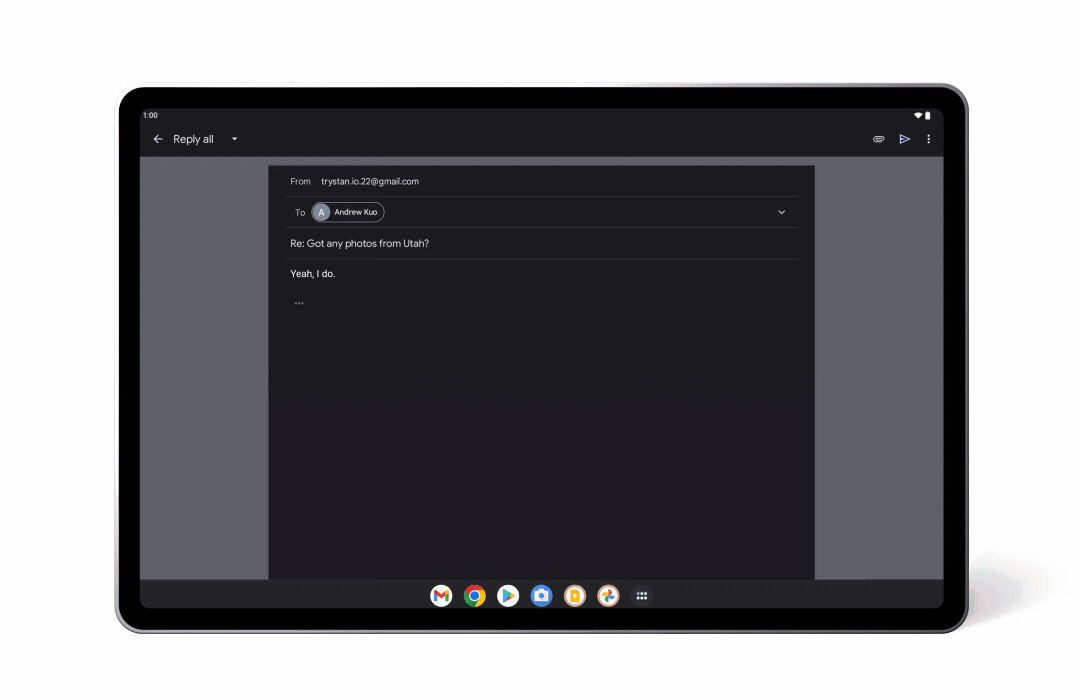 With tablets and foldable phones becoming increasingly popular, Android 12L was announced with those devices in mind. This offers a better user experience for large-screened devices, along with other helpful tweaks to the UI.
Android 13 is taking things to the next level, integrating the taskbar that was added in 12L. With this enabled, split-screen multitasking is set to become even more intuitive across those non-traditional phones and tablets.
Easily one of the biggest complaints about Android on larger screens is the app experience. We've seen some device makers implement software tweaks to offer better integration. But Google is taking matters into its own hands, as we will be seeing more than 20 of Google's own apps updated to make better use of larger screens. Google also confirmed that it is working with some popular app developers to bring these changes to third-party apps.
When Is Android 13 Coming?
According to Google's own timeline, the Android 13 development is right in line with expectations. The next major beta release is expected to arrive at the end of May or early June and will be the first "Platform Stability" update. Then, there will be at least one or two more updates ahead of the final planned release sometime in August or September. It's likely around the same time that we'll see the newly-teased Pixel 7 and Pixel 7 Pro.
If you're interested in getting in on the fun with Android 13, you can download Beta 2 on a supported device. Google announced partnerships with the following brands, and you can head over to the landing page to see if your phone is eligible. And as always, this is available on select Google Pixel devices starting today.
ASUS
Lenovo
Nokia
OnePlus
Oppo
realme
Sharp
TECNO
Vivo
Xiaomi
ZTE
We strongly recommend not installing the Android 13 beta on your main device. While it's better than the Developer Preview, it's still not a stable release and some bugs could force you to unexpectedly wipe your phone clean.