By default, Microsoft Excel and Word 365 doesn't have the useful "Email" option (Formerly named "Send to mail recipient") available by default anymore. The option enables users to quickly access their email client to send documents.
Just to be clear, you can use the "Share" button at the upper-right part of the screen to send your Excel file, but it takes 3 steps to email the file using this method.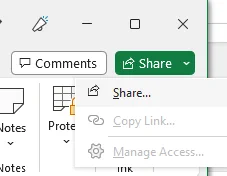 The Email button is just better!
Follow these steps to add the quick Email option back to Excel or Word:
If the Quick Access Toolbar isn't visible, right-click anywhere on the menu ribbon, then select "Show Quick Access Toolbar".

Now you should have an arrow you can click at the upper-left corner of the screen you can select, then quickly choose "Email".
If you want the envelope icon for even quicker access, follow these steps to enable the Mail envelope:
Right-click anywhere on the menu ribbon, then select "Customize the ribbon…"

Select "Quick Access Toolbar" in the left pane.
Find "Email" in the list of items on the left. Select it, then choose "Add".

Now the small "EMail" icon will be available on the toolbar located at the upper-left corner of the window.

---
FAQ
I performed these steps, but when I select the "Email" button, nothing happens. Why?
You might need to select a default email client in Windows. You can usually do this by going to Start > "Settings" > "Apps" > "Default Apps" and setting "Email" to "Outlook" or whatever email client you use.