SSDs are faster than traditional hard disk drives or HDDs, due to their lack of moving parts and use of flash memory. Unfortunately, SSDs are also more expensive, mostly due to the fact that they're based on newer technology and thus more expensive to make.
Another downside that comes with SSDs is their relative lack of durability. NAND flash, the type of flash memory used in the vast majority of SSDs, wears out as data is written to it, although read operations don't affect SSD lifespan.
There are a number of tricks that SSD manufacturers use to minimize the effect. For example, wear levelling carefully manages where on the disk data is written to, preventing any specific sector from wearing out too quickly. Related to wear levelling, over-provisioning is where SSD manufacturers include more flash memory than necessary for the capacity. The extra capacity isn't directly available to the user but is instead used by the SSD controller to assist in managing wear levelling, swapping out overly worn sectors.
SSD lifespan is generally expressed in one of two formats, DWPD or TBW, which are short for Drive Writes Per Day or Total Bytes Written. DWPD is a measure of how many times you could write data to the entire disk a day, for its entire warranty period. For example, If the DWPD value is 0.25, the drive is 1TB, and the warranty is for four years then you can expect to be able to write at least 365TB to the drive before it starts to fail. Similarly, the same drive could be listed with a TBW of 365TB and a four-year warranty.
How to maximise your SSD lifespan
To extend your SSD lifespan as much as possible, you want to minimize write operations to it. SSDs should not be used for primarily logging or temporary storage purposes, such as CCTV, or nightly backups. These applications write data constantly or regularly and will unnecessarily reduce its lifespan.
The Windows page file is a part of your storage drive set aside to take excess data from RAM if your system runs out of RAM space. Using an SSD as pagefile space can end up causing excessive write operations, especially if you only have a small amount of RAM in your system.
To configure the pagefile, press the Windows key, type "View advanced system settings" and hit enter. In the "Performance" box, click "Settings", then switch to the "Advanced" tab in the new window, and click "Change" in the "Virtual memory" box. In the "Virtual Memory" window untick "Automatically manage paging file size for all drives", next select your SSDs and then set "No paging file" for each of them and click "Set". You should ensure that you have at least one drive with a paging file left, ideally, it should be an HDD but even on an all SSD system you should have one drive set for use as a pagefile for system stability reasons.
Tip: If you don't have a paging file and run out of RAM it can cause apps and potentially Windows to crash.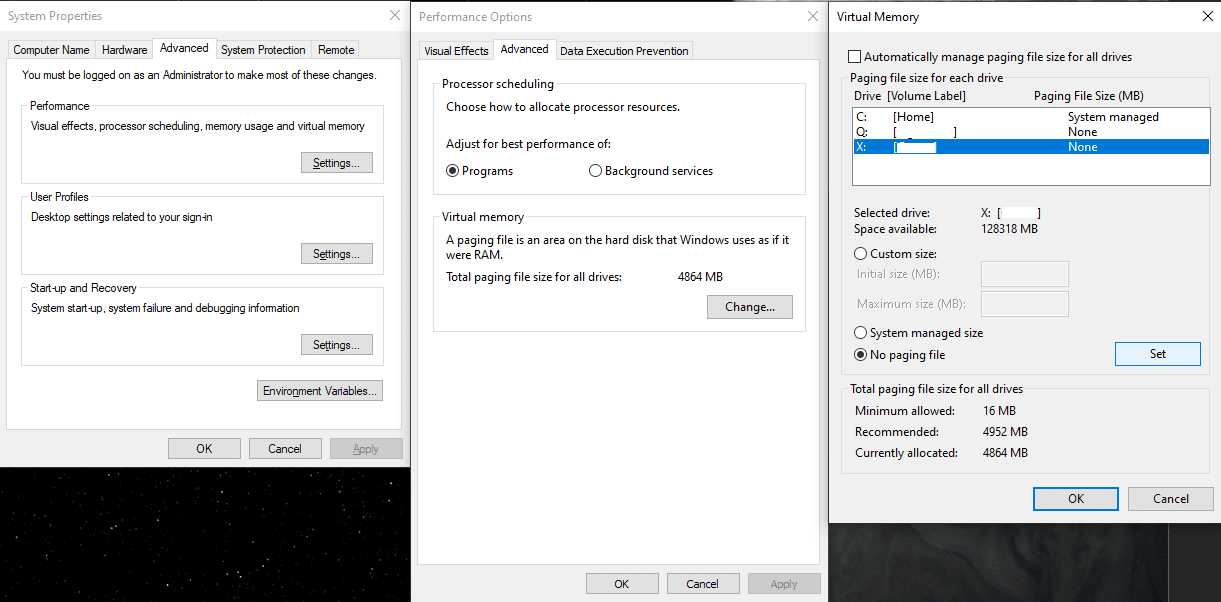 For most people and uses, writing 250GB of data to a drive, every day, for years, is just unrealistic. Despite how small a lifespan of 365TB written can sound, it should be more than enough for most users, unless it's actively being used in a worst-case scenario for SSD lifespans.