If the buzzing news of Windows 10 21H2 end-of-life (EOL) is bugging you, you've come to the right place. Read below when is the Windows 10 21H2 support end date and what next from there.
Software and computer operating system developers have invented a convenient word and concept. If you don't know it yet, it's software lifecycle.
It allows them to stop supporting software or OS you buy from big IT companies like Microsoft, Google, etc. It also enables them to push you to upgrade to their new operating systems or software which will obviously demand new hardware for adequate performance.
This is the current revenue model for the computer software and hardware industry. I or you can't do anything about it. What you can do is plan your next Windows 10 PC update so that you keep getting Microsoft's regular updates, security patches, and major feature upgrades.
What Is Windows 10 21H2 End-of-Life?
Nowadays, all the software from Microsoft comes with an end of life. This is the date when the company will stop sending over-the-air (OTA) updates. It'll also stop publishing any downloadable updates on its web portal.
In simple words, Microsoft will just stop doing anything about the software reaching the end of life and will focus on new software.
For the current Windows 10 21H2 feature update, which is the most stable Windows 10 edition so far, the end of life is nearing. The Windows 10 21H2 EOL planned by Microsoft is as outlined below:
Windows 10 21H2 end-of-life for editions like Home, Pro, Pro for Workstations, and Pro Education is June 13, 2023.
If you're using the Windows 10 21H2 feature update on Windows 10 editions like Education, Enterprise, and IoT Enterprise, the Windows 10 21H2 EOL will be on June 11, 2024.
If you bought Windows 10 under Long-Term Servicing Channel (LTSC) or Long-Term Servicing Branch (LTSB) servicing options, then the mainstream Windows 10 21H2 support end date will be on January 12, 2027.
The extended support for IoT Enterprise LTSC and LTSB Windows 10 purchases will end on January 13, 2027.
When the Windows 10 21H2 version on your computer goes beyond its EOL, you'll also not receive any technical support from the Microsoft Support team. The support team will ask you to upgrade to the next option before they can provide help.
Why Is the Windows 10 21H2 End-of-Life Date Important?
Windows 10 version servicing warrants the OS you bought against any programming and security defects by releasing frequent security patches, quality updates, feature updates, and so on.
Hence, you can focus on your personal or professional work while Microsoft keeps your Windows 10 PC secure. Microsoft's security team keeps exploring security loopholes in Windows 10 and fixing those via security patches before hackers can exploit such loopholes.
When Microsoft stops servicing your Windows 10 OS installation, the PC becomes vulnerable to hacking and ransomware attacks. Because Microsoft will stop exploring the security vulnerabilities for Windows 10 end-of-life editions and builds. Hackers will keep exploring such loopholes and attack your IT infrastructure constantly.
But if you know Windows 10 21H2 support end date, you can plan updates, hardware upgrades, and software changes so that you don't need to halt your work at home, work, or school.
What to Do When Windows 10 21H2 End-of-Life Is Near
As Windows 10 end-of-life nears, you can upgrade your Windows 10 PC to Windows 11. Microsoft is pushing the most stable Windows 11 edition over the air to all the genuine Windows 10 installations.
All you need to do is follow these steps to upgrade to Windows 11 as soon as possible but before Windows 10 21H2 EOL:
Press Windows + I key simultaneously to open the Settings app.
Click Update & Security.
If your Windows 10 PC complies with Windows 11 upgrade requirements, you'll see the Download & Install button for Windows 11 22H2.
When the PC isn't ready for Windows 11 upgrade, you won't see the above option.
To find out how to make your device ready for Windows 11 upgrade, follow these steps:
Get the Microsoft PC Health Check app from its web portal for free.
Install the software on your Windows 10 PC.
Open the app from the Start menu and you should see Introducing Windows 11 banner.
Click the Check Now button.
If the device doesn't meet the minimum system requirements for Windows 11, you'll see a yellow warning sign along with a pop-up.
Click See all results on the pop-up.
Check the incompatibilities and resolve those to upgrade to Windows 11.
If you're unable to resolve some system incompatibilities but meet the following hardware requirements, you can still install Windows 11:
Two or more cores in the CPU
The CPU is Windows 11 ready
There are at least 4 GB of memory installed on the PC
The PC has at least 64 GB of free internal storage in the HDD or SSD
The disc partition is in GPT format
After you successfully install and move to Windows 11, you may need to update third-party apps. You can update those from the Microsoft Store or follow the steps mentioned in this outstanding article "Windows 11: How to Update Apps."
Most Microsoft UWP or Microsoft Store apps will offer updates swiftly. However, third-party software that you bought and installed on your Windows 10 PC, may not offer automatic updates all the time.
You need to check with the software developer about their Windows 11 support plans before making the shift to Win 11.
Still Want to Stay With Win 10 After Windows 10 21H2 EOL?
You might want to stick to Windows 10 for a bit longer for personal or professional needs. If that's the case, thanks to Microsoft that it's possible for now. The IT giant has released a newer version of Win 10 via Windows 10 22H2 major software upgrade.
22H2 version is available for all Win 10 21H2 users via General Availability Channel (GAC) servicing option. Microsoft rolled out this update as an OTA upgrade from October 18, 2022. The OS developer recently revised the 22H2 version on Feb 21, 2023.
Most Windows 10 21H2 PCs received this update recently. Here are the instructions to get the upgrade for your Win 10 PC:
Open Windows 10 System app by pressing Windows and I keys together.
Go to the Update & Security menu on the System app.
If you see the Windows 11 upgrade banner, click the Stay on Windows 10 for now link.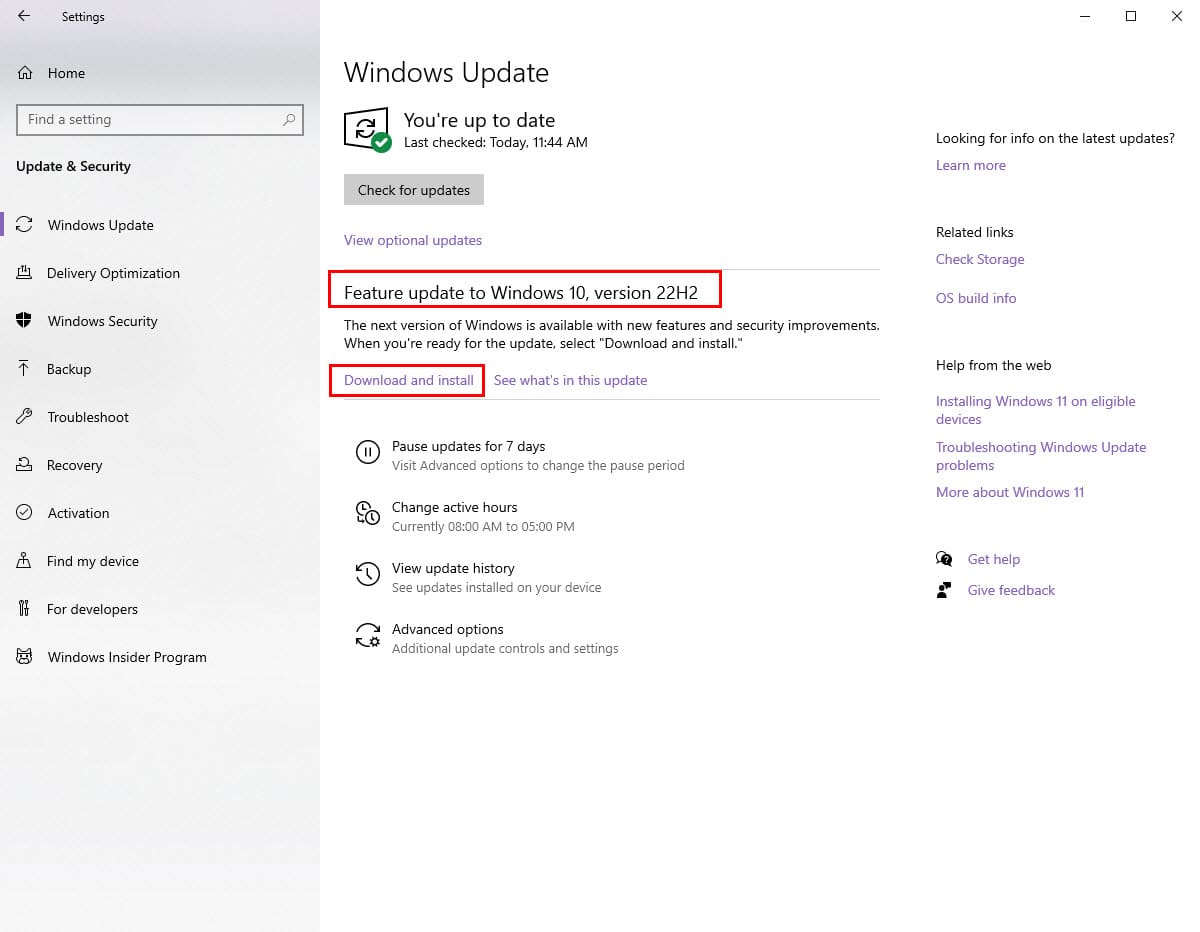 Then, you must see the banner "Feature update to Windows 10, version 22H2."
Below the banner, you'll also see the Download & install link.
Click the link to start downloading and installing Win 10 22H2 for free.
Windows 10 21H2 End-of-Life: Final Words
Now you know what you must do when your Windows system nears the Windows 10 21H2 EOL.
Simply, you can stick to Win 10 for another year with the Win 10 22H2 upgrade. Or, you can jump to Windows 11 now.
It's highly likely you'll need to upgrade some hardware of your existing PC for better performance while running Windows 11. Check out these articles to get insights on building better PCs on any budget:
Don't forget to comment below if you're staying with Win 10 or shifting to Win 11 anytime soon.