Can you imagine living without your smartphone? Can you even imagine navigating through new cities without Google Maps or Waze? If it weren't for these two apps, driving through a new city would be really difficult for most people. We generally tend to take things for granted. But we quickly realize how important GPS and navigation apps are when they stop working. Oftentimes, this happens because your Android terminal keeps losing the GPS signal. Let's explore why this issue occurs, and how you can fix it.
How to Fix "GPS Signal Lost" on Android
Check for App and Android Updates
Make sure you're running the latest Android version on your device. Update your navigation app as well.
Go to Settings, select System, tap System Update.
Check for updates, and install the newest Android OS release on your terminal.
Then, launch the Play Store app, and tap your profile icon.
Select Manage apps and games.
Hit the Update button next to your navigation app.
Alternatively, you can also hit the Update All button to install all the pending updates.
Remove Your SIM Card and Case
Turn off your terminal, and remove your SIM card and memory card.
Wait for 30 seconds, then re-insert your SIM card. Leave the memory card out.
Turn on the device, and check if the GPS signal problem persists.
If it does, remove your phone case, and check if you notice any improvements.
Enable High Accuracy GPS Mode
Go to Settings, select Security & Location, and tap Location. Then select High accuracy mode to improve GPS accuracy. This means that your GPS and navigation apps will launch instantly with high-accuracy location detection.
You can also disable Bluetooth to improve GPS accuracy.
Clear the App Cache
Try clearing the cache of your navigation app. Go to Settings, tap Apps, and select your navigation app. Go to Storage, and tap the Clear cache button.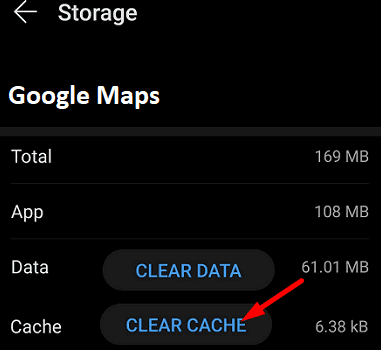 Restart your terminal, launch your navigation app again, and check if the GPS issue persists.
Check Your List of Sleeping Apps
If your navigation app is on the list of sleeping apps, your device will turn it off after you stop interacting with it for a while. The same is valid for your GPS location services.
Go to Settings, tap Battery, and go to Background usage limits.
Locate the option that says Put unused apps to sleep.
Go to Sleeping apps and Deep sleeping apps and remove your navigation app from the list.
Disable Battery Saver
If you're running low on battery, your battery saver can end non-essential processes and apps.
Go to Settings, select Battery, and disable Battery Saver.
Go back to battery settings, select Battery optimization, and tap your navigation app.
Select Remove Optimization.
If the issue persists, disable RAM Booster, Signal Booster, cache cleaners, battery optimization apps, and other system optimization tools installed on your device.
Check Your Data Settings
Go to Settings, select Network and internet, and turn off Data saver.
Then go to Settings, and select Apps and notifications.
Select your navigation app (Google Maps, Waze, etc.)
Go to Data usage, and tap Allow Background Data.
Make sure your navigation apps can use data unrestrictedly.
Launch your navigation app again and check if the GPS signal is strong.
Set Time and Time Zone Settings Automatically
Exit your navigation app and turn off location services.
Navigate to Settings, and scroll down to System.
Then select Date & Time.
Let your device set the date and time settings automatically.
Enable location detection, launch your navigation app, and check the results.
Use an Alternative App
Maybe this GPS problem is affecting only specific navigation apps. Switch to a different app and check if the issue persists. Consider uninstalling all the other navigation apps from your device, and keep only your default navigation app.
Conclusion
If your Android terminal is constantly losing GPS signal, first update your navigation app and Android OS version. Then remove your SIM card and case. Additionally, enable high accuracy GPS mode, and ensure your navigation app has unrestricted access to data. If the issue persists, use an alternative navigation app. Did these tips help you fix the issue? Share your feedback in the comments below.