We live in a world where hackers never sleep. They constantly come up with new ideas to inject malware into your devices or trick you into revealing sensitive information. Sometimes, they may even send you unsolicited Microsoft account verification codes. Or they may politely invite you to verify your Outlook account.
Why Would I Get an Unsolicited Microsoft Verification Code?
There are two possible explanations for why you received an unsolicited Microsoft verification code.
Unsolicited verification codes indicate that someone is trying to log in to your Microsoft account but cannot pass the verification process. To make sure the login attempt is genuine, Microsoft sends you a verification code. In this case, the code is genuinely sent by Microsoft.
You can visit the Recent activity page and check if there have been any unsuccessful attempts to get into your account. But if nothing weird shows up, this means the code you received is a phishing attempt.
If you just received a text message with a so-called Microsoft verification code from a strange number, don't do anything. Most importantly, don't tap on anything, and don't use the verification code in any way. Most likely, this is a phishing attempt aimed at gaining access to your Microsoft account. This is not a genuine verification code.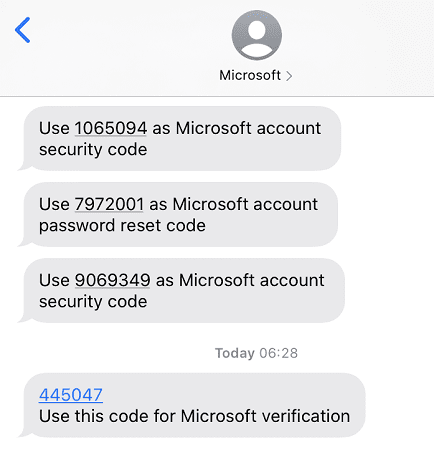 Immediately Change Your Password
If you keep getting random verification codes, this means someone is still trying to guess your password. Go to Microsoft's official website, and change your account password. Make sure to use a complex, long, hard-to-guess password.
How to Keep Your Microsoft Account Safe
Use a strong password. Make sure it's unique, hard-to-guess, use random capital letters, special characters, and numbers. Equally important, don't use the same password for other accounts. Change your Microsoft account password regularly. Add two-factor authentication.
Update your OS. Make sure to keep your system up-to-date. In other words, the latest OS version is always the most secure one.
Don't reply to messages asking you to use a particular verification code. That message may direct you to a specially crafted page that hackers can use to steal your login details.
Manage your trusted devices. Go to Microsoft's security page, and create a list of the devices you use to sign in to your Microsoft account. If an unknown device tries to log in to your account, Microsoft's security system will alert you about the problem.
Use the Microsoft Authenticator app. This app lets you sign in without using a password.
Conclusion
To sum up, beware of unsolicited Microsoft verification codes. Log in to your account, go to Recent activity, and check if there have been any strange login attempts. Most likely, someone's trying to guess your password. Change it and use a complex password that contains at least 15 characters. Make sure to include numbers, special characters, and random capital letters.
Have you ever received unsolicited Microsoft verification codes? Tell us more about your experience in the comments below.