If your Chromebook refuses to turn on, take a deep breath and refrain from smashing it with a hammer. Not being able to power on your ChromeOS laptop can be really annoying. Fortunately, there are some things that you can do to fix the problem. Read below to learn more.
How Do I Get My Chromebook to Turn On?
Check for Signs of Physical Damage
If there are signs of physical damage, your list of options reduces drastically. Visually inspect your device and check if you notice anything unusual. For example, check the charging port for signs of oxidation. Additionally, check if the battery got puffed out.
If the screen or keyboard is bulging outwards, you need to have your device repaired. Go to your Chromebook's manufacturer's website, and check if your device is still under warranty.
Check Your Wall Outlet and Charger
Make sure your wall outlet, charger, and charging cable are all working correctly. Plug a different device into the same electric outlet and check if you can charge it. If the issue persists, try using a different wall outlet. Additionally, ensure your charger and charging cable are not damaged or frayed.
Let Your Chromebook Charge for 40 Minutes
If your Chromebook's battery is in a deep discharge state, the device won't turn on. First, disconnect all the external devices, including your mouse, keyboard, headphones, microSD card, and so on.
Plug in the charger, and let your laptop charge for 40 minutes. Then, take out the battery, wait for 30 seconds, and put it back in. Rest assured, even if there's no battery indicator light on, the battery is charging.
Depending on your Chromebook model, you may need to charge the laptop for up to 24 hours. For example, HP Support suggests charging the battery for up to 24 hours.
Perform a Hard Reset
Check if resetting your hardware solves the problem. Press the Refresh and Power keys at the same time. Keep on pressing the keys until your laptop starts up. Then release the Refresh key.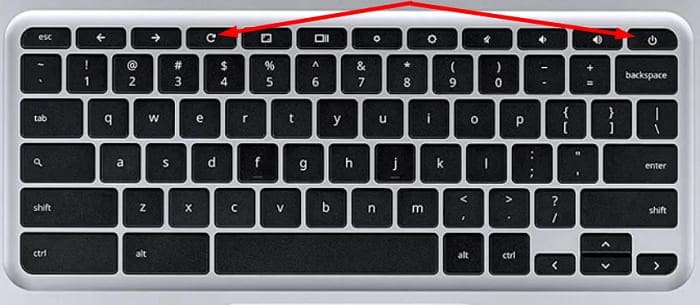 If your ChromeOS laptop still won't turn on, go to the next step and enter Recovery Mode.
Boot Into Recovery Mode
Press and hold the Esc, Refresh, and Power keys simultaneously. Then release the Power key.
Use a paperclip and press the Recovery button. It should be located on the bottom side of the laptop.
Release the Recovery button when you see a message on the screen.
Check if you can turn on your laptop normally now.
Let your laptop charge for 15 minutes after the Recovery screen appears.
Restart your device and check if the issue is gone.
Have Your Chromebook Repaired
If your Chromebook still won't turn on, contact the manufacturer or go to an authorized repair shop. Chances are some hardware components and faulty, and you need to replace them.
Conclusion
If you can't turn your Chromebook on, check for signs of physical damage. Then, ensure the wall outlet and charger are working properly. Additionally,
disconnect all peripherals and let your Chromebook charge for 40 minutes. If the issue persists, perform a hard reset, and boot into Recovery Mode. Did you manage to fix the problem? Let us know in the comments below.