If you're having a great time doing something, you may want to share your enjoyment with other people. With video games, this tends to come in two forms, multiplayer and streaming. Pretty much every gamer will have some experience with multiplayer games. There are plenty of options from local split-screen coop to online competitive player vs. player. Streaming is a newer form of sharing gameplay where one person streams their gameplay on the internet.
Watching a stream of someone else playing a video game may not sound like fun to everyone; it's pretty popular. Some of the most popular streamers have millions of people subscribed to their channels. They regularly have tens or even hundreds of thousands of views of their streams. Most popular streamers are either some of the best in their chosen games or have a strong and engaging personality that keeps viewers coming back for more.
If you want to get started streaming or want to show off some cool VR gameplay to your friends, one of the things you can do is stream to Facebook. Helpfully, you can do so easily straight from your Oculus Quest 2 VR headset.
How to Stream from Your Quest 2 to Facebook
To stream to Facebook, you need to be logged into your Oculus device with your Facebook account.
Note: Support for streaming to Facebook is not mandatory, so some apps may have it disabled.
To start your live stream, press the Oculus button on the right controller, select "Share," then "Go Live."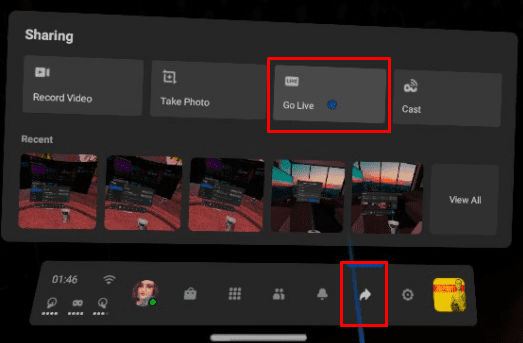 Next, when prompted, select who you want to be able to see your live stream. You can pick between: "Anyone on Facebook," "Facebook Friends," or "Only Me." You will also be prompted to choose if you want the built-in microphone audio to be included in the stream and if you want to show comments and reactions in your live stream.
Once you've configured all of the stream options, click "Start Live-streaming" to launch your stream.
Tip: When you end your live stream, the video will be automatically posted to your Facebook timeline. Here it will be made visible to the audience you selected earlier.
Streaming your VR gameplay to Facebook is a great way to share the fun you're having with your Oculus Quest 2. By following this guide's steps, you can start streaming to Facebook directly from your Quest 2 headset.