With the Oculus Quest 2, you see the system menus first thing, every time you turn on your virtual reality headset. These menus allow you to select which app you want to launch. You can also buy more apps and games in the store, configure the settings, and more.
To prevent these menus from being boring and dull, and to help show off the capabilities of virtual reality, the Quest 2 uses a "Virtual Environment". A virtual environment is a background room in which your menus are projected. There are a range of different options to choose from if you don't particularly like the default room. For example, you can choose a space station, a futuristic house, or a winter lodge as your default room. Even more options are available if none of those catch your eye.
Tip: Virtual environments also come with some low-level background noise. It is a good idea to make sure that the ambient sounds don't irritate you as you may end up hearing them quite often.
If you want to change your default room to be a different virtual environment, you need to open the settings. To get there, press the Oculus button on the right-controller, then click on the "Settings" cogwheel icon. In the settings, scroll down and click on "Virtual environments".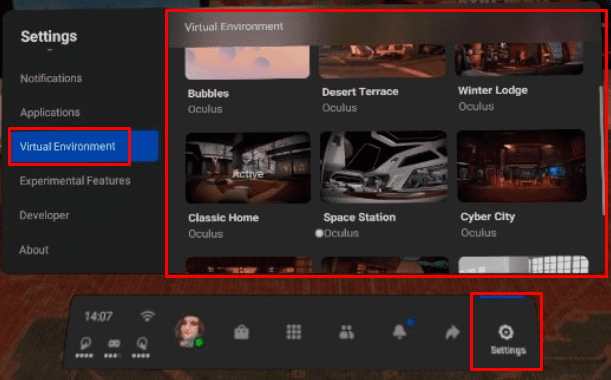 In the Virtual environment menu, you can scroll through the list of alternative rooms that are available. If you find one you want to try, you will need to download it. Once the virtual environment has finished downloading, click "Apply" to switch to it.
Tip: While you can switch virtual environments if you want a different room, you can't edit each of the environments themselves. If you want to be able to configure the contents of your virtual environment, you'll have to do so in the Oculus link environment or in the SteamVR environment. Both of these options allow you to choose between a selection of virtual environments and then customise it further.
Virtual environments in the Oculus Quest 2 VR headset are backgrounds for while you're between apps. By following the steps in this guide, you can change your default room to a different virtual background.