When you're playing a VR game, it's important to remain aware of your surroundings. If you're not careful, it's easy to walk onto the couch, punch a family member, or trip over a pet. To help keep you aware of where you are in your play space, Oculus uses a "guardian boundary." This is basically a virtual wall that you can draw around the inside of your play-space.
If you're well within your guardian boundary, it will be invisible. However, if your headset or controllers get too close to the boundary, it will fade in as a visible warning that you're running out of space. This feature can help keep you from hurting yourself, hurting others, or damaging something.
One of the things you may find is that it's easier to play when you're facing in a particular direction. This is especially the case if you have a relatively limited play-space. For example, if you're playing while you're sat down, you may want to be able to stretch out your legs and be less worried about widely swinging your arms.
If you're stood up and swinging your arms, you may want to face a different direction so you have room. The problem is, the headset will set the direction it recognizes as forwards when you turn it on. This direction won't change automatically for each game. Thankfully if you want to reset the Quest 2's view direction, doing so is quick and easy.
Tip: Resetting your view direction doesn't need to interfere with your game. However, you may want to pause as it will require you to press and hold a button for a couple of seconds.
How to Reset the Direction You're Facing
To reset your view, look straight ahead in the direction you want to be the center of your view. Then press and hold the Oculus button on the right controller. In your headset, you'll see the Oculus logo appear with a quickly filling white ring around it. Once the ring reaches all the way around the Oculus logo, which will take a couple of seconds, the virtual world will snap to be centered in your current direction.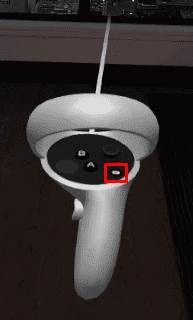 If you've got limited space to play VR games, there may be a better direction for you to face when playing. By following the steps in this guide, you can reset your view. Doing so will center the virtual world and menus to the direction you're facing.