Zoom error code 3065 behaves like a waking-dead. No matter how many hotfixes and updates Zoom rolls out, it always finds a way to rear its ugly head on users' computers.
Error 3065 indicates an expected event occurred during the meeting and Zoom needs to end it. As a result, you've got no other choice but to leave the meeting.
⇒ Quick Tip: To avoid unexpected events during Zoom meetings, close all the background programs. Keep only the programs you know you'll be using during the meeting. Third-party apps and programs may sometimes interfere with Zoom causing various glitches.
How to Fix Zoom Error 3065
Update Zoom
Zoom already rolled out specific updates targeting error 3065. Therefore, the first step is to simply install the latest Zoom version on your machine.
Launch the app, click on your profile picture, and select Check for Updates.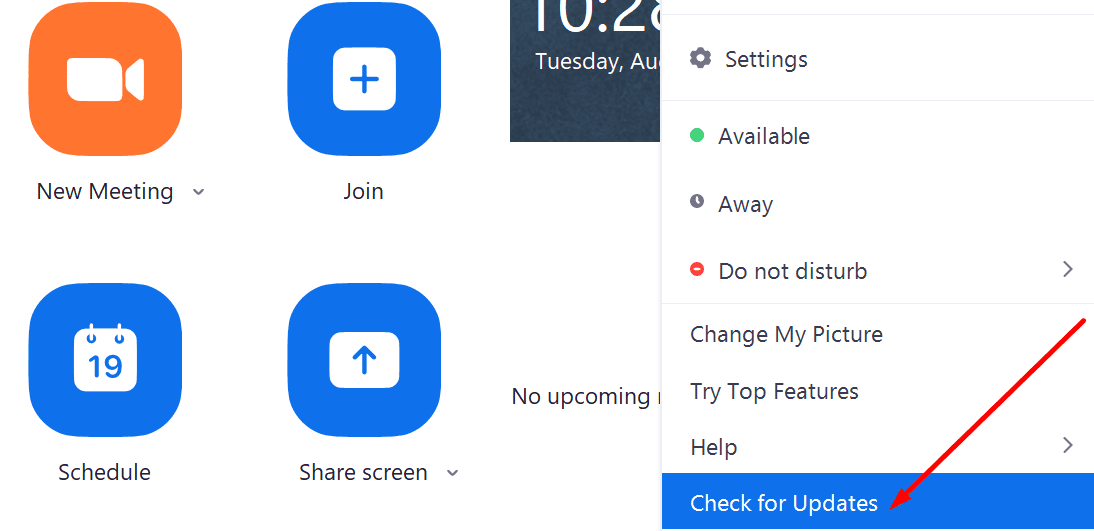 Install the updates, restart your computer, and check if the issue is gone.
Remove account=your_account_id Parameter
Some users suggested this error is linked with the account=your_account_id parameter when admins deploy it via MSI (Windows Installer).
Consequently, uninstalling the MSI tool and then redeploying it without the account=your_account_id parameter should work.
As a quick reminder, admins use the account=your_account_id parameter to prevent certain accounts from joining meetings. This is a security measure to block unauthorized users from joining your organization's meetings.
Alternatively, you can set the parameter to Only allow users to join meetings within your organization's account. Check if the error persists. If it does, you can try to remove the setting but keep in mind that users will then be able to join meetings from anyone.
Check Your Internet Connection
Maybe your Internet connection caused the unexpected error that triggered error 3065. Ensure your network connection is stable and reliable.
Restart your modem or unplug it completely.
Disconnect all the other devices using the same network.
Renew your IP address.
Change your DNS settings and check if that helps.
You can find the step-by-step instructions in this guide.