NordPass is one of the most popular password managers in the world. If you want to make your online life easier, let NordPass manage your passwords and enjoy peace of mind. But what do you do when you can't log in to NordPass? Well, you can try to troubleshoot the problem with the help of this guide.
How to Fix NordPass Login Issues
Before you try to troubleshoot the problem, make sure this is not a known issue. Check if other users complained about login problems on Twitter, Reddit, and other social media channels. Maybe NordPass already acknowledged the problem.
Check Your Keyboard Layout
If you're 100 percent sure you're using the correct password, check your keyboard layout. Maybe you accidentally changed the keyboard settings, and you're using a different key layout. Of course, this means you're not actually typing the characters you think you're typing.
Click on your keyboard language icon in the taskbar to check or change your current keyboard input settings.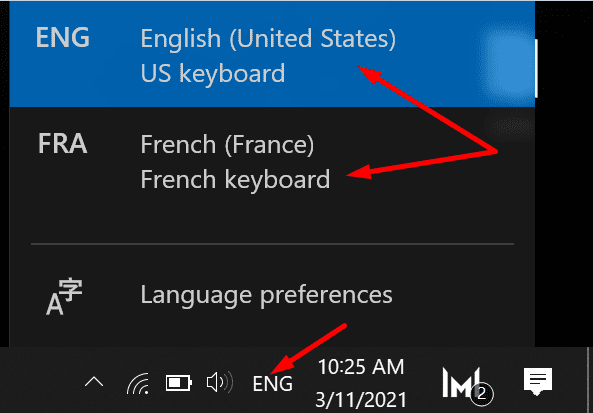 If you need to add a new keyboard layout, follow the instructions below.
Go to Settings and select Time and Language.
Select Language (left pane) and scroll down to Preferred languages.
Hit the Add a preferred language option.
Check Your Date and Time Settings
The NordPass servers rely on your current date and time settings to assess whether your connection request is genuine or not. If you're using incorrect date and time system settings, NordPass may block your request for security reasons.
Navigate to Settings and select Time and Language.
Then click on Date and time in the left-hand pane.
Allow your computer to set the time and time zone automatically.
Check if you can log in to your NordPass account now.
Reset Your Password
Alternatively, you can simply reset your password. Maybe you forgot your password, or you did not write it down correctly. Either way, you can quickly unlock this situation by setting up a new password.
Launch NordPass and select the "forgot your password" link on the login screen.
Then check your mailbox and enter the 6-digit code to regain access to your account.
Incorrect Master Password
If you forgot your master password, you could reset it by selecting the "Forgot Master Password" option. Enter the Recovery Code you received when creating the account.
Important Notes
If you clicked on the "forgot your password" link multiple times, use the latest code. The password reset emails may stack up, and you may not know which one to use.
If you did not properly set up the 2FA settings on your account, you could contact NordPass customer support for further help. The support agents will reset Two-Factor Authentication on your account.
Conclusion
There are two main reasons why you can't log in to your NordPass account: the service is unavailable, or you're not using the correct password. In the first scenario, you need to wait until NordPass fixes the problem. If you forgot your password, you could simply reset it. What do you like most about NordPass? Share your thoughts in the comments below.