Playing games with friends is fun, but there are times when you want some time to yourself. You can play various games on your own, but you can't forget the classics such as Solitaire. It's a game where you have to think carefully about the steps you'll be taking. Move the wrong card, and you could end up losing the game.
The following options are sites that let you play without having to sign up. That's great since the last thing you may want to do is give out your personal information, such as your email. With the following options, it's all about going to the site and playing without delay.
1. Google's Solitaire
You love solitaire, but you would rather stay away from sites you usually don't visit. In that case, type Solitaire in Google Search, and the first search result will be this one. Click on the blue Play button, and a new window with the game will appear.
Google will show you the time, Score, and Moves at the top. You can also mute and when you want to start over, click on the New option at the bottom left. When you want to go back a step, click on the Undo option. Below the Play button in the search results, there's a dropdown option. Click on it to choo see between other games such as:
Snake
Spin a dreidel
Fun Facts
Minesweeper
Tic Tac Toe
Animal Sounds
Earth Day Quiz
Pac-Man
Here's a challenge for you. Try playing Tic Tac Toe but at Impossible level. You may get a draw, but can you win? If you do, feel free to share your history in the comments below.
2. Arkadium Solitaire
The classic version of solitaire will always be a classic among Solitaire lovers. But, as you may know, there are different versions of Solitaire. Why only play one version when you can choose from various Solitaire versions. For example, Arkadium offers all kinds of Solitaire versions such as:
Mahjongg Solitaire
Klondike Solitaire
Spider Solitaire Game
Crescent Solitaire
Free Online Classic Solitaire
FreeCell Solitaire
Addiction Solitaire
Forty Thieves Solitaire
Canfield Solitaire
Pyramid Solitaire
Golf Solitaire
Daily Solitaire
Free Tripeaks Solitaire
As you can see, you can choose from 12 different versions of solitaire. There's no need to sign up to play the game and no time limit. You can play as much as you want. Whenever you don't feel like playing Solitaire anymore, the site also offers other games you can play for free.
For example, you can play Crosswords, Strategy, Bridge, and many more. If you've always wanted to learn how to play different solitaire versions, this site can make it happen for you.
3. 24-7 Solitaire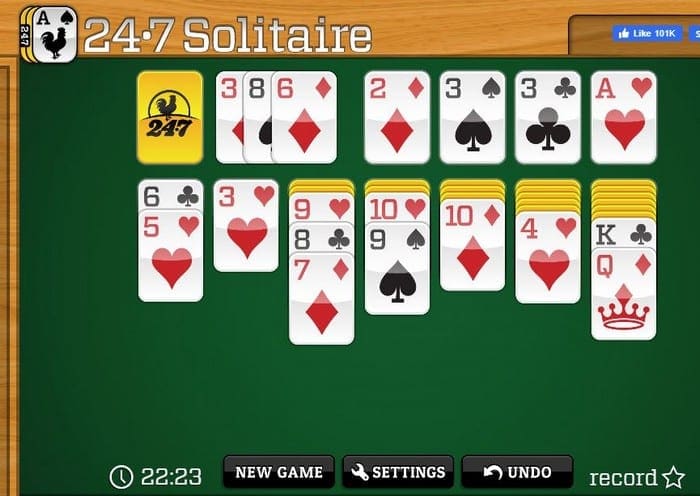 24-7 Solitaire is another great option when you feel like playing. The site keeps things simple. It won't bombard you with hundreds of other games. If Solitaire is what you want, then Solitaire is what you'll get.
While some sites show you your score, this site doesn't. Sometimes you want to play and couldn't care less about the points. Unless you're training for a Solitaire tournament, you probably don't care about the score. What you'll notice about this site is that every once in a while, it'll move some cards for you. You'll get some help placing the cards where they should go. The help really comes in handy when you're playing your solitaire game #45.
4. Klondike Solitaire
The Klondike Solitaire game has a nice design, and it also shows you how you're going with your game. It'll show you the time, Stats, Undo, and you also get a New Game button for those times when you know it's over.
Scroll down, and it'll also show you how to play if you forgot the rules or are playing for the first time. It won't just explain how to play, but it'll also include images to make the learning process easier. At the bottom, you'll also see various social media button for sharing. There's even a Frequently Asked Questions section, and there's an option to contact them for some reason.
5. Solitaire Web App
Solitaire Web App has a design you'll like looking at, and when something is nice to look at, the better. It offers various versions of Solitaire such as:
Easthaven
Eight Off
Forty Thieves
Free Cell
Golf Easy
Klondike
Klondike by Threes
Pyramid Easy
Simple Simon
Spider Four Suits
Spider One Suit
Spider Two Suits
You'll see what your score is at the top, and to the right of it, you'll see how long it's taken you to complete the game. You'll see options to play a new game of the version you're playing at the bottom of the page, or you can switch versions altogether.
You'll also find buttons to undo a move, Get a hint, and see the game's high scores.
Conclusion
Solitaire is a classic game that will always be around. It's a great game that gets the mind working and gives it one good workout. Move the wrong card, and you could end up losing the game you've spent a while trying to win. Since every site presents the game differently, I hope you've found one that is worth saving in your favorites folder. Which site had the best Solitaire design and options for you? Let me know in the comments below.