In this guide, we'll explore why Microsoft Teams sometimes says it could not find your mailbox. You may occasionally get this error when you try to open the Calendar tab and add a new meeting. When you try to save the meeting, the following error message pops on the screen: "Mailbox is not found. Please contact your system admin." Let's see how you can troubleshoot this error.
How to Fix Mailbox Not Found Error in MS Teams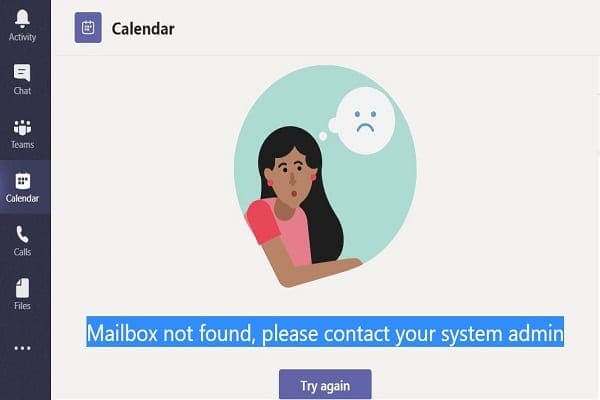 ⇒ Quick Fixes
Log in to the Teams Web App and check if you can create the new meeting in your browser. Usually, Teams for Web is immune to the bugs and glitches affecting the desktop app.
Additionally, go back to the desktop app, click on your profile picture, and select Check for updates. Install the latest Teams app version and restart the app.
Check Your Outlook Account
Launch a new browser tab and try to log in to the Outlook Web App. If your account is managed by an organization and you can't log in to Outlook on the web, contact your IT admin. Something might be wrong with your Exchange Online license. Maybe other members of your organization are experiencing the same problem.
Keep in mind that your Teams calendar is developed based on the Outlook calendar. Teams is fully integrated with your Outlook calendar, that's why you need an Exchange Online license when using the Teams calendar. To clarify, Teams only connects to Exchange Online mailboxes.
Your IT admin may need to re-assign an Exchange Online license to your user account so that you can access the full list of MS Teams features.
Navigate to the Microsoft 365 Admin Center.
Go to Users, select Active users, and then select the problematic user account.
Under Licenses and Apps, select Exchange Online (Plan 2), SharePoint Online (Plan 2), and Microsoft Teams.
Enable the Outlook Add-in in Teams Admin Center
Navigate to the Teams Admin Center, and select Meeting policies. Then go to Default policy and enable Allow the Outlook add-in. Or contact your IT admin and ask them to check your account settings.
Additionally, try reinstalling Microsoft Teams and check if this action solves the problem. If Teams got corrupted, installing a fresh copy of the app should fix the issue.
Check Your Shared Mailbox Settings
If you get the "Mailbox not found" error on a shared mailbox, make sure you have permission to use that mailbox.
Go to the Teams Admin Center and select the Recipients option (left pane).
Go to the Shared tab, and select the shared mailbox you should have access to.
Check if you can access the mailbox using your email address.
If your email is not visible on the list, you need to edit the mailbox settings. Add your email address to the list or ask your admin to do that for you.
Conclusion
To sum up, if Teams says it can't add a new meeting to your calendar because it could not find a valid mailbox, check if you can create the meeting on Teams for Web. If the issue persists, contact your IT admin and ask them to check your Outlook and Teams account settings. If you found other solutions to troubleshoot this problem, list the steps to follow in the comments below.