You might need to reset iPhone & iPad settings to fix minor issues that stop you from using these Apple devices efficiently. If you don't know exactly what each iPhone & iPad settings reset option does, you could be in a trouble. Read on to make the right decision before resetting iOS device settings to troubleshoot errors and bugs.
The device settings interface is a great addition for smartphones. It's similar to the Control Panel or System Preferences in Windows and macOS. But mobile device settings app is more intuitive and easy to understand by everyone. Using functional modifications or reset settings in the Settings app of mobile devices like iPhones and iPads, you can solve many issues of the device without visiting a service center or waiting on a long hold in a customer care call.
The Apple iPhone and iPad iOS does a good job of providing users with plenty of reset options. Usually, a reset is an "all or nothing" kind of thing. With the iPhone and iPad though, you can reset single things like the keyboard dictionary or just the settings you've changed over the course of owning the device. Here's how you can reset the settings if you are experiencing problems with the device.
Reasons to Reset iPhone & iPad Settings
You'll need to reset the settings of your iPad or iPhone in the following scenarios:
You bought a pre-owned iPhone or iPad and want to personalize the device
Someone gifted the device to you and you want to make visual and functional customizations
You're trading in an existing iPhone or iPad for a new device at the Apple Store
You'd like to sell the device for some cash and you must reset it so that the buyer doesn't get access to your personal or professional iCloud data
Sometimes, you might need to use the remote settings reset of the iPad or iPhone in situations like you lost the device, lending it to a friend for a few days, and so on
Also read: How Do I Wipe My iPhone Before Selling It: The Ultimate Guide
How to Reset iPhone/iPad Settings
As discussed already, iOS offers reset settings features at granular levels. It means you don't need to just wipe everything off the mobile device just to fix a minor bug. You can selectively reset different settings of iOS depending on the service you want to troubleshoot. For example, you're facing iOS keyboard issues with Auto-Correction or Predictive features. You don't need to perform a factory reset of the entire device. Just, reset the keyboard settings to revert all keyboard functionalities to default values.
Also read: How to Disable Auto-Correct in Easy Steps in Android
Find below the different settings reset options in iOS and iPadOS, their descriptions, and how to reset these settings effortlessly:
1. How to Reset All Settings on iPhone/iPad
Reset All Settings erases all manual changes and accumulated settings modifications during the lifetime of the iOS device. If you do this reset, you'll remove settings like the keyboard dictionary, network settings (Wi-Fi, VPN, 4G/5G), privacy settings, Apple Pay cards, location settings, etc. However, this settings reset action doesn't delete any media or files from your iPhone or iPad devices.  Here's how it's done on iOS 16 and 15 devices:
Open Settings from Dock.
Tap General on the left-side navigation pane.
Now, scroll down the menu on the right-side panel and tap Transfer or Reset iPhone/iPad.
Again, tap Reset.
Now, choose Reset All Settings.
Authenticate the action with your device passcode.
the device will show the Reset All Settings warning message twice.
You must tap Reset each time.
If you're on iOS 12 to 14, you need to open the Settings app, tap General, and then choose Reset to find the above options.
2. How to Erase All Content and Settings on iPhone/iPad
The Erase All Content and Settings is the factory or master reset for iOS devices. If you do this, the device will erase the following from your device:
Apps and data
Your Apple ID
The iOS Activation Lock or Find My
If you're selling the device to someone else or trading it in at Apple Store, then you must perform this reset. Here's how you can do this:
Tap Erase All Content and Settings in the Transfer or Reset section of General from the iOS Settings app.
Click Continue on the window that pops up.
On the iCloud backup update notification, tap Erase.
Enter your device passcode.
Validate the action by also entering the Apple ID password.
Tap Reset twice on the warning messages that follow.
Your device will show a black screen with the Apple logo and a progress bar.
Once the device restarts, someone else can now set up the device.
3. How to Reset Keyboard Dictionary on iPhone/iPad
You add words to the keyboard dictionary by rejecting words iPhone or iPad suggests as you type. Tap a suggested word to reject it and add your word to the keyboard dictionary. Resetting the keyboard dictionary erases all words you've added. Here's how to reset the keyboard dictionary on iOS and iPadOS:
From the Settings app, navigate to the Reset option in Transfer or Reset iPhone/iPad via General.
Tap Reset and you should see a pop-up.
The fourth option on the dialog box should be Reset Keyboard Dictionary.
Tap on it and validate by punching in your device PIN or passcode.
Also read: How to Add Words to iPhone & iPad Dictionary
4. How to Reset Network Settings on iPhone/iPad
Performing a Reset Network Settings on iOS will erase all custom network configurations in your device. This includes the following:
The device name will change back to iPhone or iPad
All websites with manually trusted certificates will get the untrusted status
The device will turn off cellular data roaming
iOS will delete all Wi-Fi and VPN networks except for those installed using mobile device management (MDM) or a custom configuration profile
The Wi-Fi module will forget all saved network passcodes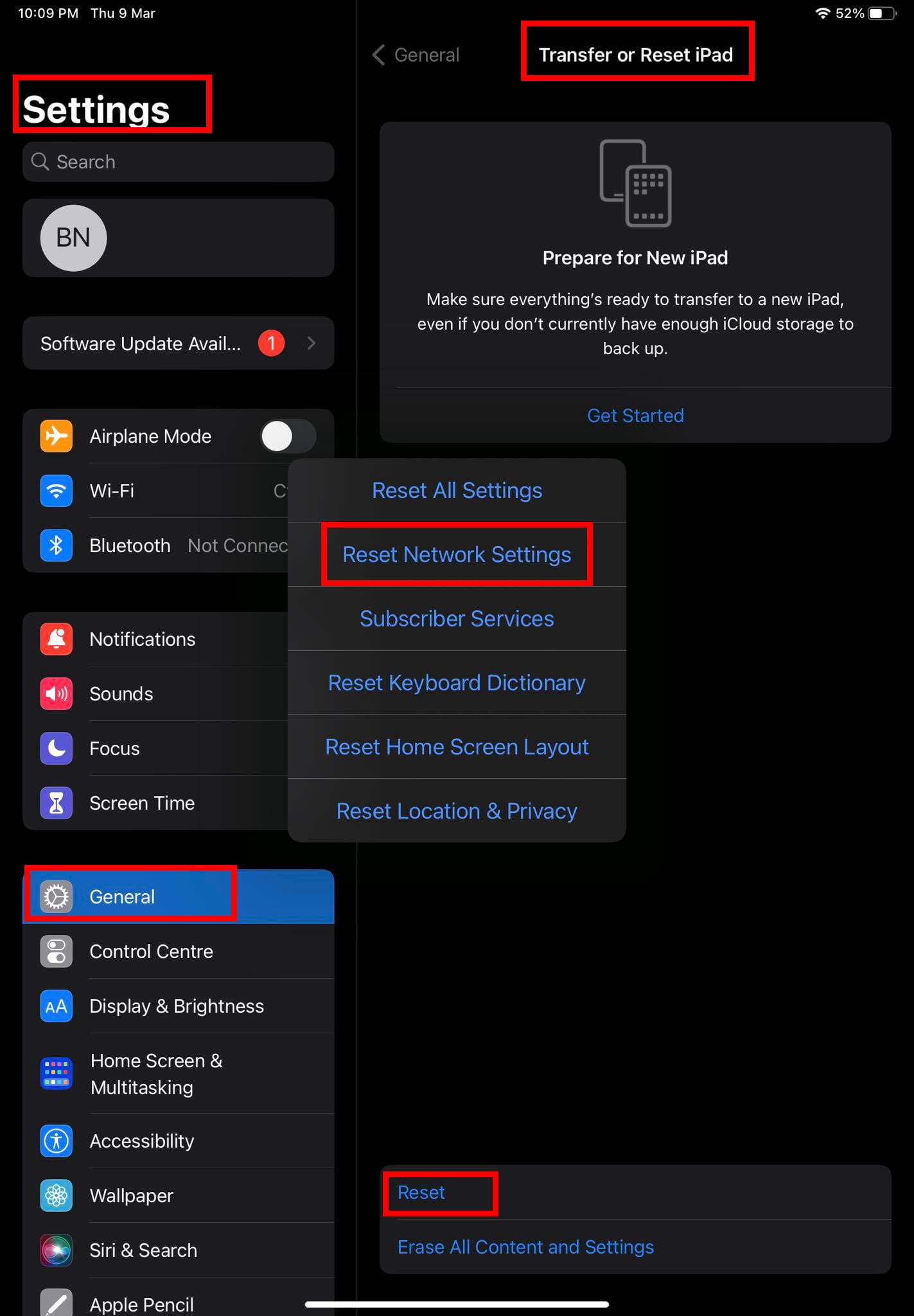 When you're absolutely sure about resetting the network settings, follow this path on your iPhone or iPad device:
Settings > General > Transfer or Reset iPhone/iPad > Reset > Reset Network Settings
5. How to Reset Subscriber Services on iPad
If you've got an iPad + Cellular device where you can use cellular services besides Wi-Fi, you need to know about the Reset Subscriber Services feature. When you try to activate cellular data internet on your iPad and the service doesn't respond, you need to reset subscriber services. This feature isn't available on iPhones and Wi-Fi only iPads. However, on certain iPad Wi-Fi-only models, you may still see the feature but it's non-functional. Here's how you can reset subscriber services to default:
From Settings, tap General and then select Transfer or Reset iPad.
Press the Reset button and then choose Reset Subscriber Services.
Verify the action with a passcode and then tap Re-provision Account.
You must deactivate Wi-Fi and turn on mobile data to perform account re-provisioning.
Now, restart the device and try to activate cellular data services again.
6. How to Reset Home Screen Layout on iPhone/iPad
If you think the iOS Home Screen looks a bit cluttered or you don't like the Home Screen layout customizations you did, you can reset the Home Screen to its default layout. To do this, follow these steps:
Access the Settings app and go to the General section.
Now, tap Transfer or Reset iPhone/iPad and then press the Reset button.
Now you must see the Reset Home Screen Layout option.
Tap it and confirm the action by tapping Reset on the next pop-up message.
The device's Home Screen will get a default look, just like when you got this from Apple. Also, you'll lose the custom widgets that you added.
7. How to Reset Location & Privacy on iPhone/iPad
If you made any changes in the Settings > Privacy & Security section on your iPhone or iPad and now facing issues in using certain apps, you may want to use the Reset Location & Privacy option.
It's available in Settings > General > Transfer or Reset > Reset > Reset Location & Privacy. It helps you to revert back all the following settings to factory defaults:
Location Services
Location Alerts
Share My Location
Find My iPad/iPhone
Location services used by third-party and built-in apps
Tracking
Analytics & Improvements
Apple Advertising
Lockdown Mode
How to Backup Settings on iPhone/iPad
Before you reset any of the above settings on your iOS device, ensure you backed up the settings. Otherwise, should you choose to go back to an old setting for iPhone or iPad, you won't be able to do so without an iCloud backup file. Here's how you can backup device settings to iCloud using your iPhone or iPad:
Open the Settings app and tap your name initials or the Apple ID account on the left-side panel.
Select iCloud on the right-side navigation pane.
Inside iCloud, under the Device Backups section, choose iCloud Backup.
Toggle on the radio button to the right of the Back Up This iPad option.
Also, tap the Back Up Now button just below the above option to force a real-time backup.
A word about restoring old iOS settings, unfortunately, you can't do this selectively. When you factory reset your iPhone or iPad and go to the device setup page, you get to access these backup files via the Apps & Data > Restore from iCloud Backup option.
Hence, backing up your iPhone or iPad settings to iCloud doesn't mean that you can retrieve those anytime you want. You're just insuring the settings by backing up them online. Should you need to perform a clean install of the device, you do get the option to select specific backup files like the date of backup, the volume of backup, and so on.
Reset iPhone & iPad Settings: Final Words
Now you know how to reset various iOS settings to troubleshoot iPhone and iPad errors and bugs. Give the above methods a try when you face issues with the relevant functions like keyboard, network, subscriber services, locations, privacy, and so on. If you know other rest settings options for iPhone and iPad devices, don't forget to comment.
Next up, should I update my iPad to iOS 16, and when to upgrade iPad.