Google Chrome allows you to sync the extensions and bookmarks that you have onto other computers. This is useful because there is no need to add everything all over again to the computer you are using at that moment.
This is a feature you definitely want to be enabled, especially if you have various computers at home. It can be very annoying and time-consuming to have to add everything to every single computer you want to use. Discover how you can enable the feature and save some valuable time.
Enable Google Sync [Desktop]
Turning on Google Sync is quick and easy. Select the

at the top right of the browser and select the "Sign into Chrome" button. Sign into your account and choose the settings you want to sync. You can also select the "Sync everything" option if that's what you need. You will also need to add a passphrase to encrypt your data.
---
Enable Google Sync for Android
To check if Google Sync is on your Android device swipe down from the top of your display and tap on the cog wheel. Once you're in Settings, swipe down and select "Accounts". You will see a list of all of your accounts, but to check if sync is on tap on the "More" button at the top right. If it's on it should say "Turn off auto sync", if it's not that's where you can turn it on.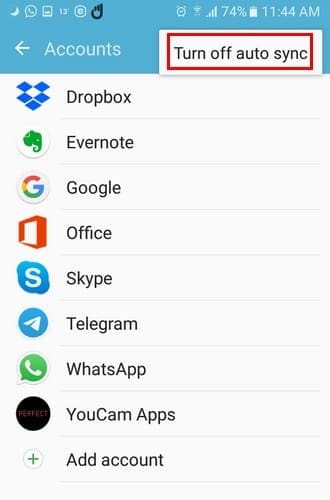 To check if an account you've added is synced, tap on that specific account. If it's off, it will say so as soon as you open it. Select "More" at the top right and tap on the "Sync all" option to sync that specific app.
If your Android device is running on Android Oreo, the steps to enable Google Sync are the following. Go to "Settings" > "Users and accounts". Swipe down and toggle on "Automatically sync data".
The following applies whether you are using Oreo or another Android version. If there are certain things of an app you can to unSync, you can.
For example, if you don't want to sync your calendar or docs in Google, tap on the Google account, you want to modify in "Users and accounts". Once it's open tap "Account sync", then toggle off the options you don't want to sync.
---
Sync Non-Google Apps
Google apps are supposed to sync automatically, but just in case they don't, know you know how to set it up, only in case. But, what about non-Google apps? To sync non-Google apps, you'll need to change the app's settings.
To do this, go to your device's "Settings" and then to "Apps and Notifications". Look for the app you want to change, but if you don't see it select "App info" or "See all apps". Once you've found it, browse through the option to see if there is an option to sync. The options will vary from app to app.
---
Turn Off Google Sync on Desktop and Android
To turn off sync on your computer, open Chrome and select

at the top right. Go to "Settings" and the "Turn Off sync" button will be right at the top.
To turn off sync on your Android device, go to "Settings" > "Accounts or Users & accounts". Tap the account you want to make the changes to and choose "Account Sync". To finalize things, disable the apps you don't want the Sync enabled for.
---
Manage Sync on Chrome [Desktop Only]
Google Chrome also has an option for you to manage Sync. Go back to settings and select the "Sync and Google services" drop-down menu.
Select the "Manage sync" option, and you can toggle the "Sync everything" option at the top right. If you only want to enable specific options, make sure to turn off "Sync everything"so the rest of the option can turn blue.
---
Conclusion
Google Sync is a useful feature, and it can save you some valuable time. But, just because the feature is available, it doesn't mean that you have to use it. What will you do? Will you turn it on or off? Share your experience with us in the comments.