The conversational AI, ChatGPT, has taken the internet by surprise by delivering almost accurate information in a few seconds just like humans write. If you're interested in this chatbot AI but don't know where to start, I got you covered. Read on to learn how to use ChatGPT in this easy-to-understand and concise tutorial.
Artificial Intelligence (AI) is the next iteration of digital technology. Various hardware and software developers already gained tremendous success in developing and training AI software or robots that can aid human beings at work, home, or school.
However, a conversational AI that'll talk to you, fetch content for you, code for you, and so on has long been beyond our reach. With the unveiling of ChatGPT by OpenAI on November 30, 2022, that gap closed. Now, we can get knowledge on almost anything from ChatGPT by simply typing questions.
If you're new to this or facing challenges in using ChatGPT, this step-by-step tutorial will help you out. Read until the end to learn how to use ChatGPT.
What Is ChatGPT?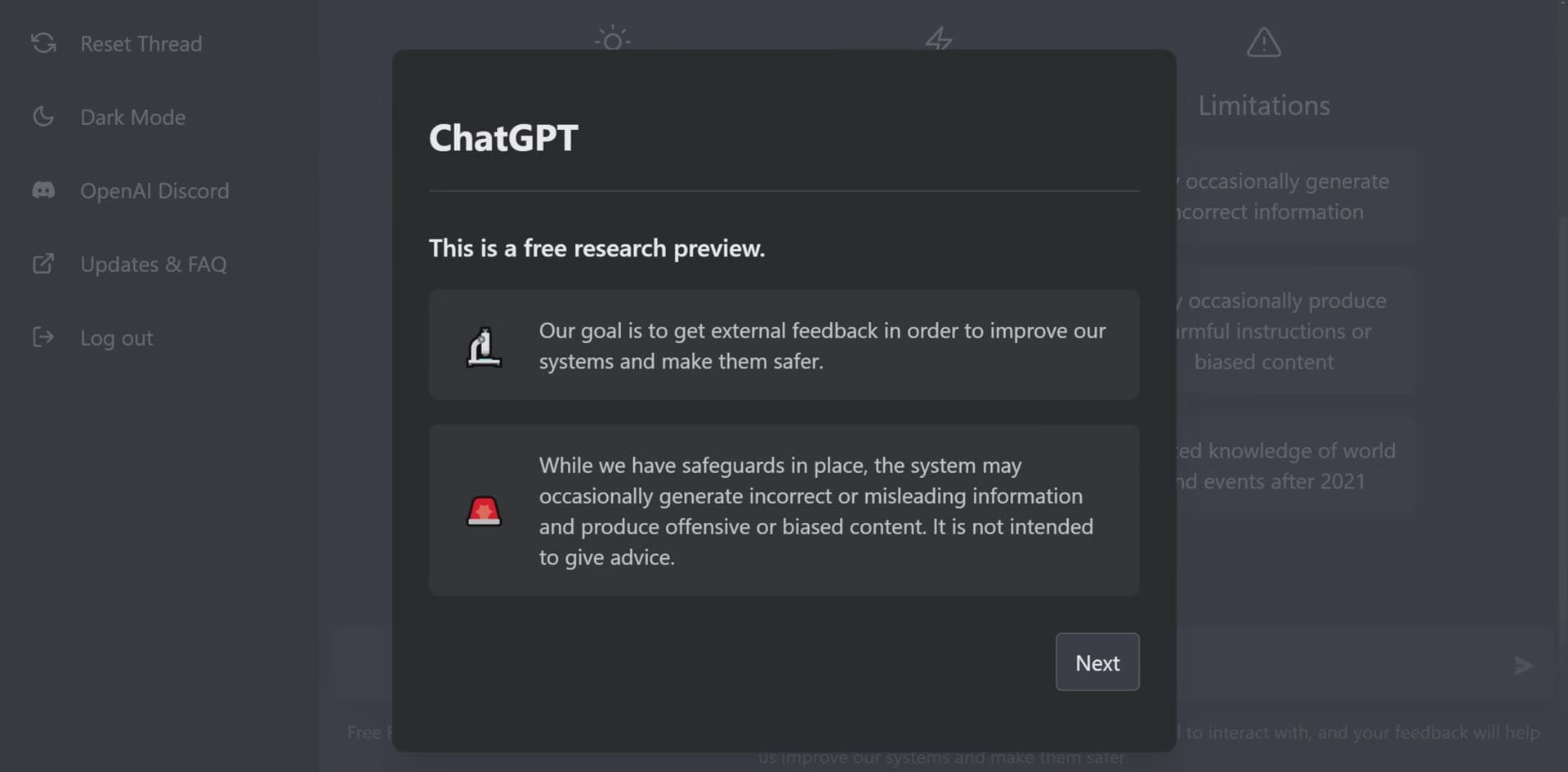 ChatGPT is an AI program that can talk to anyone on the internet via text in a conversational mode. It's a fusion of AI and machine learning (ML) technology and one of the leading models for Generative Pre-training Transformer or GPT. Meaning, the tool can create descriptive texts based on questions, keywords, etc.
The AI and ML company OpenAI developed this tool using various ML models. One of the major ML model that the developer use is the Reinforcement Learning model. The AI and ML tool utilizes trial and error, rewards, and human feedback to learn. Slowly, it develops a database of learning models. The production-ready ChatGPT tool searches through such learning models to answer your questions.
How to Use ChatGPT
Currently, the ChatGPT AI chatbot is free for public use. You can follow some simple steps to learn how to command this tool to get useful answers. At the time of writing, OpenAI, the developer of ChatGPT doesn't claim any intellectual property right (IPR) of the content produced on ChatGPT.
Hence, if you're a software coder, app developer, designer, or content creator, you can use the chatGPT web app as part of your online research.
Signing Up for a ChatGPT Account
Before you can use this extraordinary AI knowledge base, you must sign up for a free account. Here's how it's done:
Click Sign up.
You can use Google Workspace and Microsoft 365 work accounts to create a new account. Alternatively, you can use any email and personal Google/Microsoft accounts.
Let's click Continue with Google.
Choose the Google account you want to link to ChatGPT for account creation purposes.
Now, you must see the Tell us about you screen.
Here, you must enter your full name and verify the sign-up with a valid mobile phone number.
OpenAI will send an OTP to the provided mobile number for verification.
You can't link more than one ChatGPT account to a mobile phone number.
Thanks to OpenAI, you can use WhatsApp messaging to get an OTP.
Once you verify, you come to the ChatGPT home screen.
Navigating in the ChatGPT App
Once you log in to the ChatGPT cloud app, you see the home screen. The home screen has two sections. The toolbar at the left side panel and the chat screen. The left-side toolbar houses the following elements:
Reset Thread
Chat History
Dark Mode or Light Mode
OpenAI Discord channel link
Updates & FAQs
Log out
The chat input box is at the bottom the of home screen. There, you can type your question. Alternatively, you can choose a sample question from the Examples column on the home screen.
A great feature of this conversational AI tool is that it can remember conversations with the users. For example, you initiated a chat with the tool about the impact of global warming a few days ago. You can open the thread from Chat or the conversation history page on the sidebar.
Then you can continue discussing the matter with ChatGPT from where you left the conversation. If you initiated too many conversations with the app, you can delete the history by clicking the Delete Conversation History button on the toolbar.
Using ChatGPT to Get Answers
To get useful answers from the ChatGPT AI, you should possess some knowledge of the niche or topic of the questions you're asking. As of now, ChatGPT developers claim that the AI tool may not provide 100% accurate responses to all the questions that you ask. However, its answers are pretty accurate sometimes. Here's how you can check out the ChatGPT AI program:
In the chat box, type a question and hit Enter.
The chat screen will maximize and the tool will start typing answers from the top of the screen.
If the tool is generating wrong responses or long responses, you can stop the process by clicking the Stop generating responses button at the bottom, just above the chat box.
ChatGPT uses a different approach to answer questions each time you ask a similar or the same question. Because it fetches answers from a learning model database which consists of different models for the same topic.
Thus, you can stop the tool in the middle and then click the Start generating responses button to get different content on the same topic or context.
Once you get a satisfactory answer, you can copy and paste the content into Google Docs, Microsoft Word, or any other word-processing app.
ChatGPT is highly experienced in generating content for personal or professional website publishing purposes. Thus, if you own a casual blog where you occasionally post your thoughts about some niche topic, ChatGPT can be of great help.
You can utilize this AI app to produce content for your blog or website. Don't forget to run the content through a plagiarism checker. Because ChatGPT can generate similar content against the same question asked by two different users.
Related reading: How to Compare Documents in Google Docs
How to Use ChatGPT if It's Unavailable
Since this high-tech conversational AI chatbot is completely free and it creates content that looks okay to a common person, many content creators rushed to use the tool to generate free AI-based articles, stories, poems, website landing page content, marketing copies, Google Ads texts, and so on.
Thus, the website stays at its capacity most of the time. Also, recently OpenAI started blocking some Asian countries from its ChatGPT server. Furthermore, a walled garden or workplace internet may block you from accessing the tool. If you're facing any of the above issues while trying to access the ChatGPT server, here's what you must do:
Set up any VPN from this best cheapest VPN Services list.
Activate VPN on your Chrome or Firefox browser. Some VPNs may provide a desktop app to activate a virtual private network.
Now, try to log in to ChatGPT from a VPN server located in the USA, UK, Singapore, Australia, Canada, etc.
If your internet bandwidth is good enough, you can get a wild card entry into the ChatGPT app while others are waiting in the queue.
How to get ChatGPT Plus
Seeing its immense potential for monetization, OpenAI started rolling out a paid subscription for the app in batches. You can submit a request to get a personalized invite.
The ChatGPT sales and marketing team will get back to you when they see it as appropriate. The team will communicate the pricing and the payment method. However, the following data are so far in the public domain about the ChatGPT Plus package:
It's $20+ taxes per month
You must make payments using the US credit card
Currently, OpenAI is only accepting ChatGPT Plus subscription requests from the USA customers
The subscription gives you preferred access to the web app
You'll get a personalized and encrypted URL to access the ChatGPT web app even when the tool is at its full capacity
Fill up this form to add yourself to the ChatGPT Plus waitlist
Precautions to Follow When Using ChatGPT
ChatGPT is still in its nascent stages of development. Hence, the developers constantly monitor its performance and conversations. Thus, you must not enter any personally identifiable information into the chat box. For example, don't enter passwords, user accounts, credit card information, SSN, etc.
Furthermore, you shouldn't discuss any confidential information with ChatGPT. If you got any business or development ideas and want the tool to validate your thoughts, don't bother! It may not provide any satisfactory answer. Instead, you'll expose your creative idea to someone else who may be monitoring the conversations between you and ChatGPT.
Limitations of ChatGPT
ChatGPT is completely a self-sufficient AI and ML model for text-to-text content generation. It looks up the answer in its own learning model and knowledge base. It can't do the followings:
Search the internet for content or answers
Provide references to concepts or theories
Calculate complex mathematics
Verify facts
Translate languages
Also, its machine-learning model is limited to 2021. Thus, it may not be able to provide answers to questions that are beyond its database of information up to 2021. Thus, you must always verify its content before using it for personal or professional purposes.
How to Use ChatGPT: Final Words
So far, you learned the steps to use ChatGPT and navigate around the web app. You also learned how to use ChatGPT when it's unavailable in your region. Furthermore, you found out how to put its content to good use after performing some quick facto checks.
Give this outstanding conversational AI chatbot a try and comment below on how did it perform to answer your queries. If you find ChatGPT lacking the skills and features you're seeking in a conversational AI, check out these best ChatGPT alternatives now.