One of the most annoying things that can go wrong during a trip is dealing with slow Google Maps. You rely on the app to give you the directions you need when you need it. Google Maps is one of the most popular direction apps out there, but it can have its problems just like any app.
In the following guide, you'll see some tips you can try to speed up Google Maps. That way, it can start working properly, and you can finally get the directions you need on time.
How to Make Google Maps Faster
There are some things to keep in mind whenever an app stops working properly. For example, since Google Maps is an app that needs an Internet connection, it could explain why it is slow if you're in an area with poor coverage. If you're sure that you have good Internet coverage, try the following tips to see if the problem is fixed.
Improve the GPS' Precise Location
One question: Do you have Google's location accuracy feature on? That's an option that could help speed things up a little with Google Maps. To enable this feature, you'll need to go into your device's settings, followed by location.
In Location, tap on the advanced dropdown menu.
Once you tap on the Google Location Accuracy option, simply toggle it on at the top, and you're good to go.
Turn off Satelite View
There's no doubt that the satellite view in Google Maps is great. But, the problem is that it's the view that consumes the most. This option could be the reason why Google Maps is so slow. Open Google Maps and tap on the squared icon right above the compass icon to turn it off.
Right after tapping on the icon, you should see the types of Views you can choose from. Tap on the Default option and see if that speeds up Google Maps.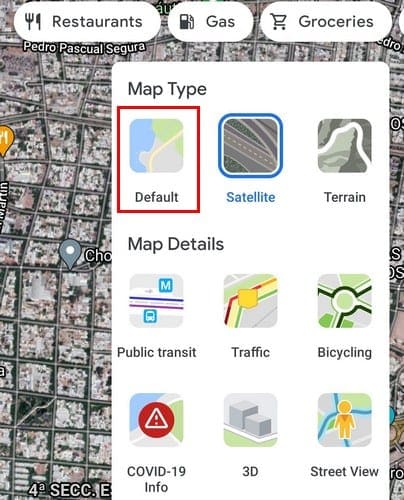 Calibrate the Compass
This may not always happen, but there are times when the app may not find our location as fast as it usually does. This is one among other issues that the app might have. The reason for these errors could be that the compass is not calibrated properly and needs some adjustment.
If your compass is not calibrated correctly, you should see instructions from Google to fix it. It'll tell you to move your move in figure eight. You'll only need to do this in a few seconds.
Try Google Maps Go
It's not always possible for everyone to have an Android device with great specs. In that case, the reason could be that the Android device doesn't meet the minimum requirements for the regular Google Maps app to work properly. In that case, you can always try Google Maps Go, a lighter version of the app.
This app is designed to run more smoothly on devices that have more limited memory. There are some drawbacks to the app. For example, since it's a lighter version of Google Maps, with Google Maps Go, you can't:
Measure the distance between places
Add private labels to places
Can't share your real-time location
Can't set your work and home address
Download areas and use offline
Change the info about the place
Can't report data issues
Clear Google Maps Cache
One last thing you can try is clearing that pp's cache. You can do this by going into your device's settings, followed by the Apps and notifications option. Tap on the See all X apps.
Look for the Maps app and then tap on the Storage and cache option.
The final step is to tap on the Clear cache option. Hopefully, this option will get the job done if the previous methods haven't.
Conclusion
You can still try uninstalling and reinstalling the Google Maps app. Also, check to see if any updates are waiting for you; the update could have a patch to fix the issue. You can also try waiting it out; sometimes apps have those moments where they refuse to work and, for some unexplained reason, start working again when you least expect it. How slow has your Google Maps app been? Share your thoughts in the comments below.