You can do many things to protect your online privacy and prevent third parties from tracking your Internet activity. For example, you can use privacy-focused browsers and search engines, such as Brave and DuckDuckGo.
But if you're not ready to give up using Google Chrome, you can use Incognito Mode to block tracking cookies and scripts. Let's see how you can make Chrome always open in Incognito Mode.
How to Always Start Chrome in Incognito Mode
Method 1 – Tweak Shortcut Settings
Right-click on your Google Chrome shortcut and select Properties.
Then locate the Target box, and add -incognito to its end.
Save the changes and restart Chrome.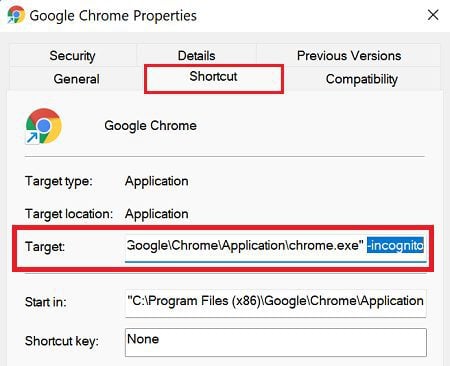 Make sure to add a space and dash, and then type the word incognito; otherwise, the command won't work.
If you want to disable this option and let Chrome launch usually, simply delete the -incognito command from the Target box.
Method 2 – Use the Registry Editor
Alternatively, you can also tweak your Registry Editor settings to always open Chrome in Incognito Mode.
Launch the Registry Editor.
Then navigate to HKEY_LOCAL_MACHINE\SOFTWARE\Policies\Google\Chrome.
If you don't see the Google folder, right-click on the Policies folder and select New → Key.
Name the new folder Google.
Then, right-click on the Google folder and create a new sub-folder called Chrome.
Select the Chrome key and right-click on the right-hand pane.
Select Key → New DWORD (32 bit) Value.
Name the new Value key IncognitoModeAvailability.
After that, double-click on IncognitoModeAvailability and change its value data from zero to 2.
Save the changes, launch Chrome, and check if the browser automatically opens tabs in Incognito Mode.
If you want to undo everything, you can simply delete the IncognitoModeAvailability key from the Registry Editor.
Conclusion
Suppose you want Chrome to always open in Incognito Mode. In that case, you can either tweak your shortcut settings or create a new IncognitoModeAvailability key in the Registry Editor. Both of these methods will instruct Chrome to open an Incognito Mode tab when you launch it.
Do you take online privacy lightly, or do you use all the options you can to prevent third parties from tracking your online activities? Share your thoughts in the comments below.