When you install an app on your Windows 11 computer, you might not know what you gave the app permission to access. If there is an app that is recording, that's when you'll see a mic icon on your taskbar, but that's something that doesn't happen for the camera option. Some users may not care much to see what app might have access to the camera since they may cover it with something, but if you want to know which apps have those types of permission, keep reading. That way, you can make the necessary changes to stay safe.
How to See What Apps Have Access to Your Camera and Mic in Windows 11
You must access your computer's Settings to see what apps have camera and mic permissions (among other things). Access Settings by pressing the Windows + I keys. Or you can click on the Windows Start Menu and Settings. In Settings, click Privacy and security, and scroll to App permissions. There you'll see a long list of what types of permissions apps have. Click on the camera option to see what apps have access.
You can choose what apps you can revoke camera access by toggling it off. You can turn it back on at any time. Or, if you want to block all apps from using your camera, you can toggle off the camera access button at the top. At the bottom, there will also be an option for you to stop apps and browsers from accessing your camera after being able to do so in the past. There will also be information like when the app accessed your camera and microphone. The app that is currently using your camera or mic will also be labeled as currently in use.
How to Stop Apps From Accessing Your Microphone on Windows 11
If you're worried about what apps can access your computer's microphone, you can see a list of those apps by going to Settings. The fastest way to access Settings is by pressing the Windows + I keys. Once in Settings, go to Privacy and security and scroll until you see the App permissions section. Click on Microphone to see what apps have access to your Mic. To only disable the mic for specific apps, locate the app and toggle off the button on the side. To not allow any apps to access the microphone, toggle off the option for Microphone access at the top.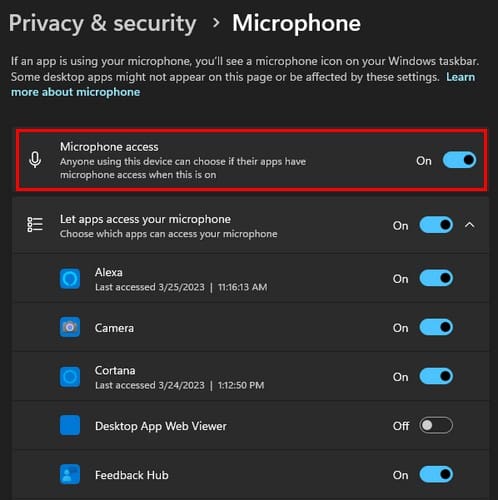 As long as we're on the sound subject, there is also a way you can prevent specific devices from being used by apps and Windows. To do this, Go to System > Sound and click on the dropdown menu for Choose a device for speaking or recording to see all the available devices.
Choose a device, and the Don't allow button will be near the top.
When you go to Settings > Privacy and security, and you scroll to app permissions, you can choose from options such as:
Location
Notifications
Contacts
Tasks
Email
Documents
Messaging
Music Library
The list keeps going on and on. The options available will depend on your choice, but this is the path to follow to make changes to all those options.
Further Reading
There are other apps where you can also change the permissions. For example, here is how you can limit the permissions to edit and delete messages on Slack. Then there is how you can set editing permission in Google Sheets. Have you ever heard of Discord Role Permissions? If you're unsure what they are, here is an article on what they are.
Conclusion
Some apps access your camera and mic when there is no need to. For example, why would a note-taking app need to access your camera if it doesn't have a feature to record video notes, right? It's always best to see what permission the apps have to disable the ones you don't feel comfortable with them having. None of the changes are permanent, so you can return and make more changes anytime. Have you ever had an app that asked for unnecessary permissions? Share your thoughts in the comments below, and don't forget to share the article with others on social media.