Dell Chromebook users may sometimes experience various battery-related errors and issues. Some of these problems may even prevent you from using the device. For example, the battery charge level seems to get stuck at 1 percent no matter how long you keep the device plugged in. Let's see how you can troubleshoot these issues.
Fixes for Dell Chromebook Battery Issues
Check Your Charger
Visually inspect your charger and make sure it's not faulty. Additionally, make sure the charger is plugged into a functional wall outlet. If you've got another Chromebook at hand, check if your AC adapter provides enough power to that device. If you're experiencing similar issues on the second Chromebook, this indicates your AC adapter is the culprit. Get a new one.
Update ChromeOS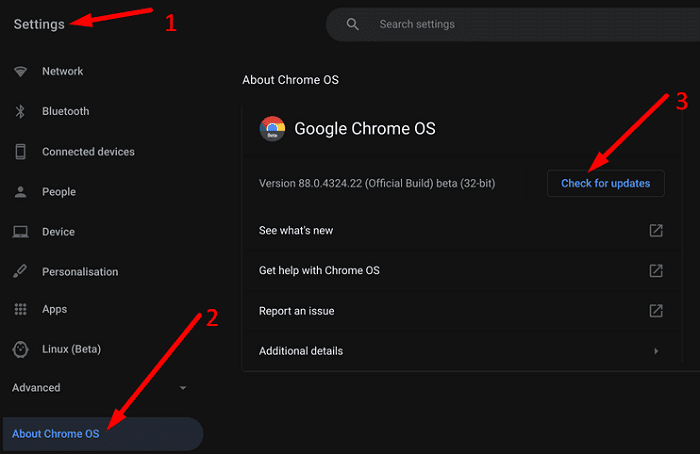 Make sure you're running the latest ChromeOS version on your device. If the battery issues you're experiencing are caused by known OS bugs, Google may have already fixed them in the latest ChromeOS release. Go to Settings, click on About Chrome OS, and check for updates. Restart your laptop, and check if you notice any improvements.
Keep in mind that sometimes, the battery might be too low for your Chromebook to install the latest updates. In rare cases, the laptop may even get stuck on checking for updates.
Wait 30 Minutes to Exit Pre-Charge Mode
If you haven't really used your Chromebook lately, the battery may be in pre-charge mode. In other words, the battery level will remain at 1 percent for about 30 minutes, and then the device will charge normally. One way to avoid pre-charge mode is to charge your laptop before storing it. However, keep in mind that your Chromebook battery will continue to discharge, albeit at a slower rate.
If nothing's changed after 30 minutes, this indicates your Chromebook's battery is not charging at all.
Remove the Battery
Turn off your machine, remove the back cover, and disconnect the battery. Then hold the Power button for 10 to 15 seconds to remove flea power. Wait for two minutes, and then re-insert the battery. Plug in the charger, and check if you notice any improvements.
Check Battery Health
If the issue persists, you may need to replace your battery. To check your battery health, press the Ctrl, Alt, and T keys to launch Crosh. Then type in the battery test command and press Enter. If the battery health value is below 80 percent, you need a new battery.
Conclusion
Most battery errors affecting Dell Chromebooks are due to faulty chargers and worn-out batteries. Remove your battery, and press the Power button to drain flea power. If the problem persists, you may need to replace the faulty charger or battery.
Did you find other ways to troubleshoot your Dell Chromebook battery issues? Share your ideas in the comments below.