Modern computer programs are designed around the idea of ease of use. Their algorithms try to anticipate and predict your behavior, future actions, and needs. That's why you're prompted to restore your Microsoft Edge pages after the browser closed or crashed unexpectedly. Well, many users actually hate those notifications and would gladly disable them. If you want to stop Edge from prompting you to restore pages, follow the steps listed below.
How Do I Get Edge to Stop Asking Me to Restore Pages?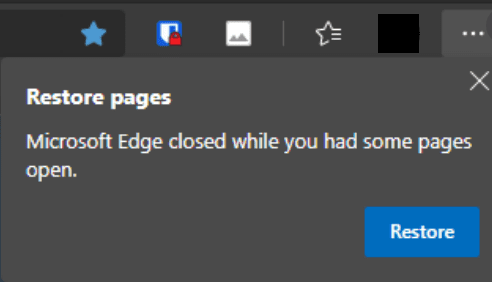 Close the Browser or Press Esc
If you're in a hurry and you want to get rid of the notification as quickly as possible, simply close the browser. Then launch Edge again and check if the "Restore pages" message is gone. Alternatively, you can also press the Escape key without necessarily closing the browser.
Next time you close Edge, make sure to do it properly. Use the X button or press Alt + F4 to close the browser before you log off.
Buf if Edge is pushing these notifications each time you launch the browser, then most likely this is a bug. We're sure Microsoft will patch it soon.
Disable Startup Boost
Launch Edge and click More options (the three dots).
Then navigate to Settings and select System.
Locate the Startup Boost option and turn it off.
Update Edge
Users have been complaining about the annoying and almost intrusive "Restore pages" message for a long time. Some of the recent Edge updates include specific tweaks targeting these prompts. So, click on More options, go to Help and feedback and then click on About Edge to check for updates.

Disable the RestoreOnStartup Registry Key
You can also tweak your Registry and disable the functionality that automatically restores the pages that didn't close correctly.
Type regedit in the Windows Search field and double-click on the Registry Editor.
Then navigate to
HKEY_LOCAL_MACHINE\SOFTWARE\Policies\Microsoft\Edge
Locate the RestoreOnStartup entry and double-click on it.
Edit its value from 1 to 0 (zero).
Restart Edge and check the results.
⇒ Note: If the keys and entries listed above are not visible under Policies\Microsoft, you need to manually create them.
Conclusion
If Edge throws the "Restore pages" message, this indicates the browser did not close properly. So, make sure to close it correctly by clicking the X option or pressing Alt + F4 before you log off. If you suspect this is a glitch, turn off Startup Boost and update the browser. Did these tips help you fix the problem? Let us know in the comments below.