Unless you want to be in a meeting all by yourself, it's best to invite others. You could send the email invite Zoom creates when you schedule a meeting, but there are other options. For example, you can discard the email and copy the meeting information to send it via WhatsApp.
If you want to make it easier for your guests to connect to a  Zoom meeting, you could also try sending them a link. That way, all your guests have to do is tap on the link, and they'll have access to your meeting.
How to Send an Invite Zoom Meeting Link
This one time, I invited a friend to a Zoom meeting. She messages me saying she was having a hard time entering. I told her to double-check the ID and password, but she was still having problems. It wasn't until I sent her the Zoom meeting link that she was able to connect.
That's why it's a good idea to know where you can find the invite link to send it to your guests if they ever encounter this problem. Even if you're in the middle of a meeting, you can still get access to it and send it.
Where to Find the Zoom Invite Link – Windows 10
If you're scheduling a Zoom meeting on the desktop, you'll need to fill out the necessary information. You'll need to add:
Time
Date
Name (optional)
Duration
Waiting room
Video
Audio
Once you've added the necessary information, you'll be asked (by Zoom) to gain access to your Google account so the meeting can be posted on your calendar. Once you've given Google access, you'll see a preview of the information that will be posted. The invite link will be under the Event Details tab near the top and again, where the meeting information is posted.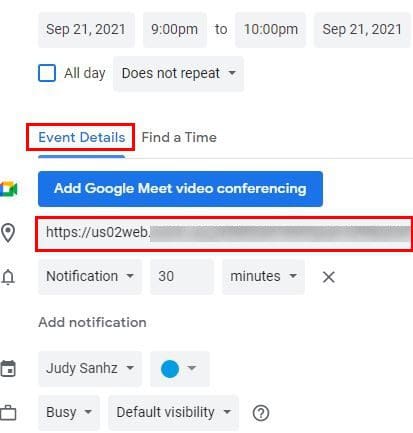 Also, if you want to send an invitation to some, you can use the desktop client. If the meeting is scheduled for today, you'll immediately see it but if it's not, click on the Meetings tab at the top.
Using the Website
If you've signed in to your account to adjust some settings and remembered you need to send the invite info, you can do so from there. Once you've signed into Zoom's official site, click on the Meetings tab to the left. You'll see a list of your previous or upcoming meetings to the right.
To the right of the link, you'll see a Copy Invitation option. Click on it and then share it whichever way you prefer.
During a Meeting
If someone is having a hard time getting into the Zoom meeting, you can find the invite link by clicking on Participants > Invite. After clicking on the Invite dropdown menu, a new window will appear with an option to copy the invite link. It'll be at the bottom left of the window.
You'll see a message in yellow letting you know that the invite link has been copied. Now it's up to you how you want to send the invite link.
How to Find the Invite Zoom Link on Android
If you decided not to send an email as an invite and want to send it through WhatsApp or Signal, you could find the invite by doing the following. Open the Zoom app and tap on the Meetings tab at the bottom. Choose the meeting whose invite link you want to copy and tap on the Invite button.
From the three options, tap on the Copy to Clipboard option. Now, if you want to share it through your preferred messaging app, just long-press in the text box and paste it to send the Zoom meeting invitation. If you ever want to use your personal meeting ID, you'll find it in the Meetings tab at the top.
Conclusion
Even if a meeting has already begun, there is still a way you can copy and share the meeting info. You can also copy and send it as soon as the meeting is scheduled, but if you would instead do it later, you can. It's good to know you have more than one option when it comes to copying the link. How do you think you'll be copying it? Share your thoughts in the comments below, and don't forget to share the article with others on social media.