The Metaverse is the concept of a proper mix of virtual reality and the real world that enables realistic experiences online. A vital part of that allows people to represent themselves in those virtual worlds. This is what you call avatar representations. They come in many different forms. Historically, many online worlds have let you import custom character models to make any appearance a possibility. In its aim for an almost seamless shift between reality and virtual reality, Meta aims for a more restrained approach and a stylized one. But human design scheme.
Instead of allowing users to upload custom models and textures, which can come with performance and moderation concerns, Meta has opted for something closer to an RPG character creator or the Sims. There is a broad range of customization options, including body, skin tone, and clothing options. Many of the options are around the design of the head and face.
Meta's avatars are intended to be a cartoonish representation of yourself in an art style not dissimilar to the Sims. Despite the cartoonish styling, Meta has spent a lot of time and effort making its avatars behave naturally. In the absence of eye-tracking functionality, Meta researched the timing of human blinking to make its avatars blink naturally. Again, in the lack of full-body tracking, Meta created a machine learning model for predicting shoulder and arm positions. This is based on the hand and head position, itself based on the relative positions of the controllers and headset.
A Representation of Yourself
Meta intends for your avatar to be a virtual representation of yourself. Of course, nothing forces you to design your avatar to generally – or even vaguely – follow your appearance in real life. You can create your avatar to have any one of the roughly quintillion combinations of options that are on offer.
One potential feature that isn't offered is a gender selection, though other users may infer this from your avatar customizations. All customization options, such as hair type, makeup, facial hair, and clothing options, are available to every user. None of them are specifically gendered.
One thing to be aware of is that your avatar is public. Don't worry, you won't see it on your Facebook profile. In any game you play that uses your Meta avatar, the other people in the game can see your avatar, even if they're not on your friends' list. This is particularly worth noting as these avatars are supported in at least some third-party games.
Meta is currently working on a photorealistic version of its avatars. These performance requirements are very heavy and need extra hardware. So they aren't likely to be rolled out as a feature soon. Once this is a feature, it may be even more important to be aware of the privacy implications.
How to Create Your Own Quest Avatar
To create your Quest avatar, press the Oculus button to open the quick toolbar. In the toolbar, click on your profile picture on the left side.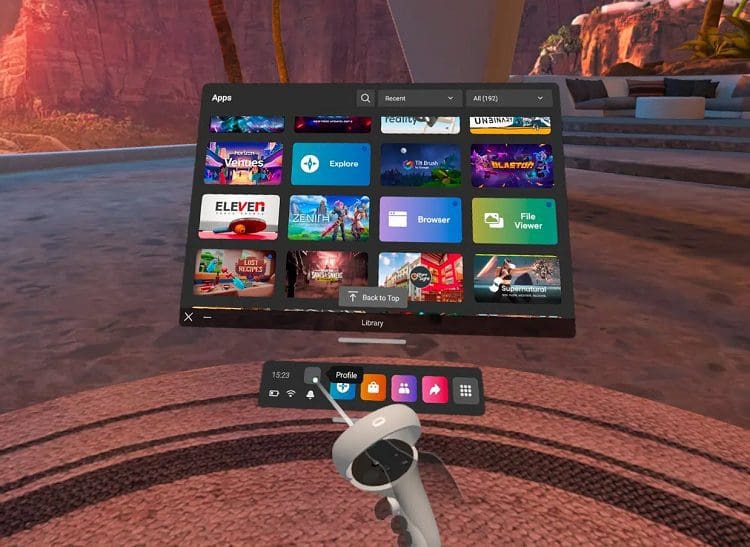 Your profile will show your current avatar or a blank one if you've never created one. Click on "Edit Avatar" on the left side to start editing or creating your avatar.
You should now see what your avatar creation options are. Go through them all to dial in the design you want. We'd recommend you start with the body type, skin tone, hair, and some generic clothing before you go in-depth with the facial options. Once you're done configuring your avatar, don't forget to click "Save Avatar & Continue."
Conclusion
Are you a fan of realistic or semi-realistic avatars? Would you design your avatar to look like you, or would you prefer to create an anonymous generic avatar? Let us know in the comments.