There are a lot of free apps that can give you the features you're looking for. There is no need to buy the app in some cases since you can get by with the free version. Even if that means having to deal with a few ads here and there.
But what if you were in the US and added some money to your Google Play balance and didn't use it all. You may have thought that since it's already in your balance, you can use it even when you leave the states. But when you try to buy an app, you see the dreaded messaged telling you that your balance can only be used in the United States. Now What?
How to Install Region-locked Apps from Google Play
To get those region-locked apps, you'll need to use a VPN. You can count on various VPN options for Android; for example, you can use Melon VPN or NordVPN.
Now it's time to erase Google Play's data. Go to your Android device's settings, followed by Apps and notifications. Tap on See all X apps and look for Google Play Store.
Once you've found it tap on the Force Stop Option, followed by the Storage and cache. Now, tap on the Clear Cache option.
Now it's time to use the VPN you decided to go with. In this case, I'm going to use NordVPN. If you decide to use it too, open it and choose a United States server.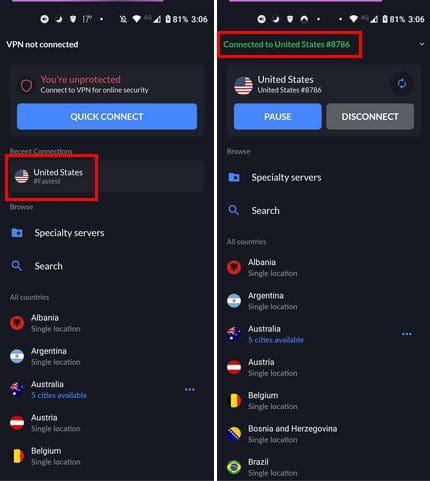 Once you're connected to a US server, try opening the Google Play Store. Try looking for an app that wasn't available before or seeing the price of an app. If you see the app or the price in dollars, then you're good to go. If nothing has changed, then it's time to change the Google Play country yourself.
You can do this by opening Google Play and tapping on your profile picture. Tap on Settings, followed by the General and then the Account and Device preferences option.
Once you're in this last option, under country and profiles, you'll see what country your Google Play is under currently. If it doesn't say the United States only and you see an option to switch to the country you're really in then, that means that Google play knows you're not in the US.
Someone You Really Trust
If none of the above tips worked, you could try the following with someone you really trust. What you can do is tell that trustworthy person to add your Google account to their Android device. That'll require that you give them your password.
If you're OK with that, once they've added your Google account to their device, you can tell them what apps you want them to buy. Since your account is also on your device, the app they download and buy using your account can be used by you. If they go Pro on an app and you have the same app installed, you'll also be able to use the Pro features.
Conclusion
During testing, I could buy an app only available in another country only by using the VPN. If even with the VPN you can get access to that app, you can always ask that friend that just happens to live in that country to help you out with always be careful who you decide to give your password to. Which method are you going to try first? Let me know in the comments below, and don't forget to share the article with others on social media.