Blocking someone is sometimes necessary when you want someone to leave you alone. You warned them, but they kept messaging you. You've probably had to block other people on other platforms, such as LinkedIn or Signal. But it looks like you'll need to do the same on Telegram.
The good news is that Telegram keeps things simple when blocking someone. It's even possible to block the notifications for a specific contact—an excellent option for those who don't know when to stop messaging you.
Telegram: How to Block and Unblock a User
Don't worry if you're not too familiar with Telegram. Blocking and unblocking someone is quick and easy. Because you block someone, that doesn't mean you can't undo the process. Once you have Telegram open, tap on the three-lined menu at the top left and go to Settings—tap on Privacy and Security, followed by the Blocked users' option.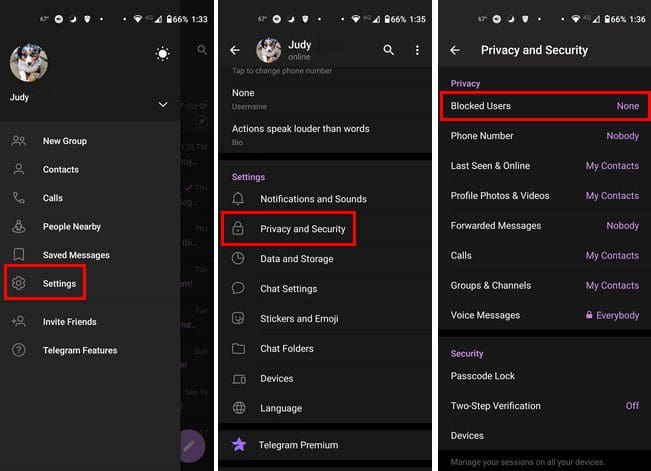 Once you've accessed the Blocked user's option, you'll see an option to add the first user. Tap the Block user option and choose the contact you want to block. Once you've chosen your contact, it'll be added to the list. You'll see the total amount above the blocked list if you've blocked several contacts.
Besides seeing who you've blocked, you can also unblock them from here. Simply tap on the dots to the right of their name and tap on the only option. So, remember to unblock someone and go to Settings > Privacy and Security > Blocked users.
Method 2
Another way you can block someone on Telegram is by opening the contact for that person and tapping on their name at the top. When the contact opens, tap on the dots at the top right. The Block user option will be the third one from the top.
You can also disable the notifications for that particular contact as long as you're there. Maybe blocking them isn't the answer, and all can be fixed by muting their notifications. Tap on the Notifications option and choose from the available options: Disable sound, Mute for (from 30 minutes to a year), Customize, and Mute forever.
Conclusion
When you have a lot of contacts, thing get get a little our of hand with the notifications. But, when you know how to manage those notifications you can easily see the beneficial side of the notifications. The good thing is that you can change things up as much as you want. How many Telegram users will you be blocking? Share your thoughts in the comments below and don't forget to share the article with others on social media.