Upgrading your Windows 10 OS version or installing a fresh copy of the OS should be an easy process. All you need to do is follow the on-screen instructions, and your computer will take care of everything. But the installation may sometimes fail in the Safe OS phase during the boot, apply_image, migrate_data, prepare_first_boot, or replicate_OC operations. Without further ado, let's explore how you can fix this issue.
How to Fix Safe_OS Phase Errors on Windows 10?
Quick Checks
Safe OS errors may occur due to a variety of issues. Before we dive into more complex troubleshooting solutions, use this quick checklist to identify the source of the problem.
Make sure your computer meets the system requirements for installing Windows 10 and passes the compatibility check.
While Microsoft recommends having at least 16 GB of free space on the OS drive, make sure you have at least 20GB just in case.
Disconnect all the peripherals connected to your computer before you launch the update or reinstall process.
Disable your antivirus and firewall. Your security software may mistakenly flag the new update files as suspicious. False security alerts will block the OS update or install process.
Ensure your computer is not on a Metered Connection.
Go to Date and Time settings, and make sure your date and time are correct. Let your computer set the time and time zone automatically.
Update Your Drivers
Outdated drivers often block the Windows 10 update process. Make sure you're running the latest driver versions on your computer.
Launch the Device Manager and check if there are any exclamation points next to your drivers—Right-click on the problematic drivers, and select Update Driver.
Alternatively, you can use a driver updater to automatically install the newest driver versions.
Check Your Drive for Errors
If the drive where you installed Windows 10 got corrupted, don't be surprised if you can't install the latest OS versions.
Go to This PC and right-click on your drive.
Select Properties and click on the Tools tab.
Hit the Check button to check the drive for file system errors.
Then go to the General tab and select Disk Cleanup.
Select the same drive and delete all the temporary files listed there.
Then, go back to the Disk Cleanup window, click on Clean up system files.
Delete previous Windows installations.
Restart your computer and try again.
Restart the Windows Update Service
Go to the Windows search bar and type services.
Double-click on the Services app and scroll down to Windows Update.
If the service is already running, right-click on it and select Stop. Then restart it.
If the service is disabled, right-click on it and select Start.
Additionally, make sure the Background Intelligent Transfer Service and Cryptographic Service are running.
Restart the services, navigate to This PC, select your main drive and click on Windows. Locate the SoftwareDistribution folder and rename it to SoftwareDistributionOLD. Try to update Windows 10 again.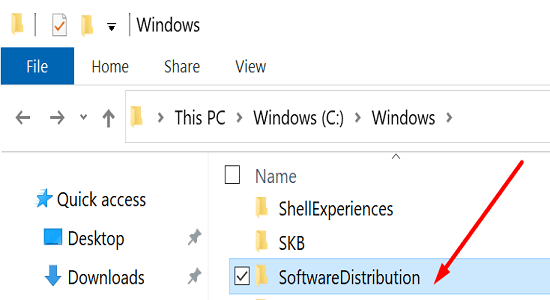 Enable Your Recovery Tools
Launch Command Prompt with admin rights and run the commands below, hitting Enter after each one:
reagentc /info
reagentc /disable
reagentc /enable
Use the Media Creation Tool
If nothing's working, install the Media Creation Tool and hit Upgrade this PC now. The tool automatically reinstalls Windows while keeping all your files and programs in place.
Conclusion
Safe OS errors usually occur when you install the latest Windows 10 version or reinstall the OS. To fix the problem, update your drivers, check your drive for errors, and restart the Windows Update service. Sometimes, you may need to go through all these steps to get rid of these errors. Hit the comments below and let us know if you're still experiencing this problem.