If you share the same Windows 10 computer with another user, you may have noticed the taskbar may sometimes freeze when you switch between different user accounts. Oftentimes, the only way to unfreeze the taskbar is to actually log out completely and then log back in using the second account.
Windows 10 Taskbar Freezes When Switching Between Users
Check Your System For Errors
If your system files got corrupted, certain OS functionalities may stop working. Launch Command Prompt with admin rights and run the commands below hitting Enter after each one:
DISM /Online /Cleanup-Image /CheckHealth
DISM /Online /Cleanup-Image /ScanHealth
DISM /Online /Cleanup-Image /RestoreHealth
sfc /scannow
Additionally, you can also go to This PC, right-click on your drive, and select Properties. Then click on the Tools tab and, under the Error checking section, hit the Check button.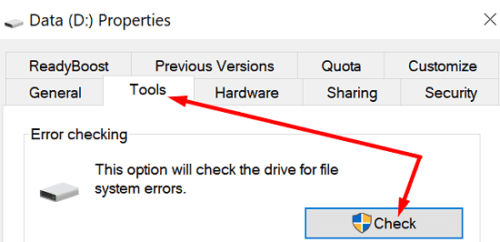 Then go to the General tab and select the Disk Cleanup option. Select your main drive, and remove all temporary files.
After you do that, go to Settings, select Update & Security and go to Windows Update. Hit the Check for updates button and install any pending updates. Restart your computer, switch to a different user, and check if the problem persists.
Create a New User Profile
Some users solved this problem by creating a new user account. You may need to permanently switch to the new user profile if your current account is corrupted. Create a new profile, go back to your regular account and check if the issue is gone.
Navigate to Settings → Accounts → Family & other users. Then select Add someone else to this PC and follow the onscreen steps.
Sign Out the Other Account
Alternatively, after switching between users, launch the Task Manager, click on Users, and select the user you want to sign out. Of course, this is not a permanent solution but you don't need to restart your computer every time you log in.
Alternatively, sign in to the second account, and then immediately switch back to your first account. Wait two minutes and then switch back to the second account. Check if it unfroze on its own in the background.
Hibernate Your Computer
Other users suggested that hibernating the computer instead of shutting it down could help you switch between users without experiencing this problem. So, switch between users, go to Power, and select Sleep to hibernate your machine. Wait a few seconds, wake up your computer, and check the results.
Disconnect Your Razer Keyboard and Mouse
If you use a Razer keyboard or mouse, disconnect the device and check if the issue persists. Many users confirmed the issue disappeared after disconnecting their Razer devices. Judging by users' reports, it seems the Razer DeathAdder mouse model is often the root cause of the problem.
Conclusion
If your Windows 10 taskbar freezes and becomes unresponsive when you switch between users, use the SFC, DISM, and Disk Cleanup to scan and repair your system files. If the issue persists, hibernate your computer after switching to the second account and disconnect your Razer keyboard and mouse. Hit the comments below and let us know if this guide helped you fix the problem.