Signal may sometimes fail to send your messages. When you hit the Send option, the wheel keeps on turning but nothing happens. This problem can occur when you're sending out a message to an individual user or a group of people. Many users also complained that Signal won't receive messages until they open the app. Let's explore how you can fix these issues.
What to Do if Signal Won't Send or Receive Messages
⇒ Important Notes:
Go to Signal's official Twitter account and check if the app is down. If other users have complained about similar issues recently, chances are this is a server-related issue.
Check if this issue affects large attachments. If the app is trying to send a large attachment, delete the message and try again.
Force Stop the App and Clear the Cache
Go to Settings, tap Apps, and select All Apps.
Type Signal in the search field and select the app.
Tap the Force Stop button.
Then, select Storage and tap the Clear cache button.
After clearing the app cache, restart your phone and check the results.
Clear the Phone Cache
If the issue persists and Signal still won't send or receive messages, clear your phone cache. Go to Settings, select Storage, and hit the Clean Up button to remove junk files. Restart your terminal again and check if the app is working properly now.
Use a Different Network
If this is a network-related problem, switching to a different connection should fix it. For example, if you're using cellular data, switch to a Wi-Fi connection, and the other way around.
Check for App and System Updates
Ensure you're running the latest Signal and Android OS versions on your device. Running outdated app and OS versions could explain why Signal is not working as intended.
Launch the Google Play Store app, search for Signal, and hit the Update button.
Then go to Settings, select System, and tap System Update.
Install the latest Android updates available for your device, and then restart it.
Re-Enable Permissions for Signal
Make sure Signal is allowed to access all the data it needs to run properly. Give the app access to your contacts, files, and so on.
Go to Settings, select Privacy, and tap Permission manager.
Select Camera, Contacts, Storage, and so on, and give Signal access to all of those sections.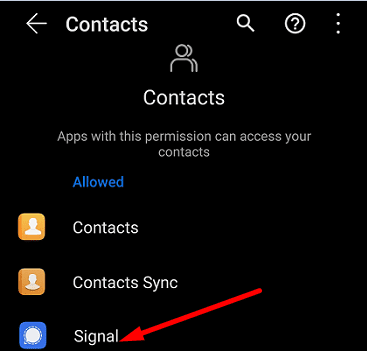 Take Out Your SIM Card
Turn off your device and remove the SIM card. Then turn on your phone and wait for two minutes. Turn it off again, re-insert the SIM card and check if Signal is working properly.
You can use the guides below to remove your card:
Disable Third-Party Apps
Make sure to disable third-party apps that could be limiting Signal's connection to the Internet. Turn off your VPN, firewall, and all the other third-party apps running in the background. Launch Signal again, and check if the messaging problem is gone.
Let Signal Run in the Background
Check your Android settings, and ensure Signal can run in the background.
Go to Settings, select Apps, and go to App Info.
Select Signal, and go to Battery.
Then enable the Background activity option.
Go back to Settings, and select Data usage.
Make sure Signal can use background data.
These steps may be different depending on your phone model. For example, if you own a Huawei device, you need to go to Settings → Apps → Signal → Data Usage → toggle on Background data.
Unblock Your Contacts
If you're having trouble receiving messages from certain contacts, check if they appear on your list of blocked contacts. Launch Signal, tap More options (the three dots in the upper right-hand corner) and select Privacy. Go to Blocked, and unblock the contacts you want to receive messages from.
Reinstall Signal
If the problem persists, uninstall Signal and restart your devices. Then launch the Google Play Store app again, check for Signal and download the app again. Install it on your terminal, and check if the messaging issue is gone.
Conclusion
Not being able to send or receive messages on Signal can be really frustrating. To fix the issue, update the app and check if there's a newer Android version available. Additionally, clear the cache, use a different connection, re-enable permissions for Signal, and make sure the app can use background data. If the
issue persists, remove and re-insert your SIM card, and reinstall the app.
Did you manage to troubleshoot your messaging problems? Let us know in the comments below.