If your Google Play apps and services keep stopping on Chromebook, this indicates something's interfering with them. Sometimes, your Google Play Services may freeze and crash your laptop, forcing you to restart the device. If you're experiencing similar issues, pursue the troubleshooting steps below.
Google Play Services Stopped Working on Chromebook
⇒ Quick Note: If your device is managed by an organization, contact your IT admin and let them know Google Play Services stopped working. Maybe the issue you're experiencing is caused by some new settings or changes your admin has recently implemented.
Update and Restart Your Chromebook
Make sure to update your Chromebook to the latest version. Running outdated Chrome OS versions may trigger alls sorts of glitches, including Google Play-related issues. Go to Settings, select About Chrome OS and then click the Check for updates button.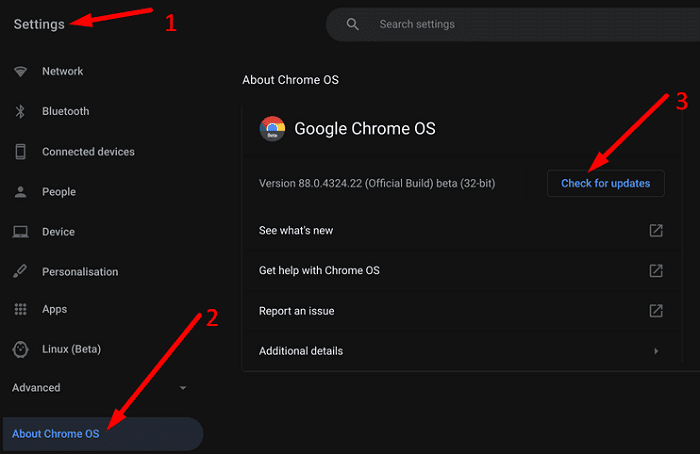 After installing the latest updates, restart your computer. Wait until your Chromebook boots up and check if Google Play Services is working correctly.
Perform a Hardware Reset
Your Google Play Services problem could also be caused by temporary hardware issues. The quickest way to solve the problem is to reset your Chromebook hardware.
First, you need to completely turn off your laptop.
Then press the Refresh and Power keys.
Keep pressing the two buttons until your device starts up. Then release the Refresh key.
Wait until your device boots up completely, and check if the issue persists.
Check Your Internet Connection
Make sure your Internet connection is stable. Disconnect other devices using the same network to free up more bandwidth for your Chromebook. You can also unplug your router, wait for one minute, and plug it back into the wall outlet. Or switch to a different connection and check if you notice any improvements.
Clear the App Cache
Launch Chrome and type chrome://settings in the URL bar.
Then go to App Settings, and select Apps.
Locate the apps that you frequently use.
Select an app and go to Storage.
Hit the Clear cache button.
Repeat these steps for all the apps that you frequently use.
Additionally, check your Chromebook storage and make sure you have enough free storage space on your device. Also, sign out of your account and log in as a guest user. Remain logged in as a guest for two or three minutes, go back to your main profile, and check if you notice any improvements.
Conclusion
If the Google Play Services stop working on your Chromebook, update and restart your device. Additionally, perform a hardware reset, and check your Internet connection. If the issue persists, clear the app cache, and free up some space on your device.
Did you manage to fix the problem with the help of this guide? Let us know in the comments below.