Not being able to flip your Chromebook's screen and switch to the mobile UI version can be really annoying. If your ChromeOS laptop doesn't go into Tablet Mode, try restarting it a few times. Then check if it auto-rotates into Tablet mode. If the issue persists, or the on-screen keyboard won't pop up in Tablet Mode, pursue the troubleshooting steps below.
How Do I Fix Tablet Mode Not Working on Chromebook?
Manually Rotate the Screen and Add On-Screen Keyboard
If your Chromebook doesn't go into Tablet Mode, you can manually rotate the screen in Display settings. Additionally, you can enable the on-screen keyboard in Accessibility settings.
Click on the Time icon, and go to Settings.
Then select Advanced.
Go to the Accessibility section.
Select Manage accessibility features.
Turn on the on-screen keyboard.
Disconnect All Peripherals
If you have any USB-based peripherals attached to your Chromebook, turn off your laptop. Then unplug all of your external devices. For example, if you're using a wireless mouse, remove the USB receiver. Don't just turn off the mouse using the On/Off button. After you do that, boot up your ChromeOS laptop and check if you can enable Tablet Mode.
Update ChromeOS and Disable Bluetooth
Update ChromeOS to the latest version. If your laptop can't go into Tablet Mode due to unexpected software bugs, Google may have already patched the issue.
Navigate to Settings, select About ChromeOS, and hit the Check for updates button.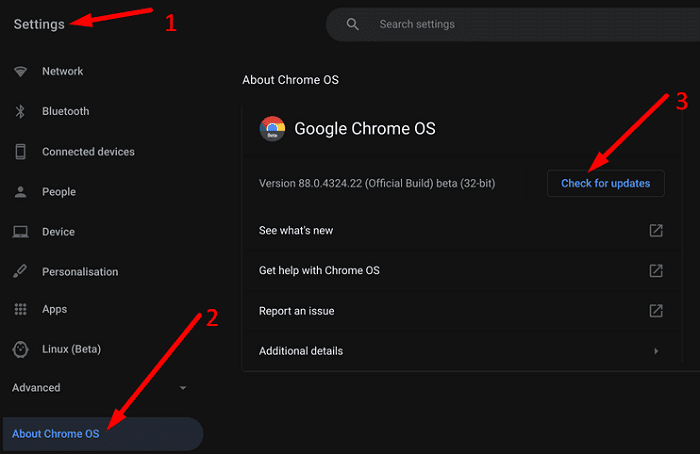 Restart your laptop after installing the latest ChromeOS version. Then ensure the Bluetooth option is off and try to switch to Tablet Mode again.
Reset Chromebook Hardware
While much less likely, hardware problems might prevent your Chromebook from going into Tablet Mode. Try resetting your Chromebook hardware and check if this solution solves the problem.
First, you need to turn off your laptop.
Then press and hold the Refresh and Power keys.
Release the Refresh key when your Chromebook starts up.
Let the device boot up completely and check if Tablet Mode works properly now.
Conclusion
If you can't enable Table Mode on Chromebook, update ChromeOS to the latest version and disable Bluetooth. Make sure to disconnect all of your peripherals. If the issue persists, manually rotate the screen and add the on-screen keyboard in Accessibility settings. Did these tips help you solve the problem? Let us know in the comments below.