Are you looking to buy Windows 11 but unable to decide which one to choose between Windows 11 Home and Pro? Discover the difference between Windows 11 Home and Pro in a concise format.
Why Windows 11 Home Vs. Windows 11 Pro
"IT brands enjoy developing different versions of the same software to confuse the consumers" — you might think that by looking at the same software name but different versions or editions. The debate for Windows 11 Home vs. Pro can fall in the same category — Microsoft is trying to confuse you with many options. But is it the case?
By taking a careful look under the hood of both the Windows 11 operating system editions, i.e., Windows 11 Home and Windows 11 Pro, my opinion is slightly different.
Can't say about other software developers, but it looks like Microsoft has thoughtfully created several editions of the sleekest, most beautiful, most colorful, and most advanced operating system of all time — Windows 11.
Of its many editions, Windows 11 Pro and Windows 11 Home are popular. You'll quickly find these OSs on the shelf of a brick-and-mortar IT shop or in eCommerce stores. But what exactly is the difference between Windows 11 Home and Pro? Read until the end to learn more about Windows 11 Home vs. Windows 11 Pro.
Difference Between Windows 11 Home and Pro
Looking at a Windows 11 Pro and Windows 11 Home PC, you may not notice any differences from the first look. To find the variations between these two Windows 11 editions, you need to look deep inside the OSs, the Settings, Control Panel, Security, etc.
For your convenience, I've categorized the differences into the following feature-based discussions of both editions:
1. Technical Specifications
Both Windows 11 Pro and Home have similar minimum system requirements, and these are as outlined below:
1.0 GHz or better 64-bit CPU with two or more cores
At least 4 GB RAM
64 GB or more hard disk drive, SATA solid-state drive, SATA M.2, or NVMe SSD
UEFI system BIOS and GPU boot partition on the hard disk drive or SSD
DirectX 12 or better for graphics processing
This is just a configuration of a computer with minimal hardware that will run Windows 11 Pro or Home.
However, suppose you're a Windows power user and want high specs on your Windows 11 PC for gaming, graphic designing, virtual computing, animation rendering, or software development. In that case, you might want to know about the maximum hardware capabilities of both editions. Now, Windows 11 Pro and Home go in two different ways. Find more below:
Is It Better to Have Windows Pro or Home?
Windows 11 Pro can handle up to 2 TB (2,000 GB) of RAM or memory chips on an ARM64 and X64 PC architecture. Contrarily, Windows 11 Home can only accommodate up to 128 GB of RAM.
Furthermore, Windows 11 Pro is suitable for faster computing than Windows 11 Home. Because Windows 11 Pro can support up to two CPU sockets and a maximum number of 128 logical CPUs in multiple cores. However, Windows 11 Home can only manage a computer with one CPU socket and up to 64 logical CPUs in various cores.
From the tech specs angle, it's evident that Windows 11 Pro is for high-performance PCs that will serve businesses and professionals, which require faster response time, more calculations per minute than Windows 11 Home, and superior memory capability to open hundreds of apps in one PC.
2. Windows 11 Pricing for Different Editions
By comparing their pricing, you can also decide if you need Windows 11 Pro or Home. Microsoft charges you $199.99 for Windows 11 Pro and $139.00 for Windows 11 Home edition activation keys.
If you own a genuine Windows 10 Home or Pro edition, Microsoft will upgrade you to a matching edition of Windows 11 for free. If you haven't upgraded from Windows 10 to 11 yet, get the Windows 11 22H2 download. You may want to do it now as the most stable version of Windows 11 is out in the market, and most users are receiving over-the-air (OTA) upgrades too.
However, the upgrade to Windows 11 Pro from Windows 11 Home is chargeable. Microsoft is currently asking you for a $99.99 payment for the upgrade. Here's how you can make the switch to Windows 11 Pro from Home:
Hit the Start button and click Settings.
Inside Settings, you should see System. Select it.
Now, choose Activation and click Open Store under the Upgrade your edition of Windows option.
Windows 11 will now take you to Microsoft Store.
Ensure you're using your own Microsoft account to access Microsoft Store and buy Windows 11 Pro activation key. This will bind the activation code to your Microsoft account. If you lose the key in the future, there are no issues. You can sign in using your Microsoft account to activate Windows 11 Pro.
Once the purchase is successful, Microsoft Store will prompt you to install Windows 11 Pro.
3. The Setup Interface Differences
Businesses can set up Windows 11 Pro on business or work PCs without an active internet connection and Microsoft account. After installation, the organization's IT administrator can set up the PC for Active Directory-based management. Businesses can install apps, manage content, and allow single sign-on logins using Active Directory.
Contrarily, you must sign in to your Windows 11 PC for the first time using a Microsoft account if you're installing the Windows 11 Home edition. Hence, you'll also need an active internet connection.
Additionally, Windows 11 Home doesn't support Active Directory. However, you can set up a local account on Windows 11 Home after the initial activation.
4. Bitlocker Device Encryption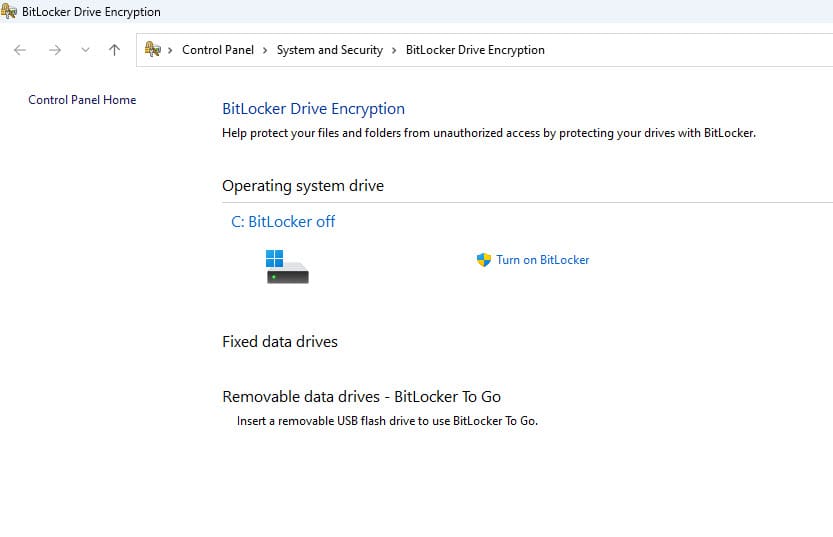 Since Microsoft developed Windows 11 Pro targeting business and professional users, it has included the Bitlocker device encryption system in this edition. Bitlocker-enabled devices won't let a thief or hacker access your data inside the device storage by simply bypassing Windows security systems like log-in credentials, etc.
Bitlocker encrypts the hard drive or SSD itself and stores all the deciphering codes as hash codes in TPM 2.0 module. No one can access the data on internal storage except you.
On the contrary, Windows 11 Home doesn't come with the Bitlocker encryption system since you'll mostly use the device in your home. If you're concerned about personal data in the SSD or HDD, consider getting Windows 11 Pro.
5. Windows Information Protection (WIP)
Organizations may allow an employee to work from home or work from a remote office using their PC. In such cases, it's easy to mix personal data with business data. Microsoft introduced Windows Information Protection (WIP) to solve this problem.
It separates corporate data from personal data. Also, IT admins can directly protect business apps without needing frequent updates of these company apps. Furthermore, the user or admin can delete business data from corporate devices, leaving personal data intact when the device is signed up for Intune mobile device management (MDM).
Your Windows 11 Pro computer will have this feature out of the box. If you're on a Windows 11 Home PC, it's not there. You need to upgrade to Windows 11 Pro from the Home version.
6. Hyper-V Virtualization and Remote PC
Windows 11 Pro comes with some extraordinary features that otherwise you had to buy from third-party software developers. For example, you can become a host for a remote desktop by using the Remote Desktop Protocol (RDP) of Windows 11 Pro.
Microsoft doesn't allow this feature on Windows 11 Home edition PCs. You need to use third-party apps like Team Viewer, AnyDesk, etc.
Hyper-V Virtualization allows you to create virtual PCs inside your Windows 11 Pro computer. You can install different operating systems without interfering with the existing Windows 11 OS. Also, you don't need to buy a VMware workstation for OS virtualization.
Moreover, you can utilize the Windows Sandbox feature on a Windows 11 Pro PC to install and run risky apps in a safe environment. The app and its activities won't be able to spread to other parts of the PC, should it be a virus or malware program you're studying.
Hyper-V Virtualization and Windows Sandbox aren't available on Windows 11 Home edition.
7. Microsoft Store for Business
Windows 11 Pro editions come with the option for Microsoft Store for Business. A business organization's IT admin can activate this feature to override the default Microsoft Store on Windows 11 PCs.
Hence, employees can only access pre-approved UWP apps on the Microsoft Store for Business. The IT admin can dictate how many apps you can download, when to uninstall them, and more.
Also, businesses can provision bulk installation of business apps by using Microsoft Store for Business.
If you're on Windows 11 Home edition and need to use Microsoft Store for a Business feature for corporate needs, you can't unless you upgrade from Windows 11 Home to Pro by paying an extra $99.00.
8. Gaming Features
Windows 11 Pro and Home come with Game Mode and Xbox Game Bar, gaming features of Windows 11. If you're a low to medium gamer, Windows 11 Home is good for you.
However, professional gamers and online steamers may find Windows 11 Home unsuitable since the upgrade options are limited. You can go up to 128 GB RAM and 64 CPU cores. Contrarily, Windows 11 Pro comes with extensive hardware overhaul options like 2 TB of RAM and 128 CPU core compatibility.
Conclusion
So far, you should have explored all the major differences between Windows 11 Home and Pro.
Is It Worth Upgrading From Windows 11 Home to Pro?
Windows 11 Home is the right choice for lightweight personal usage at home. But if you plan to open a home office, freelance gig, or live streaming business in the future, get Windows 11 Pro.