Clear the Java Web Start Cache using a command line in Microsoft Windows 10, 8, 7, Vista, or XP. When a Java app is accessed, it is downloaded to a cache on your computer. This allows quicker access. Sometimes the caching may cause problems, especially if you're in a developer environment.
Option 1 – From Command Line
Fortunately, Sun provides a command that allows you to clear the Java Web Start Cache. Here's how it's executed:
Hold down the Windows key and press "R" to bring up the Windows Run dialog.
Type "javaws -uninstall" without quotes, then select "OK".

You should see a pause and then the cache will then be cleared. No notification will appear to tell you the command was successful.
You could also run this same command from a classic command prompt.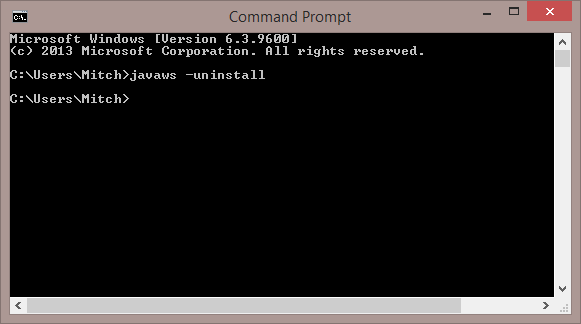 ---
Option 2 – From Java Control Panel
Open "Control Panel", then select "Java".
From the "General" tab, select the "Settings…" button.
Select "Delete Files…".
Ensure the "Cached Applications and Applets" option is selected.
Select "OK".