You turn on your Windows 10 computer like you usually do and see that the WiFi signal is on. There's no reason to think that you're not connected to the Internet, right?
But, there are times when there's no clear indication that you don't have Internet access. When you come across those times, the following tips should help you get online again and make the issue a thing of the past.
Basic No Internet Fixes
Before you get into any non-basic fixes, it's always a good idea to start with some necessary repairs. For example, it may be your ISP (Internet Service  Provider) that is experiencing some problems.
If that's the case, you should call and ask them if they are doing something that could affect its service, such as maintenance.
Also, make sure that everything is connected correctly, that no cables have been pulled out. You may have left everything connected, but someone else may have been fooling around there and disconnected something.
Other basic fixes you can try include:
Turn off any security software
Reboot your computer
Reboot your router or modem – Unplug them for a few minutes
To see if your router is to blame, connect your computer directly to the Ethernet cable. If you can get online after you do this, then you have a problem with your router. Just in case, if you still can't get online, try using another Ethernet cable.
Try the Windows Network Troubleshooter
Tip: Only try this method if the problem affects various devices
The following advice will only be useful if the only thing that is not connecting is your computer. In that case, you're looking at a Network Settings issue. It's not a sure thing that the Windows Troubleshooter will work, but it's worth a shot.
To run Windows Troubleshooter go to: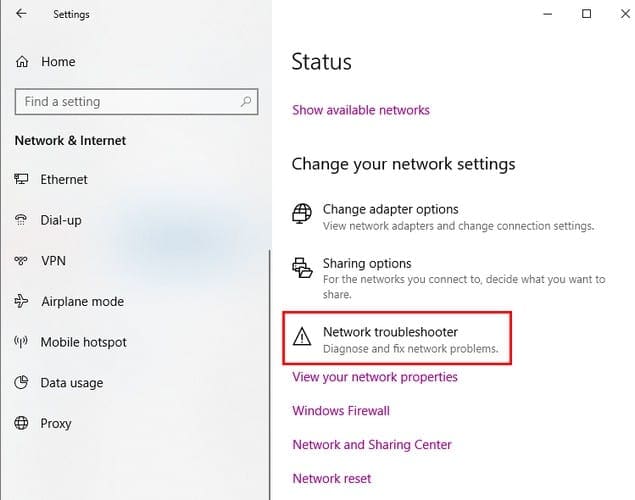 Settings
Network & Internet
Status
Select Network troubleshooter
Follow indicated steps
The Command Prompt Fix
There are also some easy Command Prompt commands you can try to fix the issue. To open the Command Prompt type the name of the feature in the search bar and launch it.
Tips: Only try this if it's only your computer that won't go online.
Remember to run the Command Prompt as an administrator.
The following commands will reset files that are used when the computer goes online. You'll need to type:
netsh winsock reset
netsh int ip reset
You can also try getting a new IP. For that, you'll need to use the following commands:
ipconfig /release
ipconfig /renew
It's also possible to invigorate your computer's DNS setting; to do that, you'll need to use the following command.
It's not mandatory, but a reboot would be helpful at this time if your computer still won't go online.
How Are Your Computer's IP Setting
If there is a problem with your computer's IP address setting, that could explain why you can't go online. To fix this issue:
Right-click on the network icon in the system tray (the WiFi icon)
Click on Open Network & Internet settings
Choose Change adapter options
Double-click on the current connection
Click on Properties
Find and click on Internet Protocol Version 4
Make sure that the options Obtain an IP address automatically and Obtain DNS server address automatically are chosen
Only enter an IP address manually if you're an advanced user
Reset Network – Drastic Times Call for Drastic Measures
Sometimes a good clean start is all you need. If you're OK with resetting your network settings, you can do it by going to:
Settings
Network & Internet
Status
Click on Network reset (at the bottom)
Choose Reset now
Conclusion
It can be very annoying when you need to go something online, but for some reason, you have no Internet access. Hopefully, the previously mentioned tips will help you get back on track. Which method are you going to try first? Let me know in the comments below.