Your Chromebook may sometimes fail to charge your smartphone's battery. The laptop may initially show the terminal is charging. But after a few seconds, it shows that the phone is no longer charging. If your Chromebook keeps on doing this back and forth, pursue the troubleshooting solutions below.
Why Can't I Charge My Phone With My Chromebook?
⇒ Important Note: Your Chromebook won't charge your phone via USB if the lid is closed. The same is valid if your laptop is off.
Update and Restart Your Chromebook
Your Chromebook automatically checks for updates when you boot it up. But if you still want to check for updates yourself, click on the Time icon, and go to Settings. Then click on About Chrome OS, and hit the Check for updates button.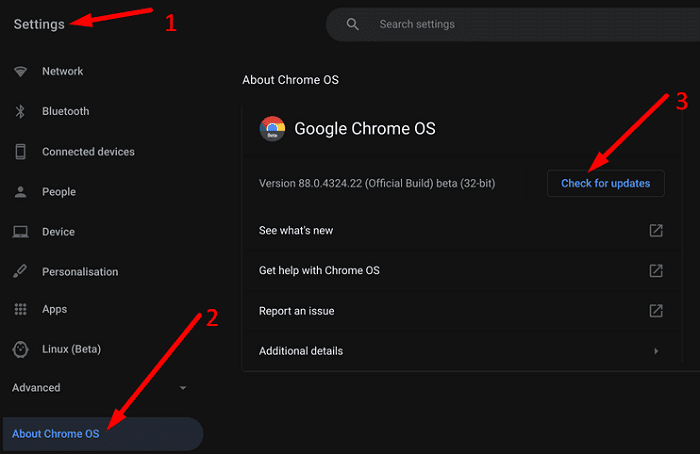 Unplug your phone, and restart your laptop. Connect your terminal to your Chromebook, and check if it charges properly.
Check the USB Cable and Ports
Check if your cable is damaged or faulty. Don't use a damaged or frayed charging cable as this could damage your hardware. Additionally, take a close look at your Chromebook's ports. Use a cotton swab to remove any lint or specks of dust that could be preventing the laptop from maintaining power to continuously charge the phone. Use a different cable and check if you notice any improvements.
Disable Fast Charging
The latest Android phone models out there support fast charging. However, your Chromebook may not be able to generate enough power to meet your phone's fast charging demands. Go to your phone's settings, navigate to battery settings, and turn off fast charging. Disable super-fast charging as well.
As a quick reminder, USB 2.0 ports usually output a current of 500mA (1/2A), while USB 3.0 ports output 5V/1A. On the other hand, fast charging phones support voltage values of 5V, 9V, or up to 12V, and amperage values of 2.6A, 3A, and above.
Contact Your Admin
If you're using a school-managed Chromebook, your IT admin may have disabled the "Android phone" option that allows you to connect your Chromebook with your phone. That could explain why you can't charge your Android smartphone from your Chromebook. Most schools prefer to disable this feature for security reasons.
Conclusion
If your Chromebook won't charge your phone's battery, update ChromeOS and restart your laptop. Then check if your cable is damaged or faulty. Use a different cable, and check if you notice any improvements. Additionally, go to your phone settings, and disable fast charging. If your Chromebook is managed by an organization, contact your admin for further help.
Did these tips help you fix the problem? Let us know in the comments below.