When you send a picture on WhatsApp, you only have so much time before you can't erase it anymore. After that, the receiver will always have access to the picture on their device, even if you erase it on yours.
But a much-anticipated feature is finally here where what you send will erase on its own. You can finally send a picture to the other person who can only see it once. After that, they can tap on their screen all they want; the image or video won't come back unless you re-send it.
How to Send an Image that Self Destructs on WhatsApp
Before, when you would send a picture on WhatsApp, the other person could see it as many times as they want. If you forget to erase it, tough luck. Sure, you could enable self-destructing messages on WhatsApp, but the message can be seen for a total of seven days. Something that doesn't make that feature very beneficial.
Now you can enable this new feature and forget about the message. All you have to do is choose the file you want to send, and before you hit the send button, you're going to see a one with a circle around it to the left of the send button.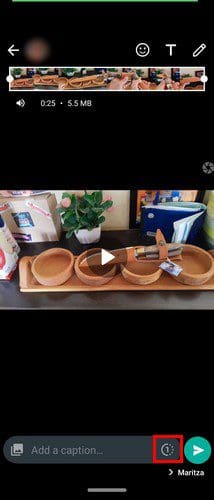 Things to Keep in Mind
It'll light up when the option is selected, and the image or video can only be seen once. If you're receiving the image or video, you'll know because it'll say so. Tap on it, and the image or video will open. You can see the image for as long as you want, but once you close it, it's gone.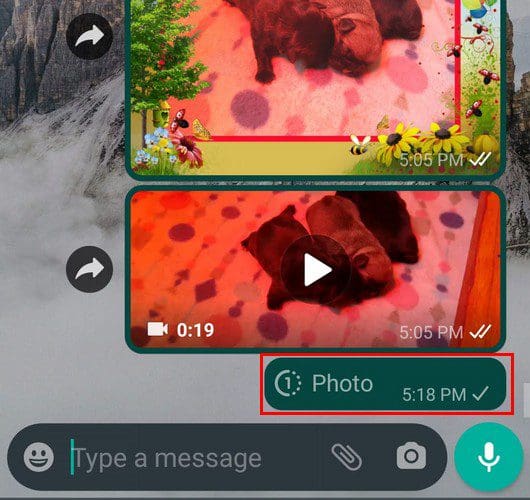 The downside to the picture is that the sender can't see the picture they sent on their chat. So if you forget what image you send or if you accidentally sent the wrong picture or video, you have no way of knowing. So, you have to be really careful and be distracted when you send the picture or erase it, just in case, and send it again.
You can erase the image by long-pressing on it and choosing the delete for everyone option. You won't see the two blue check marks when the other person opens the picture or video. You'll only see the word Opened in its place. Another drawback is that you can only set it to one time no matter how many times you tap on the option.
Hopefully, WhatsApp will let its users set how many times they want the other person to see the image or video later. Keep in mind that you won't find this feature available if you try to send a document. When you select your file to send it, you'll only see the cancel and send button. The option to have the receiver only see it once won't be available.
Conclusion
The option is one that I'm definitely going to frequently use. But the option still needs some improvement, but at least it's available. So, now when you see a one to the left of the send button, you know what it's for and what it can and can't do. Do you think you'll be using the feature often? Share your thoughts in the comments below, and don't forget to share the article with others on social media.