If you're running low on storage space on your Kindle, you can quickly delete some of the books you already read. But when you try to do that, a strange message may appear on the screen saying that Kindle is unable to complete your request. Try restarting your device, and check if you notice any changes. If your Kindle still won't delete your books, follow the troubleshooting steps below to solve the problem.
Why Can't I Delete Books From My Kindle?
Restart Your Kindle Using the Power Button
There are two ways to restart your Kindle device. Press the Power button until the Power options appear on the screen. Then, simply select Restart. If this option fails to solve the problem, press and hold the Power button for 40 seconds.
The screen will flash a few times during all this time. Rest assured, this is normal. Keep on pressing the Power button for the full 40 seconds. Release it when the start-up screen appears. Wait for a few more minutes until your device fully restarts.
Delete Books From Your Amazon Account
Check if you can delete your books directly from your Amazon account. Open a new browser tab or launch the Amazon app on your iPhone or Android device. Go to Manage Content and Devices. Select the book you want to remove and tap the Delete button.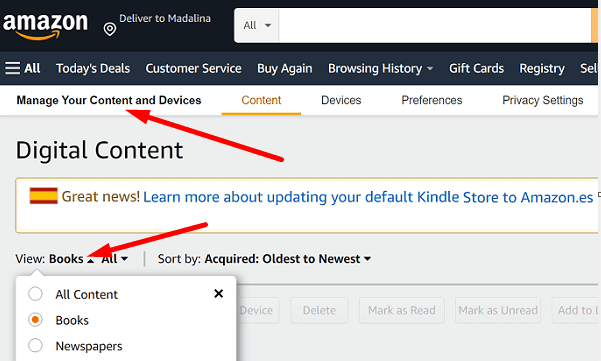 By the way, you may also want to check the Docs section as well. Your books may sometimes appear under the Docs section. Delete them from that section as well, and check if you manage to permanently delete the respective titles.
Sync Your Device to Your Kindle Account
If you managed to delete your books, but they still appear on your collections, try syncing your devices to your Kindle account.
Ensure your Kindle is connected to the Internet.
Swipe down from the Home screen to open Quick Actions.
Tap the Sync icon.
Reset Your Device
If nothing works, try resetting your Kindle device. This simple action can solve many issues. Keep in mind that this action will remove all downloaded or transferred content from your Kindle, and restore default settings.
Don't forget to back up all of your ebooks before resetting your device.
Go to Settings.
Navigate to Device Options.
Select the Reset option.
Confirm your choice and wait until your device fully resets.
Conclusion
If Kindle won't let you delete books, press and hold the Power button for 40 seconds to restart your device. Then, delete the problematic books from your Amazon account, and sync your device to your Kindle account. If the issue persists, reset your Kindle device.
Did you manage to solve the problem? Hit the comments below and let us know which method worked for you.